My experience at this year's Disneyland Half Marathon Weekend (the sixth one I've attended, out of eight that have taken place) was largely positive, but you know me, I always have a few final thoughts and suggestions. 🙂
The Expo
We didn't arrive until Friday afternoon, but apparently Friday morning was a disaster. HUGE lines of people waiting in the hot sun to get into packet pickup, and even longer lines for merchandise – 2.5-3 hours for that. People were grabbing merchandise right and left, particularly anything for the Dumbo Double Dare. By Friday at 2:00, ALL that was left of Double Dare merchandise was a lime green hoodie. I was very disappointed not to be able to get the magnet for my race magnet collection – of course I can buy one on eBay for $20+ (the price was $7.95). I shudder to think what it's going to be like for Dopey merchandise in January. My fellow Team AllEars member MaryJean suggested that runDisney should allow us to pre-order some merchandise and I think that's a wonderful idea. There's no reason for t-shirts and hats and magnets to be in limited supply, and it would just make more money for Disney if we could all buy everything that we wanted! Not to mention avoiding the very ugly scenes that have been taking place in the merchandise areas which are unpleasant for both guests and cast members.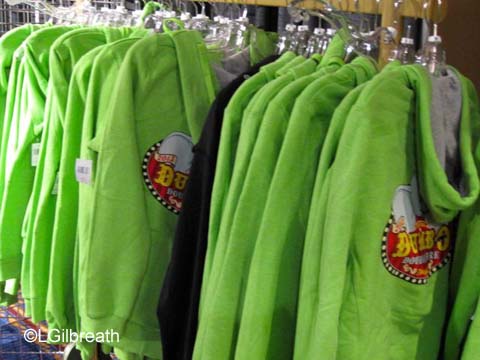 For us packet pickup went very smoothly with no lines, and no issues in picking up our goodie bags. As long as you didn't expect to do it first thing in the morning it was a very efficient process. And at 3:00 in the afternoon we had no problems getting into the merchandise area, where there was a fair amount of Disneyland 1/2 Marathon merchandise still available, but the line for check-out was 25-30 minutes.
The Race Shirts
I really liked the designs of the three race shirts, but the sizing was ridiculous. They only offered unisex sizes (instead of a choice of unisex or women's cut), and I chose the smallest size available – XS. And it's enormous. Here's a photo of Lee wearing my XS half marathon shirt. A little snug in the shoulders for him, but otherwise it fit him ok. The other two shirts were a little bit smaller, but still too big for me. And there's an awful lot of runners that were a lot smaller than I am.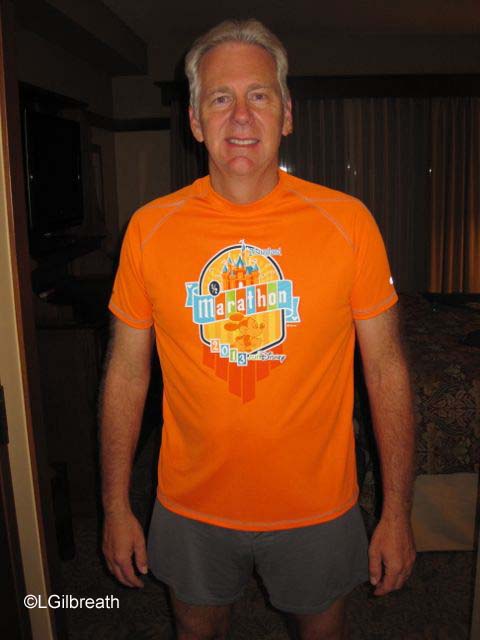 The Races
Disneyland has managed to avoid over-crowding their race courses by keeping the fields smaller – about 8500 for the 10K and 17,500 for the 1/2 Marathon. The first couple of miles were a little congested for me but not bad – NOTHING like what I've experienced at my last two half marathons at WDW. And I was able to RUN through the castle on both days, another thing that's been an issue in WDW races.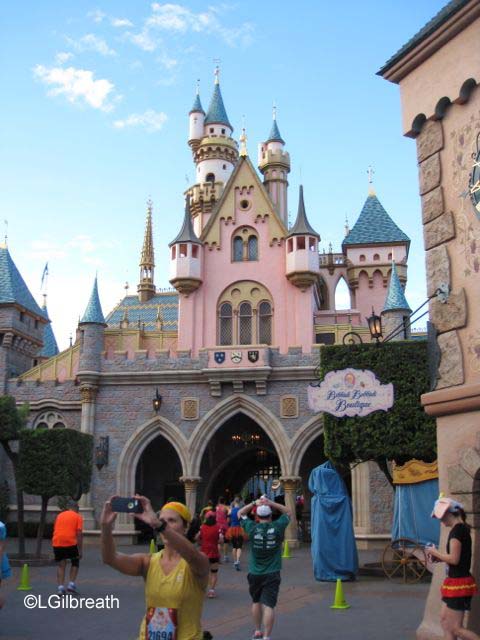 Another great thing about the races at Disneyland is that you can easily walk to the start line from any of the Disney hotels, as well as from the many hotels in the area. No reason to get on a bus at an insanely early hour in order to make it to the start line in plenty of time. I'd much rather do a race in California than at WDW for that reason – and not just because it means I don't have to travel cross-country.
I already spoke about the corral process during the 10K – that was not handled particularly well, which I presume was due to the short time between the start of the 5K at 5:30 and the start of the 10K at 6:15. It will be interesting to see if they change that next year. The 5K is supposed to be a "Family Fun Run" – a 5:30 start time is not very family-friendly.
For us the corral process went much better during the half marathon, but I've spoken to other Team AllEars members who were in later corrals who did not have as positive an experience. There were too many people and not enough space in the corrals, and late arrivals weren't placed correctly.
I really loved the new 10K course, and I hope they will keep that one. The two miles outside the parks helped get us all spread out a little bit more, and made the other four miles that were on property that much more pleasant. I also really enjoyed the Alice in Wonderland theme, though I wonder if they will keep that from year-to-year or change it up like they do the 5K race.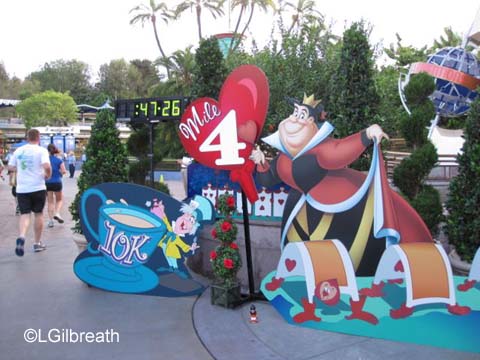 I wish they would change the half marathon course so that the park time came a little later and let us spread out…I also wish they would add some park time (or characters) to the end of it. That final stretch from mile 12 to ~12.75, which is all backstage around the perimeter of DCA, is much too quiet with no one but a few cast members to cheer us on. It's a tough part of the race – close to the end, but not quite close enough.
Characters
This is usually one of the highlights of a Disney race for me, and I had a wonderful time with the characters during the 10K…I even caught the White Rabbit! 🙂 But the lines were very long during the half marathon – I only stopped for one photo. This is one of the reasons I wish there were some characters later in the race when people are more spread out. I don't know how they could make this any better, though. The cast members do a very good job of taking photos and keeping the lines moving – it's just a very popular activity.
Water stations
This was really my only complaint about the 10K – there were three water stations, which was fine, but #1 and #2 were almost three miles apart. That was much too far, especially given the weather conditions. They also had issues on both Saturday and Sunday with running out of cups at some of the water stations.
The Food Box
They are still giving out the silly little food boxes. They added a handle, which made it easier to carry, but there's still not the kind of food in there that I really need after a 13 mile run. Some of it made for some nice snacks later, but the box just doesn't work for me.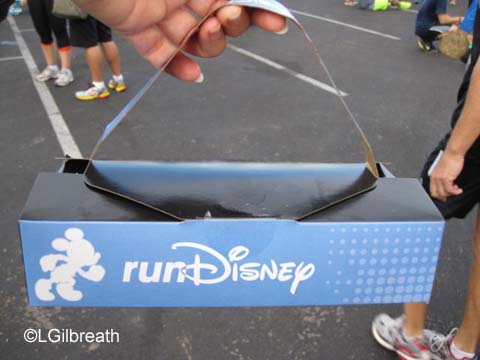 Dumbo Double Dare
I enjoyed this a lot – a 10K and a half marathon back-to-back is a much more reasonable effort than a half marathon and a marathon. I think Lee and I would both like to do it again next year. At the end of the 10K we received wristbands to prove that we had finished it, and then exchanged those after completing the 1/2 for the Dumbo medal. I wonder if they will do that in the Dopey Challenge in January. It would make sense, and discourage people from circumventing the system.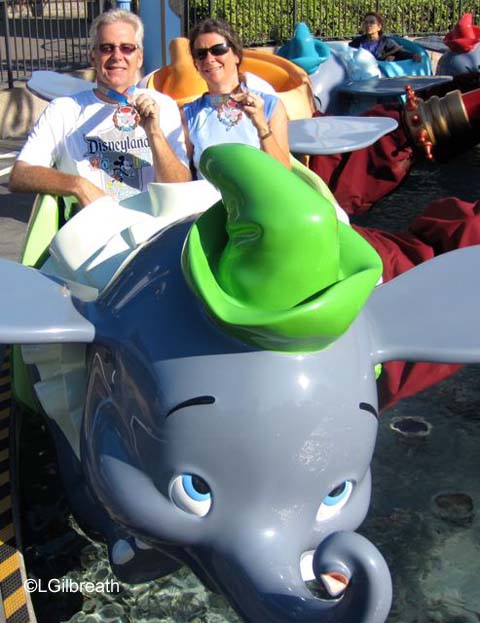 Volunteers and Entertainment
They were wonderful, all of them! So many people of all ages who helped make this a great event for those of us participating – those who worked the Expo, the water stations, handed out medals and food, checked our bags…And all of the cast members who came out in the early morning hours to cheer us on. Thank you SO much! And thank you to all of our on-course entertainment, also – the bands, cheerleaders, dance groups, boy scouts, girl scouts, classic car owners, and the random strangers who come out to cheer us on, hold up funny signs, hand out licorice and pretzels, and mist us with water sprayers.
We don't actually have any more races scheduled until the Dopey Challenge in January…let the training begin!