Whew…it was a very warm day for a half marathon (even warmer than it was on Marathon Sunday at WDW in January), but we did it, and added another DL Half Marathon medal and the new Dumbo Double Dare medal to our bling collection. 2:28:14 for me and 2:28:50 for Lee. Considering the heat I was very happy to finish in less than 2:30.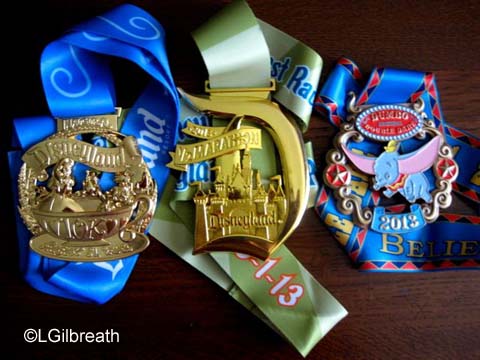 It was already 73 degrees and 68% humidity at 4:00 in the morning. So much for our hopes of a cooler day than yesterday. While we had a few clouds early on we didn't have the high clouds that we did yesterday, so we had full-on sun on the course after about 7:00. Sun+black asphalt = HOT.
I didn't mention this in yesterday's blog, which focused on the new 10K race, but there are a lot of our Team AllEars members here this weekend – many of them getting their Coast-to-Coast medals for the first time! I hope they brought extra suitcases for all of the medals…there's a few going home with all five of the medals that were available this weekend: 5K, 10K, 1/2 marathon, Dumbo Double Dare, and Coast-to-Coast! Well done, Team!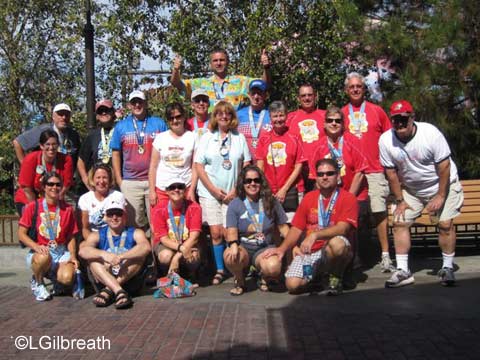 Several of them have never been to Disneyland before, so it's been fun hearing about their experiences and what they think about our California parks. I don't think I've heard any of them comment on how small the castle is…thank you. (Yes, we are rather sensitive about that.)
We've had some fun meet-ups at Trader Sam's, Haagen Daz, and Ghirardelli, as well as meets before each of the races. Here's the photo from the half marathon this morning, though not everyone made it in time.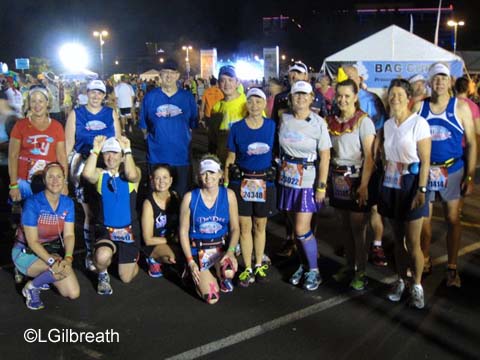 So back to this morning…after the photo we headed to the corrals. Even though there were about twice as many people in the half marathon today as in the 10K yesterday the corral process went MUCH more smoothly, without the crowding and confusion we experienced yesterday.
Lee came back to Corral C to run with me. Former DL Ambassador Jolie Hales sang the national anthem (and very well!), and we had a few fireworks.
The wheelchair racers went off promptly at 5:29 followed by Corral A at 5:30. I was expecting Corral B to start at 5:35, but instead they waited until everyone from A had crossed and THEN started the five minute countdown to B. That spread the runners out a little more, but I think it protracted the starting process…In Corral C my time was over 17 minutes later than the start, and it's usually more like 12. It really did NOT take us 28 minutes to get to mile 1! 🙂
The course was the same route through the parks as last year, though it seemed as though the lines for the characters were a lot longer. We only stopped for one photo – with Aurora and Prince Philip outside the castle. Some of the lines (like Mike and Sulley in DCA and the princesses in DL) were very long. I took a lot of photos during the 10K yesterday, so I was ok with that…and we were hoping to beat the heat a little bit, too, by trying to get as much mileage in as we could before the sun really came up and started beating down on the course.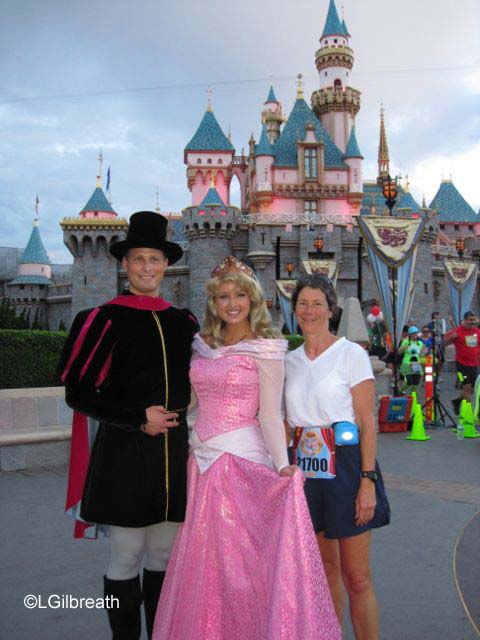 By mile 4 we were out of the parks and out into Anaheim. As I mentioned we had a little bit of cloud cover early – when I made the right turn onto ball road I was looking at a lovely colorful cloud instead of the usual blinding sun. That was very nice while it lasted.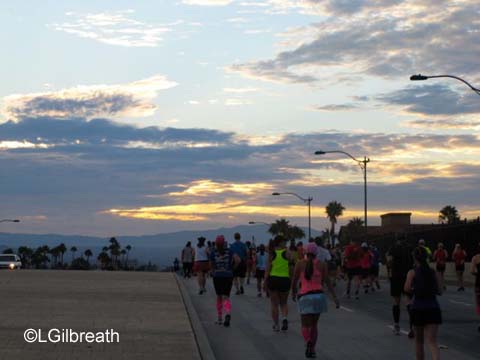 Many groups in Anaheim come out to cheer us on. There are two groups that I look for every year, and they are always there – a group of mariachi bands and dancers, and a group of Hawaiian singers and dancers. Both groups include both adults and children.
Lee got out and attempted to hula with the Hawaiian group. 🙂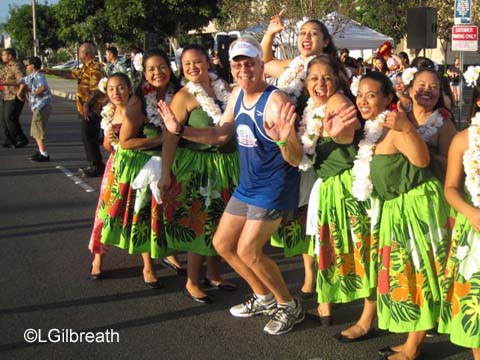 This was just about halfway, and we were still smiling, though the sun was out and it was warming up quickly.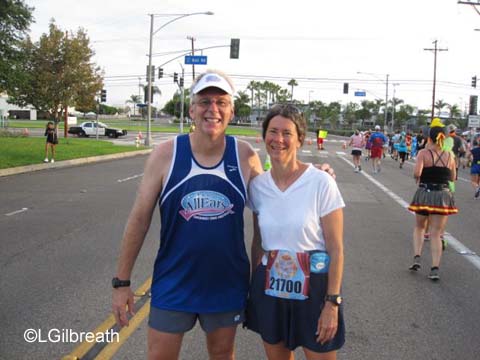 Last year, in honor of the opening of Cars Land, Disney invited classic car enthusiasts to participate, and we were really happy to see them again this year. That part of the course, from about mile 7-8, does not have much to look at, and having them out there makes it go by so much faster! Here's the first car that we saw (they seem to have them arranged by age):
And here's one of the last ones – there were lots of muscle cars near the end.
They did a much better job with water stops than they did in the 10K – there were 9 or them, all offering water and PowerAde. I carry my own electrolyte/nutrition mix but I had water at ALL of them, which I don't usually do, but have I mentioned that it was warm today? Just checking. (We were encouraged multiple times this weekend to "Hydrate, hydrate, hydrate!) I'm concerned that some of them might have run out of cups again today, though.
Just past the Honda Center we ran on our normal path on the Santa Ana Trail down by the river channel – that dirt path feels nice on tired feet, and it was also cooler than asphalt, with just a little bit of a breeze. They are doing some construction near Angel Stadium, so we actually ran a little bit further on the trail than usual before coming up into the parking lot near the big "A" sign. And then we had our run through the stadium itself – that's always fun.
They get a pretty good-sized crowd of Boy and Girl Scouts and other groups to cheer us on in there – and they can really make some noise! It's fun to high-five the kids (and adults) as we run by them, too.
While there are bands and cheerleaders throughout the course, they are really concentrated in the couple of miles after we exit the Stadium. That's a great place for them because they are really full of energy, and their enthusiasm helps to power and encourage us when we're getting pretty tired. I always have to chase Lee down after he goes past several groups of cheerleaders. 🙂
The course goes backstage at DCA just before Mile 12, all the way around the back and then across Disneyland Drive and around the Paradise Pier, then between the Disneyland Hotel and Downtown Disney before finishing just past the hotel.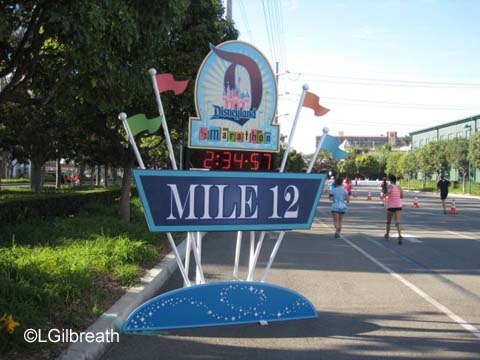 Despite the heat I was feeling pretty good and actually finished very strong, with a pretty fast sprint over the last .15 miles. I was really happy to get across that finish line, though.
Just after we finished there were volunteers handing out bags with a damp lemon-scented towel in it…and that felt pretty good. Lee caught up with me there and we got our 1/2 marathon medals and exchanged our green wristbands for our Dumbo medals. Isn't it cute???
Other than the tents there's no shade in the reunion area – and it was really warm on that hot asphalt so we didn't linger very long – had someone take a photo of us and then headed out and back to our hotel.
It was a very successful race weekend – I'd definitely do this set of races again! Though hopefully with cooler weather…
You can see some additional photos and info by reading my tweets: @allearslaura