I post a lot of photos of the parks at Walt Disney World. This week I want to share a few from the wonderful resorts.
Value resorts are how I could afford trips when I first discovered the convenience and joy of staying right on Walt Disney World property. My girls loved the food courts at the Disney's All-Star Resorts with the large variety of family oriented meals and snacks. Over the years we stayed at Movies, Music and, my favorite, Sports. The over sized icons on the buildings and around each of the resorts always a treat for the kids and for their parent's cameras.
For those who have stayed at the All-Stars, the bus transportation area photo below will look very familiar to you. I never have had problems with the Disney Transportation system besides a long wait once in awhile. It saved me from car rental fees which would add a day or two to my vacation time. I liked that.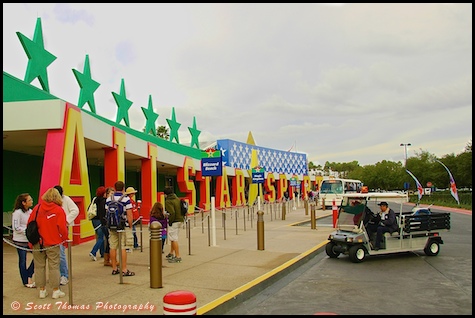 Bus transportation area at the All-Star Sports resort.
Nikon D70/18-200VR, 1/250s, f/8, ISO 200, EV +0.3, 18mm focal length.
As the years went by my two daughters became teenagers and we got better at saving for trips, the larger moderate resort rooms helped a lot during a long stay. Our favorite was Dixie Landings which is now known as Disney's French Quarter – Riverside for its charming Mansions and Bayou lodges.
Over the past few years, themed rooms at the moderate resorts have opened for guests. Curious, we checked out a Pirate Room in Disney's Caribbean Beach Resort.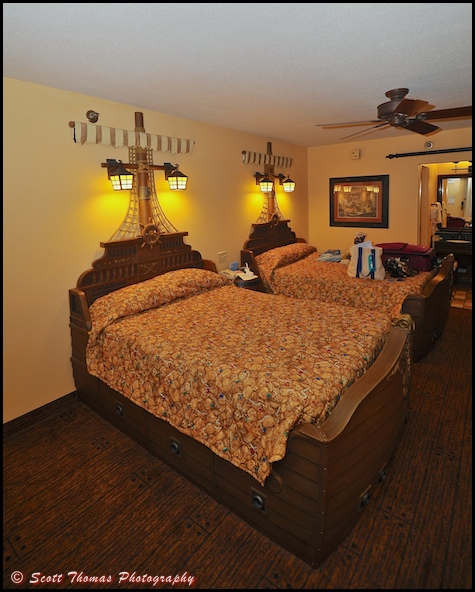 Argh! Smooth sailing and good sleeping in a Pirate Room.
Nikon D700/Tokina 11-16mm, 1/40s, f/5, ISO 200, EV -1.0, 16mm focal length.
When my daughters went off on their own, my wife and I have gotten to splurging on ourselves by trying out the Deluxe resorts. We plan on spending a day or two at the resort to really soak up the atmosphere, enjoy a meal at the sit-down restaurant and relax.
Disney's Wilderness Lodge speaks to the spirit of the great National Park lodges of the American West as soon as you walk into the lobby.
The lobby of Disney's Wilderness Lodge Resort.
Nikon D700/Tokina 11-16mm, 1/15s, f/5, ISO 800, EV +0.3, 16mm focal length, tripod.
I believe many families progress through the Walt Disney World resorts as we have done. Depending on our plans, we stay at either level these days. Our daughters still like to come with us, too. We are a true Disney family.