To all who come to this photo trivia game, Welcome! Along the way, the photos can make us relive memories and see details Walt's Imagineers put into everything we love in Walt Disney World!
Claire Gregory, Mary Beth Tarbet, Rob & April Vanderpool, and Jason And Melinda Lenz: thank you for your concern and wonderful messages! You guys are the best!

The Pinder Family and CJ, thank you too for your fantastic notes!
Guess what, Players? Remember I said we weren't going to Walt Disney World this year? Well, my husband surprised me with a trip: we'll be there in 5 weeks! Star Wars weekends, here we come!

Here's last week's Challenge: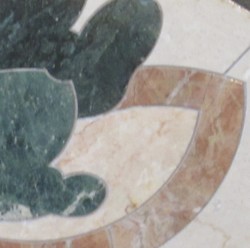 And here's the answer: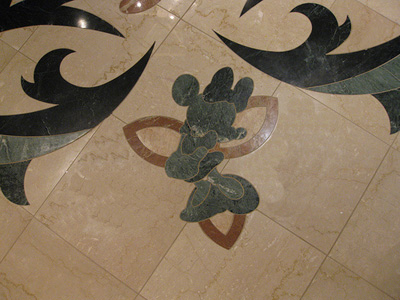 Copyright © Erin Blackwell
Minnie Mouse in marble! You can find her and many other Disney characters in the Grand Floridian lobby.
That's the Grand Floridian or, as Vicki Edwards' daughter put it, "the place that smells expensive". 🙂
Brian Miller was the first to send in the correct answer! Congratulations to Brian and all our winners this week! Chris Masse, Kris Nixon, Julie Wickware, Claire Gregory, Ed Elder, Virginia Pierce, Hoekzema Family, Danielle Ciotti Harsley, Paula Massarelli, Agnes Ciotti, Debbie Desimone, Al Desimone, Louise Barton, Agnes Ciotti, Rob & April – Team Vanderpool, Theresa Rucando, Mary Beth Tarbet, Ellie Argaluza, Laura V., Steve And Ruby Jordan, Team Hill, Carla C, Dan & Deb Mangini, Double Family, Johansen Family, Dave Wang, Noah Schweizer (9 Yrs Old), Gabriella, Terry And Matthieu, Kye Layton, Jennifer Rowell, The Kahle Family , Lynette Michalos, Pam Gallagher, Scott Encke, Mailin Pares, Darlene Harmon, Melodye Berry, Linda Andrews, Ken Clark, Scott Cullen, Belicia Cullen, Hillary Waldroop, Paul Moore, John & Rhonda Nottell, Tricia Petty, Laura Zale, Betsy Silvestri, Sharon Pierce, Annette Nuenke, Duskin Henard, Colette Stanton, Josh Carney, Julie Bozeman, The Parker Family, Craig Livingston, Evanna Huda, Paul Knott, Megan Collins, Zach Szymko, Missy Tillman, Cindy, Emily Hudson, Jason And Melinda Lenz, Mike Walter, Kara Jones, Kori Hockett, Shannon Savoia, Craig, Mickey Eckert, Amy Marte, Hobbes And Snorky, Erin Loring, Dennis Loring, Patti Gumiela, Jenny Stoneburner, Carrie Rampy, Paul Dickson, Sharon Dale, Jen Cerce, Morgan M., Marcia Mardirosian, Victoria W., James And Kathy Berry, Darcy Mchale, Kerri Coggins, Scott Precise, Mary Jo Gallion, Lisa Collymore, Daniel Record, Dan And Elizabeth Johnston, Annie Snodgrass, Leach Family, Cynthia Hitchcock, Chris, Gretchen, And Katie Barnes, Madison Hovan, Chloe Mayhew, Karen Adamakis, Becky Norman, Judy Simonsen, Julie And Kody Rider, Rob Jacob, Audra And Kevin Miller, Randi Balch, Heather Hynes, Tim Jeltes, Andy Hickey, Dale Knight, Vanessa Gordon, Denise Cayz, Maggie Klotz, Hayley Valk, Deedee Kenney, Jennifer Harmon, Jackie Purcell, Chris & Maranda Nichols, Todd Ritter, Andrew Gonzalez, Robert Hildebrandt, Mary Virginia Clause, Jennifer Forsythe, Tricia Noble, Carolyn Como, Amy Park, Kelly Smith, Nancy Cole, Mary Greger, Kristen Mccoy, Andy Schumacher, Anastasia Macneil, Wayne Witherspoon, Sara Alaimo, Scott Sangston, Alan Mize, Matt Holley, Stephanie Linares, Jaron Goldberg, Pinder Family, Matt Ciccone, Peter Boguszewski, Melody O'donnell, Heather Pedulla, Francis Lachance, Michele Mongeon, Scott Greenbaum, Dawn Bach, Walter N. Clark, Chris Kelly, Sara Holloway, Anita Jodouin, Larissa Huda, Diane C., Tracy Discher, Melesia Love, George Mundy Jr, Russell Hamlin, Ainsley Poe, Chris Horne, Stephanie Dollar, Dave Carriere, Heidi Goodhue, Patti Deluca, Elaine Kleinhenz, Patty Newton, Stacy Lee, Jane Johnson, Cheryl Costello, Barb Welshhans, Amanda Garrett, Rachel Taylor, Tom Higbee, Nathalie Periard, Christina Rotella, Pat, Jon Solomonson, Amber Slifer, Bonnie Cummings, Peggy Saeger, Amy Filliben, Vicki And Elizabeth Edwards, Vincent Maltese , Christopher Hall, Nathaniel Clements, Shirley Garcowski, Carol Ney, Julie Weigand, Bob Eldridge, Evald Olson, Pam Vanaustin, and Vera Williams. Each of you are entered in this month's winners' drawing.
_____________________________________________________ _____________________
Challenge #277: Where in the world is this?
STILL outside the parks, Players! Some of you are gnashing your teeth. I promise we'll go back inside the Big Four next week.

Do you know? Do you have a guess? Please send in your answer, before the end of the day on Thursday, May 2nd, by clicking on the blue box below. Please do not post answers using the Feedback Form link at the bottom of this post.
See you next week, Players!


_______________________________________________________________________
Everyone who sends in a correct answer to a Where in the World Challenge this month will be entered in a drawing at the end of the month for some special AllEars® goodies!