Disney parks are known for many things. Attention to detail and incorporating detail is one of them. Focusing on the little details at a busy tourist attraction like Walt Disney World is one way to get photos which do not include people.
Taking a stroll down Sunset Blvd. in Disney's Hollywood Studios, I came upon probably the only Ford vehicle on property. It is a yellow taxi in front of the Disney Vacation Club location. I got down low and opened up my aperture wide open to selectively focus on the car's grill where the manufacturer's logo was found.
The chrome grill of a yellow texi in Disney's Hollywood Studios.
Nikon D700/28-300VR, 1/3200s, f/5, ISO 200, EV +0.3, 32mm focal length.
Another detail Disney is famous for are Hidden Mickeys which Disney Imagineers design into attractions, restaurants, resorts and just about anything. This address plaque, found in the Streets of America in Disney's Hollywood Studios, was pointed out to me by a Hidden Mickey fan.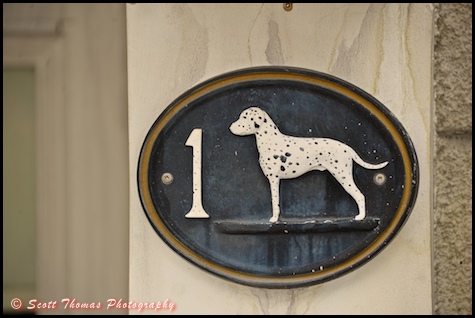 Hidden Mickey on the Dalmation dog address plaque in Disney's Hollywood Studios.
Nikon D700/28-300VR, 1/125s, f/5.6, ISO 200, EV 0, 300mm focal length.
Disney parks and resorts and most any tourist destination will have details to photograph which will add unique and interesting stories to your travel photography.