If you're among the many families traveling to Walt Disney World in the next week, your children may be wondering how the Easter Bunny will find them when they are on vacation. Not to worry, Mickey Mouse has you covered.
Disney cast members have been helping Mr. Bunny build his baskets and deliver them at the resorts here. After all, it's a lot of work for just one rabbit!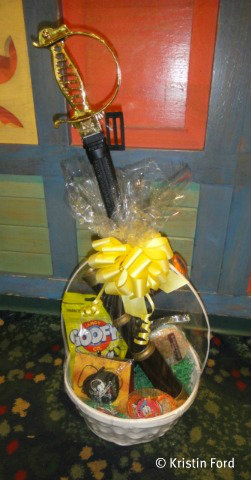 The process for ordering — or creating a customized basket — is much the same as it has been for the last several years. Beginning this week, in almost all the Walt Disney World hotel gift shops, there will be a selection of pre-made Easter baskets from which guests can choose. (The start dates for this merchandise varies, but all locations will have their baskets in place by March 28. They will be available up to and including Easter morning.) Traditionally, these baskets have pirate, princess and Mickey Mouse themes, and prices range from $40 to $65.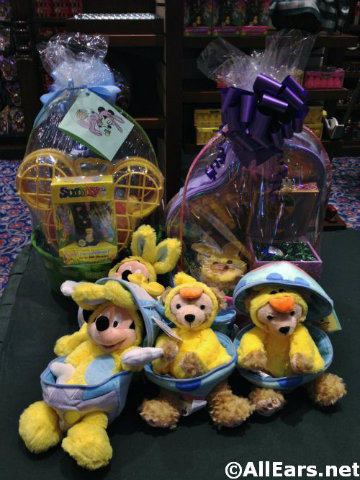 Perhaps, though, you'd like to create a more individual basket. If you can dream it, cast members will try to do it! Customized baskets start with a white basket, green grass, shrink wrap and your choice of bow — pink, yellow, blue, purple — for $7 plus tax. The rest of the price is determined by the toys and treats you add to the basket. There is no charge for labor.
As another favor to Mr. Bunny, gift shops at the hotels will store the baskets, if guests prefer, because it's difficult to hide them in rooms ahead of time from curious little ones. At the Grand Floridian and Animal Kingdom Lodge, cast members will even deliver the baskets to the rooms.
For a personalized basket (or Easter bag for tweens), Disney Floral & Gifts can embroider your child's name on the fabric and include egg-stra special treats for Easter morning. Mickey's (or Minnie's) Easter Surprise 2013 is $89.95. Mickey's (or Minnie's) Grand Easter Surprise 2013 even includes a letter from Mickey explaining how he helps the Easter Bunny at Walt Disney World. The Grand Easter Surprise 2013 also includes Mickey or Minnie's "footprints" and confetti to place in the room. To order these gifts, call 407-WDW-GIFT.