Last weekend, Deb and I walked around World Showcase with my 10-year-old son and 8-year-old daughter during the Epcot International Flower & Garden Festival. Our goal was to have the kids sample the TRYit selections at each Garden Marketplace so we could give readers an idea of where their time and money would best be spent.
TRYits are foods that Disney chefs have prepared to encourage kids to try something new. The term TRYit, though, has been associated with Disney's Magic of Healthy Eating campaign for some time now. The national initiative, which was launched in 2010, aims to help children and their parents lead healthier lives. It focuses on nutritional guidelines and, most recently, standards for food advertising. One of the touchstones of the campaign is teaching kids to try new foods and activities.
Fruits By The Glass
We started our food journey with the Fruits By The Glass booth in the center of World Showcase Plaza. The TRYit is a Wild Berry Slush for $2.50. It was no surprise to me that both kids loved this drink. After all, it essentially is a fruit smoothie, and they would drink those every day if they were allowed. My children also shared the Honest Kids Super Fruit Punch ($2.75), which is a juice pouch that is available at most of the Garden Marketplaces. They said that it tasted "watered down," which I'm sure is because of the low sugar content, especially when compared with the Capri-Suns they normally drink. A better option for them and other kids more accustomed to something sweeter probably would have been the Minute Maid Light Lemonade for the same price.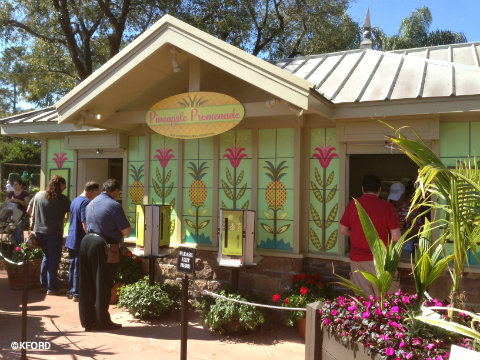 Pineapple Promenade
Next, we decided to walk counter-clockwise around the lake. At the Pineapple Promenade, there are no TRYits, so we moved on. The adults, however, reserved the right to come back and reward themselves with the Dole Whip with Siesta Key Spiced Rum after the afternoon trek.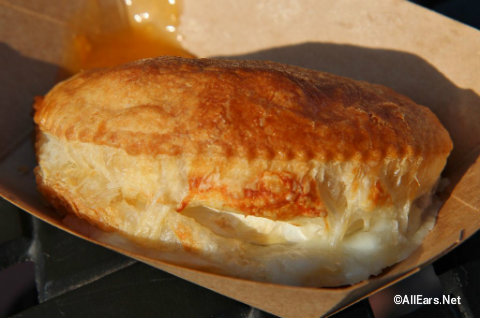 The Cottage: Savories, Trifles and Tea
In the United Kingdom, chefs suggest that kids try the Baked Goat's Brie with Kumquat Chutney ($4.50) and the Waterkist Farms Heirloom Tomatoes with house-made Mozzarella, Minus 8 Vinegar and Basil ($3.50). Both of my children liked the brie, which is baked in a flakey pastry and served with a sweet chutney. When Deb Koma sampled this dish, she noted that the chutney made what could be an excellent dish too sweet for her taste. But perhaps that is the difference between a refined adult palate and a child's taste for as sugary treats – and the sweeter the better. The Heirloom Tomatoes were not met with the same enthusiasm, though; my daughter liked them better than my son did.
L'Orangerie
We arrived in France, and the kids saw they would be tasting the Tarte á la Ratatouille et frommage de chévre (zucchini, eggplant, bell peppers, onions and tomato tart with goat cheese — $4.50). That doesn't sound too kid-friendly, does it? Both kids sampled the dish, but it was my daughter who was quite enthusiastic about it. I took a bite and enjoyed the tarte. I would compare it to a thin-crust pizza topped with an abundance of vegetables. Although it wasn't a TRYit, the Verrine charlotte au péches (carmelized peaches with rosemary and light vanilla cream — $5) also was on our list to sample. This resembles a fruit parfait and is quite appealing visually. Unfortunately, both the kids and adults in our group agreed it was delicious until your spoon tucked into the rosemary sauce, which left an unfamiliar if not unpleasant aftertaste.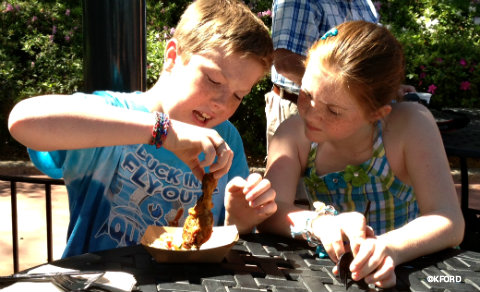 Taste of Marrakesh
In Morocco, the TRYit is Baghrir (a Moroccan pancake with honey, almonds and Argan Oil — $3). While both children were willing to try this dish, I don't think they were able to get past their Western association of syrup with a sweet pancake, and they definitely didn't like the nuts. They also sampled the Harissa and Lemon Confit Chicken Drumettes with chermoula and cucumber salad ($5), which is not a TRYit. But with chicken a perennial kid favorite, we thought we'd give it go. Both children did like the chicken, though they were slightly unaccustomed to its spicy flavor.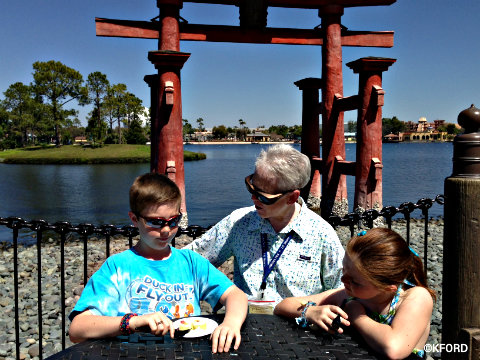 Hanami
I'm not sure how everyone was still hungry when we got to Japan, but we ordered one of each dish. Both children really liked the YakiSoba Pan (fresh grilled vegetables, carrots, onions and cabbage with Japanese noodles and teriyaki sauce served on a bun with mayonnaise and Beni Shoga — $4) and didn't want to put it down. My daughter and another friend in our party tried the Chirashi Hanazushi (grilled salmon, cooked shrimp, and crab stick served over a bed of fragrant ginger rice with Volcana and Dynamite sauce — $6). They both declared it good but so hot and spicy that their eyes watered. The TRYit for this Garden Marketplace is the dessert Frushi (fresh strawberries, pineapple and cantaloupe rolled with coconut rice atop a raspberry sauce sprinkled with toasted coconut and whipped cream — $4.50). Both kids enjoyed this dish, and my picky son actually asked for seconds.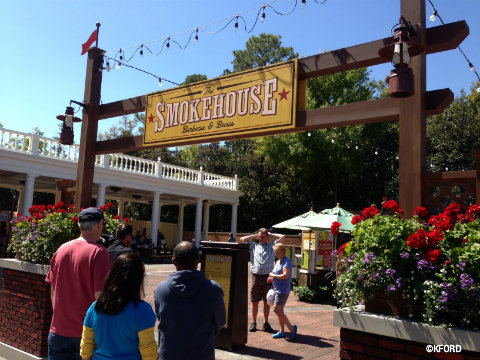 The Smokehouse: Barbecue and Brews
The smells of good old barbecue at the American Adventure led us to the courtyard, where traditional favorites are served. There are no TRYits at this marketplace. Still, we ordered the Pulled Pig Slider with Cole Slaw ($5.50) for the kids because they enjoyed a similar item at last fall's Food & Wine Festival. Unfortunately, this was not the same thing, and they just picked at it. The adults in our group raved about the Smoked Beef Brisket with Collard Greens and Jalapeño Corn Bread ($6.75) and the Rocky Road Brownie Mousse ($3). My husband tried the Beer Flight: Mama's Little Yella Pils, (pilsner), Liberty Ale (IPA), and two organic selections: Red Ale, Blackwater Porter ($13). He said it was a good sampling of beer he typically wouldn't encounter in the parks. He especially enjoyed the smooth porter, though he said he would have like a little more bitterness in the IPA.
Primavera Kitchen
Next door in Italy, the Lasagna Primavera (spinach Lasagna, green peas, zucchini, mushrooms, broccolini, béchamel and fresh tomatoes with garlic and basil leaves — $6) is the TRYit selection. We all gave this "two thumbs up," or as my daughter says, "10 Mickey fingers." Despite the greenery, the kids were willing to taste this lasagna and actually enjoyed it. Deb didn't have to twist the kids' arms to get them to try yet another dessert — the Panna Cotta al Limoncello (limoncello flavored Panna Cotta with wild berries — $5). They liked the overall dessert well enough, but it was the berries that really excited them the most.
Bauermarkt: Farmer's Market
Germany was my children's favorite stop on our food tour. They still are talking about the food they ate there! The TRYit is a Potato Pancake with house-made Apple Sauce ($2.75). The applesauce usually is served on top of the pancake, but we asked for it in a separate container, and both children liked the dish divided this way. The real must-have, though, is the German Meatloaf Sandwich with Sweet Mustard and Fried Shallots ($3.75), which is not a TRYit. My daughter loves meatloaf anyway, and my son does not. Both, however, could not stop eating this sandwich. They said the meatloaf actually tastes more like a sausage.
Lotus House
Pancakes, pancakes, pancakes! My children tasted their third version of the day in China with the Spring Pancake with Grilled Chicken and Green Apple ($4.50), which is the TRYit. This combination did not wow anyone in our group. However, my daughter ate every one of the crunchy pieces of fruit in the Beijing-Style Candied Strawberries ($3.50).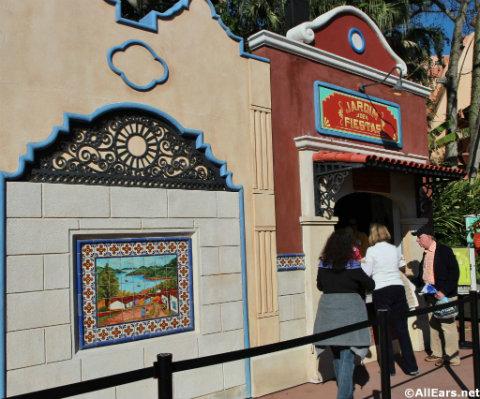 Jardin de Fiestas
The TRYit in Mexico is another dessert: Flan de Guayaba (guava custard — $3.50). We somehow skipped this Garden Marketplace, and I think it was because we all were trying to save room for the goodies at the next, and final, food booth.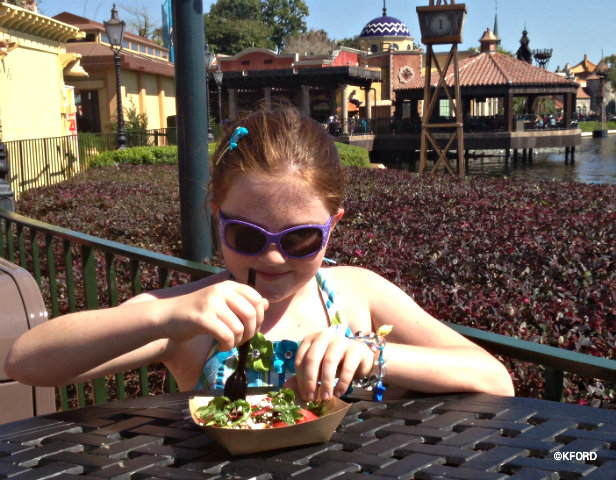 Florida Fresh
Perhaps one of the most-talked-about dishes at the Flower & Garden Festival is the Watermelon Salad with pickled Red Onions, BW Farms Baby Arugula, Feta Cheese and Balsamic Reduction ($3.50). It also happens to be a TRYit. Certainly my children like watermelon, but I was curious to see if the addition of red onions would stop them from enjoying this version. It did not, though they had to compete with the adults for the remainder. The other TRYit at this marketplace is the Angel Food Cake with macerated Florida Berries ($3.25). It, too, was a hit. Finally, my son wanted to compare the Strawberry Slush ($2.50) with its Wild Berry counterpart he had first sampled. The verdict: Wild Berry is better, though he wouldn't turn either down.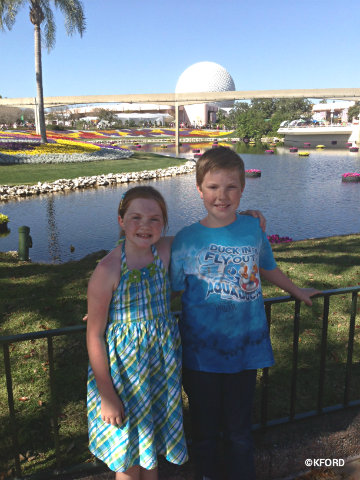 What did we learn from our fun-filled feast around World Showcase Lagoon?
All kids, of course, have different tastes and culinary expectations. Such was true of my oldest child, who was more reserved in his excitement about new food dishes, and my youngest, who was more adventuresome and willing to try new things.
Yet it was clear that, regardless of whether my kids enjoyed all the menu items they tried, our station-to-station journey showed just how much variety there is in TRYit dishes at this year's Flower & Garden Festival. With a little effort to try something new, it's quite possible your children will find their own unique TRYit dish, and they just might LIKEit, as well.