Elegance, refinement, charm. These are all word that come to mind when thinking of the Grand Floridian Resort and Spa. Its beauty and grandeur make it one of the premiere resorts in all of Walt Disney World while its striking Victorian architecture and décor make it one of the most recognizable.
For these reasons, the Grand Floridian is held to a higher standard and every aspect of the resort must live up to the lofty expectations of its visitors. It comes as no surprise that the resort's restaurants are among the most respected in all of Disney World. The Grand Floridian alone features three Signature dining locations, quite a feat considering that there are only about a dozen of these Signature restaurants in all of Disney World. Known for requiring two credits when on the dining plan, Disney defines its Signature restaurants as "providing unparalleled cuisine served in elegant and relaxed surroundings." The restaurants at the Grand Floridian certainly live up to this billing and one such dining location is Citricos.
Overview:
As soon as you set foot into the magnificent lobby of the Grand Floridian you feel as though you have been transported to another time and place. If you are fortunate enough to walk through the lobby as the resort's jazz band is playing it is easy to get lost in all the splendor and forget that you are in Disney World just a short monorail ride away from the Magic Kingdom.
With its high ceilings, chandeliers, and elegant Victorian décor it is plain to see why the resort is referred to by many simply as "The Grand." This refined atmosphere is carried throughout the resort, from the Guest rooms to the newly renovated spa to the manicured courtyard and gardens and of course the restaurants. Each restaurant offers something a little different. There are the whimsical character experiences at 1900 Park Fare, the beautiful waterfront views of Narcoossee's, and the opulence of Victorian and Albert's. Citricos also keeps with the upscale feel of the rest of the resort. However, with a menu that highlights American cuisine with a Mediterranean flare, the dining experience at Citricos reflects that with a much different feel than anywhere else at the Grand Floridian.
Atmosphere:
Citricos presents a stark contrast to the rest of the Grand Floridian. Rather than dining in a refined Victorian setting, guests here enter into a more sleek and modern space with a Mediterranean feel.
The Mediterranean influence can be seen as soon as one sets foot into the restaurant in the intricately tiled floor. Overall, however, the theming of the restaurant is more subtle and subdued.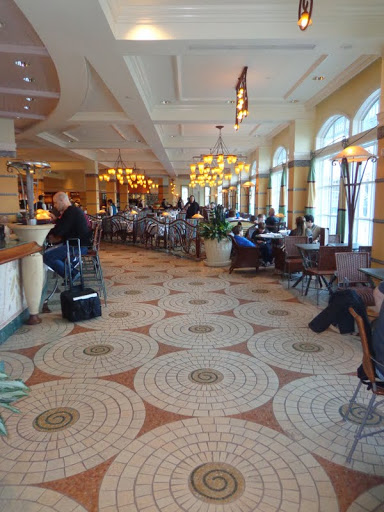 In addition, the creams and whites of the rest of the resort give way to a much warmer color palette of yellow, green, and blue.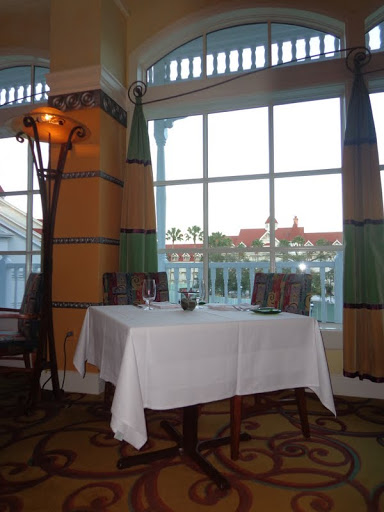 The more modern touches can be seen in the designs on the upholstery, carpeting, and the light fixtures.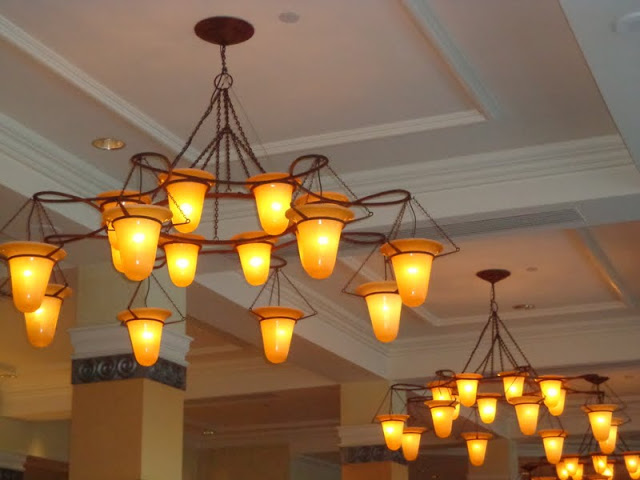 It is not necessarily modern like what you would see at the Contemporary Resort, but a more classic-modern that really stands out in relation to the rest of the resort.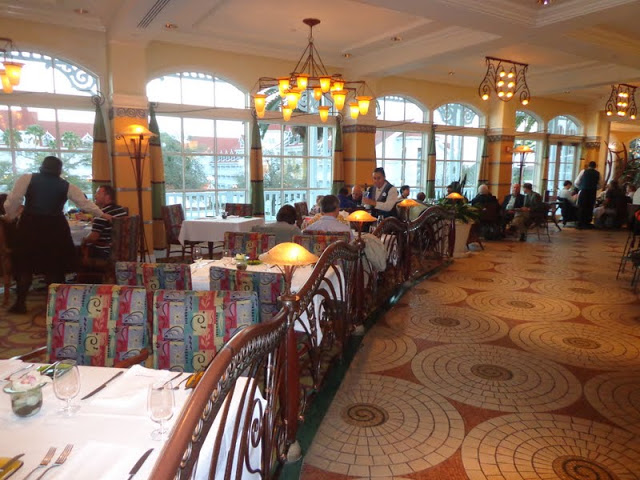 The dining room is open and spacious. It is a very large dining room with high ceilings and an open floor plan that allows tables to be nicely spread out so that you were not right on top of the table next to you. One of the best features is the huge floor-to-ceiling windows that offer tremendous views into the courtyard.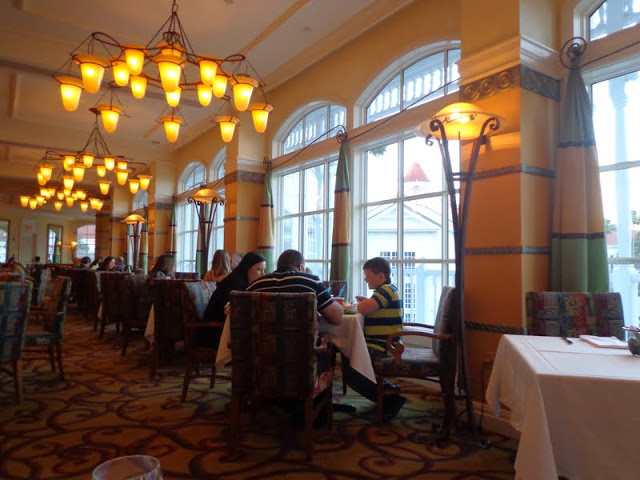 Another nice touch is the show kitchen where you can see the chefs preparing your meal.
The overall feel of the dining room is definitely upscale, but it is not as refined or elegant as some other Signature restaurants I have dined at. I think this is one of the great allures of Citricos in that it provides a quiet and upscale atmosphere but one that is still comfortable and relaxing. It is a restaurant that provides a nice escape from the hustle and bustle of the theme parks and is a great option for a romantic night out.
The Menu:
As is the case with Disney's Signature restaurants, the menu at Citricos is constantly changing based upon the time of year and what ingredients are fresh. There are, however, some favorites that remain constant. The restaurant's cuisine is described as American with a Mediterranean flare, taking inspiration from dishes from Italy, France, and Spain. In addition to its food offerings, Citricos' menu also features an award-winning wine list that includes one of the largest selections of wines in all of Disney World.
For appetizers the menu features a variety of dishes including Sautéed Shrimp ($14.00) with lemon, white wine, tomatoes, and feta cheese, Arancini ($10.00), which are crispy risotto balls with mushrooms and asiago cheese topped with tomato coulis, the Cheese Course Trio ($14.00) that includes cheeses from Spain and France, and Panadas ($12.00), which features spiced and slow-cooked beef in crisp phyllo with a tamarind sauce.
For soups there is the Zuppa de Tres Cavolfiore ($11.00), a cauliflower soup, while salads include the Charcuterie ($15.00) with serrano ham, prosciutto, chorizo, romano cheese, dates, pickled fennel, and almonds, Artisanal Greens and Heirloom Apples ($14.00) topped with a balsamic-orange honey emulsion with pickled red pearl onions, dates, spiced pistachios, and valdeon cheese, and the Winter Greens and Blood Orange-Braised Beets Salad ($13.00) with red watercress, winter greens, and arugula mixed with a bacon-sherry vinaigrette, blood orange braised beets and a warm goat cheese sauce.
The entrees are definitely more on the gourmet side and feature some more exotic ingredients and flavors. There is the Oak-Grilled Swordfish ($38.00) served with citrus cous cous, head-on shrimp, escargot, mussels, and harissa, Berkshire Pork Two Ways ($35.00) with both rotisserie pork tenderloin and roasted pork belly accompanied by hominy-cheddar puree and brussel sprouts, Pan-Roasted Airline Chicken Breast ($33.00) with creamy goat cheese polenta, an apple cider chicken demi glaze, sweet potato ribbons, and root spinach, Madeira-Braised Short Ribs ($43.00) with trofie pasta, wild mushroom ragout, and truffle creme fraiche, Braised Veal Shank ($53.00) with carrot-potato mash, roasted vegetables, and toasted citrus gremolata, Pan-Seared Florida Black Grouper ($38.00) with pappardelle pasta, chorizo, taggiasca olives, marinated sun dried tomatoes, white wine and aglio e olio, Oak-Grilled Filet of Beef ($43.00) served with roasted pearl onions, rainbow carrots, micro celery, barley risotto, and a cabernet demi glaze, and the Seared Tofu ($28.00) accompanied by a zucchini and eggplant ratatouille, roasted mushrooms, lentils, and sun-dried tomato puree.
Finally, the menu also features some delectable desserts including Lemon-Scented Cheesecake ($9.00), a Warm Chocolate-Banana Torte ($11.00) served with vanilla ice cream, a Tasting of Gelato ($9.00) featuring Italian vanilla bean, cappuccino, and raspberry, Tropical Fruit Creme Brulee ($10.00) with mango and assorted berries, and Tiramisu ($11.00).
My meal started with the Arancini appetizer. These fried rice balls are a common Italian dish that I have had at several restaurants in the past, but nowhere near as good as the ones at Citricos. The arancini were perfectly prepared so they golden and crispy on the outside but still moist on the inside. Despite their small size, they were packed with flavor, with the mushrooms and asiago cheese blending together perfectly. The arancini were served atop a tomato coulis. I wish there had been a little more of this sauce since it provided a lighter, refreshing contrast to the creamy richness of the rice balls. While the portion size might not appear large, it is actually a very filling appetizer that can actually be split between two people.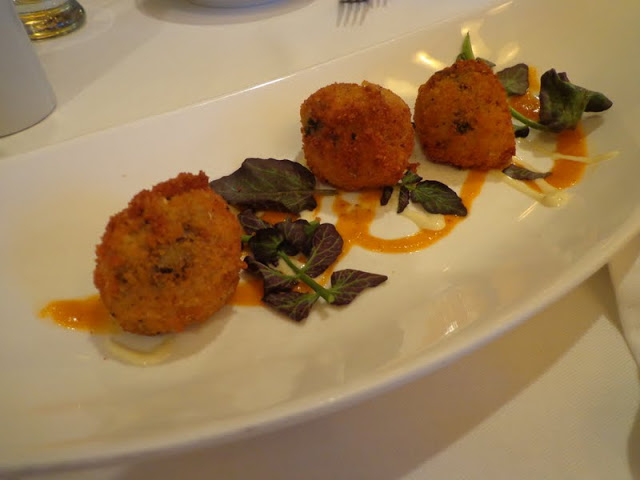 For an entrée I decided on the Madeira-Braised Short Ribs, which came highly recommended by my server. This was a dish that was just bursting with flavor and you could tell that the short rib had been marinating for a very long time. The short rib itself was so extremely tender that it fell apart upon the touch of a fork. The wild mushroom ragout added even more flavor to the dish that complimented the flavor of the short rib very well. I am not the biggest fan of mushrooms, but they worked very well in this dish. The trofie pasta was very unique. Served al dente, the pasta provided a nice contrast in texture and absorbed the flavors from the short rib and mushroom ragout.
For dessert I could not pass up the opportunity to try one of Citricos' signature dishes, the Warm Chocolate-Banana Torte. I think decadent is probably the best word to describe this dessert. It is so rich that you will definitely want to split it amongst two or more people, especially at the end of a big meal. The combination of chocolate and banana is perfect, with neither flavor overpowering the other. With its sweet, warm, and gooey center, the torte is accompanied by a scoop of vanilla ice cream which provides a light and refreshing contrast. It was a great way to end what was a very high-quality meal.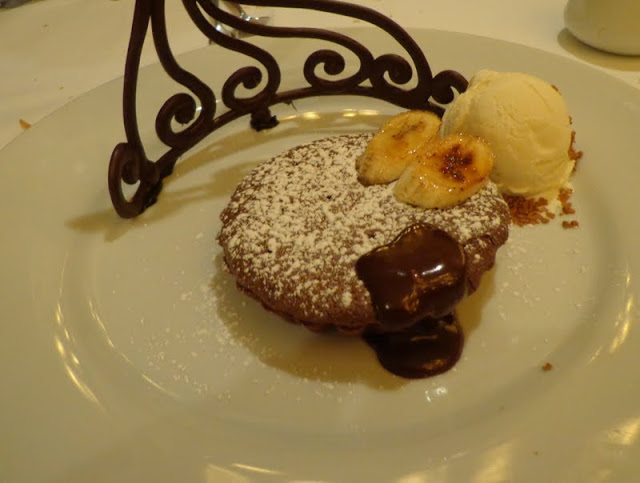 Service:
This is an area in which Disney's Signature dining locations usually excel and Citricos was no different. I would even go so far as to say that my server at Citricos was one of the best I have had at any Disney restaurant. My server was just a genuinely nice person. Extremely personable, she was very easy to talk with. What was also nice about this particular server was that, even though it was a more upscale restaurant, we were still able to have fun and joke around with her. As is the case with Signature restaurants, the servers usually have fewer tables to worry about and thus can give you their undivided attention throughout the course of your meal. Our server was constantly checking in on us to make sure we were enjoying are meals and seeing if we needed anything else. We also received a visit from one of the restaurant's managers who we had a good conversation with. You could clearly tell that all the Cast Members here really care about providing the best dining experience possible for guests.
Dining on a Budget:
This is something that is difficult to do at Citricos. Unfortunately, while a Signature restaurant offers the best of the best in terms of atmosphere, location, food, and service, you are also paying for that high quality. The price of an appetizer here would be the equivalent of an entrée at some other Disney restaurants. If you are looking to splurge a little on a meal during your vacation this would be one of the restaurants to do it at because you certainly get what you pay for. That being said, if you choose to eat at Citricos, or any other Signature restaurant, there are a couple of ways to keep the bill low. First, don't order any alcohol. Beer and wine can often run up a bill, so you may want to consider a glass of water or soda. Second, share an appetizer rather than getting one just for yourself. Not only does this save money, but it also prevents you from filling up before your entrée arrives. Finally, skip or share dessert. The entrees are certainly big and filling enough that you do not really need to have a dessert all to yourself, which would also help to keep the cost of your meal down.
Citricos is on the Disney Dining Plan, but as a Signature restaurant it is worth two table service credits. If you are a Tables in Wonderland member, this is definitely a good restaurant to take advantage of its 20% discount. However, there are no additional discounts for Annual Passholders or Disney Vacation Club Members.
The Overall Experience:
Whenever you dine at a Signature restaurant your expectations are always going to be higher based solely upon the dining location's "signature" status. I am pleased to say that Citricos not only met, but exceeded my expectations. It is definitely one of the best meals that I have had at any restaurant in all of Disney World. All of the dishes were full of flavor, used the freshest ingredients, and were beautifully presented. The restaurant itself provides a nice contrast to the rest of the Grand Floridian. While still continuing the resort's upscale feel, it does so in a much different way. With its modern, Mediterranean-inspired atmosphere, Citricos provides a calm, quiet, and relaxing setting in which to enjoy your meal. While it is a restaurant definitely geared more toward adults, it is not so refined and formal that you should be scared away if dining with children. While the prices may be expensive, you are definitely getting what you pay for. Everything about Citricos is of the highest quality, from the food, to the atmosphere, to the service. It is certainly a restaurant not to be missed.
See past restaurant reviews by guest blogger Andrew Rossi.
Check out Reader Reviews of Citricos and post your own too!