To all who come to this photo trivia game, Welcome! Along the way, the photos can make us relive memories and see details Walt's Imagineers put into everything we love in Walt Disney World!
Merry Christmas to everyone celebrating this special day!

Here was the challenge last week: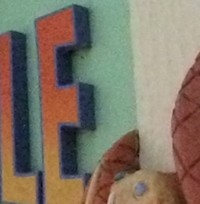 And here's the answer:


Copyright © Erin Blackwell
I'm so glad you enjoyed this challenge, Claire Gregory and the Hoekzema Family! It's the walkway sign for the Island Mercantile in Disney's Animal Kingdom!
Emma Poprock was the first to send in the correct answer! Congratulations to Emma and to all the readers who got the answer right: The Strukel Family, Team Hill, Wendy Barney, Kristi Strembicki, Deb Ragno, Robert Hildebrandt , Claire Gregory, Nathalie Periard, Pam Vanaustin, Mary Beth Tarbet, Larissa Huda, Billie Jean Albolino, Hoekzema Family, Tricia Noble, George Mundy Jr, Nathalie Periard, Emily Hudson, Danielle Ciotti Harsley, and Agnes Ciotti. Each of you are entered in this month's winners' drawing.
_____________________________________________________ _____________________
Challenge #260: Where in the world is this?
So… does this look familiar?

Do you know? Do you have a guess? Please send in your answer, before the end of the day on Thursday, December 27th, by clicking on the blue box below. Please do not post answers using the Feedback Form link at the bottom of this post.
See you next week, Players!



_______________________________________________________________________
Everyone who sends in a correct answer to a Where in the World Challenge this month will be entered in a drawing at the end of the month for some special AllEars® goodies!