Every year I suggest that we photo bloggers do some sort of year-end wrap-up. For 2012, Scott and I are each picking three of our favorite Disney photos taken over the course of the last 12 months. We hope you enjoy them as much as we do.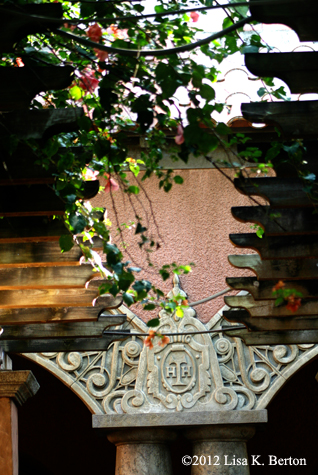 While I will not ride Tower of Terror, I do enjoy photographing the queue. The theming outside is so simple and yet very specific to the attraction. You see the letters HTH around referring to Hollywood Tower Hotel at Disney's Hollywood Studios, the "hotel" that guests never check out of. (wink, wink). I love how the light plays off of the vines and dark wood lattice.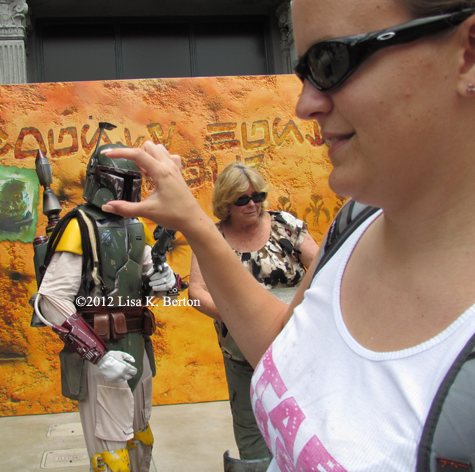 A Star Wars fanatic I am not but I do love well planned out and themed events like Star Wars Weekends. By model for the afternoon, Sharon, went along with my idea for her to squish bounty hunter Boba Fett. We got two shots before he realized what we were up to and started after us. It was pretty funny.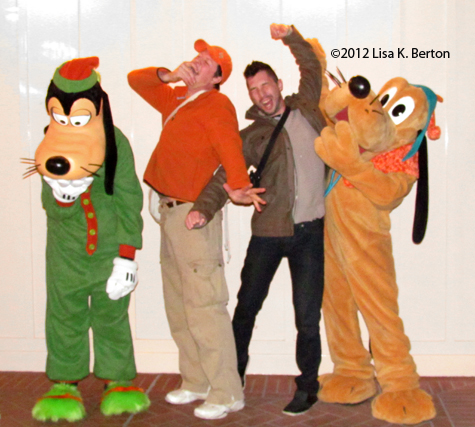 This was one of the last photos I took as I slowly and painfully exited Disneyland after staying awake for some 19 or 20 hours during One More Disney Day. I have no idea who these fellas are but they made me laugh and along with Goofy and Pluto helped create my all-time favorite shot of 2012. Thanks, boys.
Merry Christmas to those who celebrate.
You can find me on Facebook.