Welcome to Part Two of my "Visit Disneyland" blog. Yesterday I briefly discussed Disneyland and Disney California Adventure. Today I'm going to cover the three Disney hotels located in Anaheim.
When people are planning a trip to WDW they often ask me where to stay. My answer is always the same. Stay at a Disney hotel if at all possible. I don't care if it's a deluxe, moderate, or budget resort. Just stay on property. That way you will be surrounded by the magic 24/7 and be eligible for Disney perks – like Extra Magic Hours. My advice is the same for the Disneyland Resort – if you can afford it. You see, all three hotels here fall into the deluxe category with prices to match. Let's first discuss Disney's Grand Californian, the flagship hotel of the three (and the most expensive).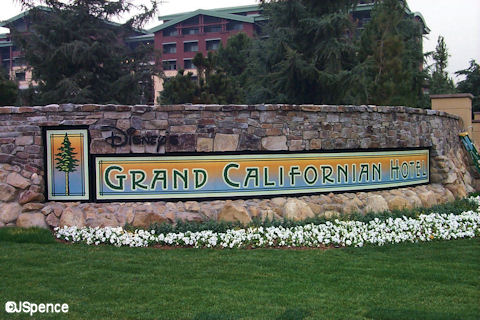 If you like the Wilderness Lodge at WDW, you will like the Grand Californian at the Disneyland Resort. Designed in the early 20th century Arts and Crafts style of architecture, this hotel showcases the elements of nature with hand-crafted stone and woodwork that blend with rustic charm and elegant design. The lobby is especially majestic and welcoming.
This hotel opened in 2001 as part of a major expansion to the Disneyland Resort that also included Disney California Adventure and Downtown Disney. The Grand Californian has 1,019 rooms of which 48 are Disney Vacation Club 2-bedroom units that can be split into 1-bedroom and studio accommodations. The Grand Californian also has its own private entrance into Disney California Adventure and is literally part of the Downtown Disney complex with many rooms overlooking this shopping district.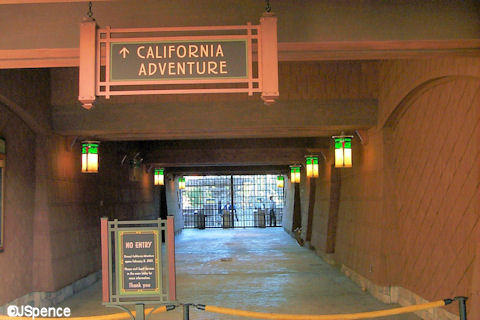 People often ask me to name my favorite WDW restaurant. I always answer Flying Fish and Citricos. Well in my opinion, Napa Rose at the Grand Californian has both of these beat. Besides providing top-notch service and excellent cuisine, Napa Rose offers an unsurpassed selection of wine. The chef, Andrew Sutten, was hired away from the Auberge du Soleil resort in Napa Valley to create an all new experience at this restaurant's inception and he continues to work his magic to this day. Over the years, Napa Rose has won numerous awards. For example, in the 2008 Zagat Los Angeles/Southern California Restaurants Guide, Napa Rose scored 27 points in food and service and 26 for decor (both out of a possible 30) giving it the highest score in the region
The décor of Napa Rose continues the Craftsman style of architecture and offers a beautiful dining room and an exhibition kitchen-view counter. One wall of the restaurant features floor to ceiling windows that overlook Grizzly Peak at Disney California Adventure. I can't recommend this restaurant enough for those of you who truly enjoy an elegant evening.
The Grand Californian is the one Disneyland Resort hotel that is truly comparable to the hotels found at WDW. It has a definite theme inside and out that captures the imagination. This is a first class establishment.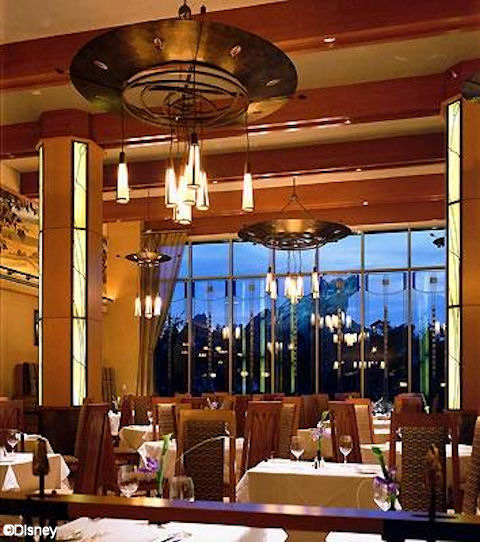 Let's next take a look at the Disneyland Hotel. Located at the west end of Downtown Disney, this hotel features three high-rise towers. Originally built, owned, and operated by the Wrather Corporation, this resort is now under the Disney umbrella (since 1988) and has received a number of makeovers over the decades. During the last three years, the hotel underwent another refurbishment and today it offers sophisticated accommodations with Disney whimsy thrown in where ever possible.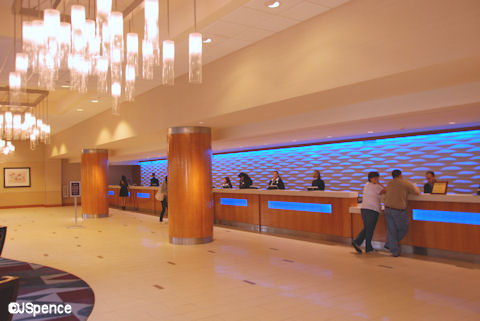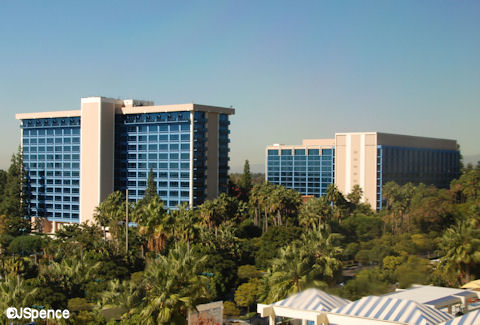 Part of the playfulness of this resort can be found at the newly constructed pool. The water slides have been cleverly designed to pass through replicas of the original Disneyland monorails while a facsimile of the original Disneyland sign towers overhead.
More whimsy can be found at Trader Sam's Enchanted Tiki Bar. As the name implies, this watering hole is themed after the Jungle Cruise and the Tiki Room – and is a lot of fun.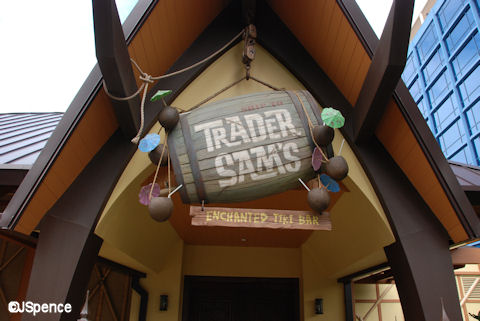 The concoctions presented here are good for a few laughs. Take a look at some of the offerings listed on the drink menu.
Tiki Tiki Tiki Tiki Tiki Rum: Welcome to our tropical hideaway, you lucky people you! If you have one of these starting right away you may be ordering two.
Mosquito Mojito: Trading of the ingredients of this refreshing antidote for malaria didn't cost Sam an arm and a leg. But it did cost him a mint.
Hippopotomai-Tai: Dare to enter this hippo pool with.. Bang! Bang! Two shots of rum! Don't worry this drink is only dangerous when you start to wiggle your ears!
Although Imagineer Joe Rohde was not responsible for the design of Trader Sam's Enchanted Tiki Bar, he has been immortalized here in the form of an African mask. In addition, Disney World's Little Orange Bird can be seen perched on an overhead shelf.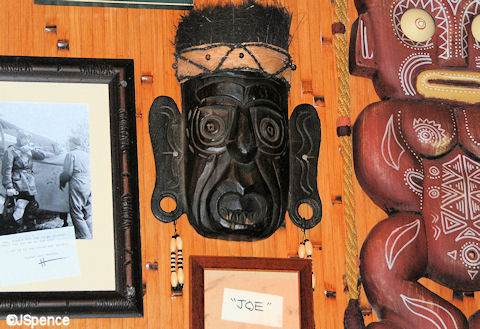 For you beef lovers, the Disneyland Hotel also offers a first class restaurant. Steakhouse 55 is an outstanding eatery that ranks high on the Zagat scale. In 2012 it received a score of 25 for food, 24 for décor, and 26 for service (out of a possible 30).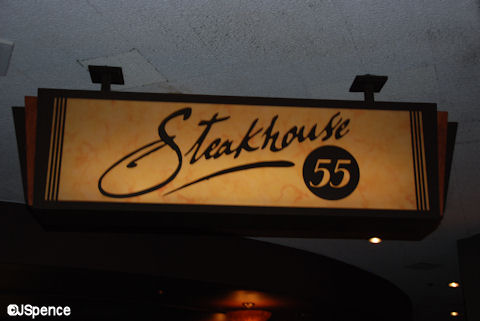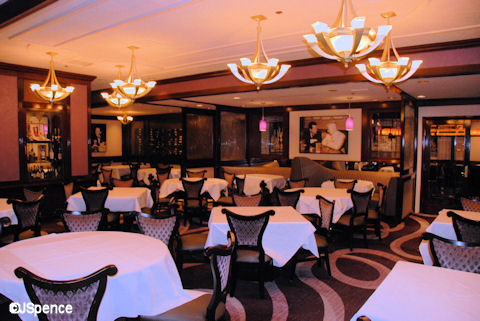 The last hotel I'm going to discuss is Paradise Pier. This hostelry is the least expensive of the three and located the furthest from Downtown Disney and the theme parks. But that doesn't mean it's not worthy of your consideration.
This 15-story hotel was built by a Japanese concern and opened in 1984. It was originally named Emerald of Anaheim. (The hotel has a 13th floor as the Japanese aren't superstitious about such things.) The name was later changed to the Pan Pacific Hotel in 1989. In December 1995, Disney purchased the hotel and changed its name to Disneyland Pacific Hotel. In 2001, the hotel was renamed again to Paradise Pier to coincide with the Paradise Pier section of their new park, Disney California Adventure. The exterior of the hotel was also altered to give it a "Coney Island" appearance to help it blend in with the section of the park it overlooked.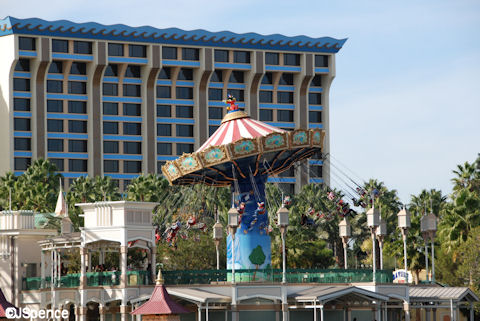 Of the three Disney hotels, this one has the least "Disney" feel about it. The Imagineers have tried to infuse magic into this resort, but it really can't compare to the Disneyland Hotel or Disney's Grand Californian. However, that doesn't mean you shouldn't consider staying here.
Although the walk to the theme parks and Downtown Disney is a little further, it offers the most reasonable prices along with Extra Magic Hours, a real perk when visiting Disney California Adventure and Cars Land these days. In addition, the rooms on the east side of the building offer spectacular views of DCA. Note, these next two pictures were taken before DCA was remodeled but it will give you an idea of what's in store for you here.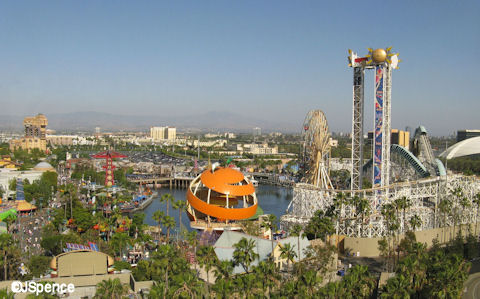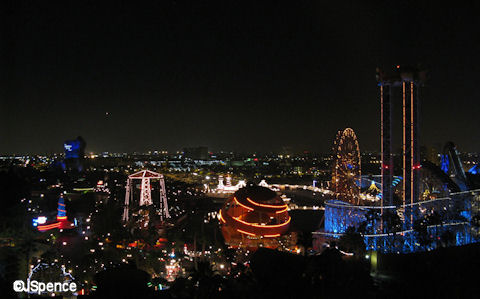 I have not begun to cover all of the amenities offered at the Grand Californian, Disneyland Hotel, or Paradise Pier. Each resort would require an entire blog. However, all of these hotels offer great service and first class accommodations. The beds are comfortable, the pillows are big, soft, and many (unlike WDW), the towels are large and fluffy, and the toilet paper is quality.
All three hotels have swimming pools, shops, and multiple eateries. In addition, they all offer character meals so your children can have some one-on-one time with their favorite Disney friends.
Another good thing about these three hotels is that they're Stacy-free. When watching the Disney Resort channel on your hotel room TV, there is no annoying Stacy counting down the "must see" attractions. Instead, you get a simple voiceover by a pleasant sounding gentleman, calmly explaining all there is to do and see at the Disneyland Resort. This alone should make you want to book a trip to Anaheim.
For those of you who can't afford a Disney hotel, there are around a hundred hotels and motels in the Disney area available in all price ranges. Most offer frequent bus service to and from the parks. In fact, in order to accommodate all of these other resorts, Disney has built a special loading and unloading area for taxis and buses. Many of these non-Disney resorts are within walking distance of the parks.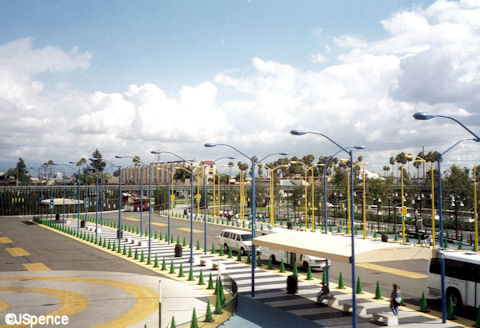 On my most recent trip to the Disneyland Resort, I did not rent a car. Instead, I used the Disneyland Express bus service that runs between the Los Angeles International Airport and the Disney area. This service is operated by Grey Line, not Disney (so there is a reasonable charge for the service). However, the Disney resorts are given priority as their guests are dropped off here first and picked up last to minimize your time in the bus. I have to say, I was extremely happy with the service and would definitely use it again.
Okay. I know what you're thinking. You're saying to yourself, "Jack, you've convinced us that the Disneyland Resort is worth a visit, but you say that it only takes three days to see the parks. So what are we supposed to do with the rest of our week?"
Southern California is one of the key tourist destinations in the country. It has enough man-made and natural attractions to keep you busy for months. Alamo Car Rental is located at Downtown Disney and day trips abound. Here is just a sampling of things to see and do within an hour or so drive from the park:
Knott's Berry Farm
Universal Studios Hollywood
Legoland
Nixon Library
Long Beach Harbor – for Catalina Island
Queen Mary
Madame Tussauds Wax Museum
Hollywood Sightseeing Tours
Newport Beach – for whale watching
La Brea Tar Pits
Griffith Planetarium/Observatory
Venice Beach
Huntington Library
J. Paul Getty Museum
Walt Disney Concert Hall
Olvera Street
Aquarium of the Pacific
Raging Waters
If you're willing to drive an hour and a half or two hours, here are few more sights worth your time:
Ronald Reagan Library
San Diego Zoo
San Diego Safari Park
Sea World
Six Flags Magic Mountain
Visit the Disneyland Resort. If you love Disney history and details, you will be glad you took my advice and took the plunge. I'm not saying you should abandon WDW. After all, the Florida resort is a tough act to follow. But in my opinion, the Disneyland Resort is a wonderful encore.
Once you've got your feet wet with a second Disney resort, maybe I'll be able to convince you to visit Disneyland Paris, Tokyo Disneyland, Hong Kong Disneyland, and Shanghai Disneyland. The more Disney parks you visit, the more details you'll discover and you'll see a bigger picture emerge.
Check back next week when I'll discuss the history of Disney California Adventure. And the week after that I'll be comparing the "old" DCA to the "new."