Welcome to all the new and veteran players of AllEars.Net's Where in the World: the weekly photo game challenge where you figure out where the picture is from! Along the way, the photos can make us relive memories and see the details Disney Imagineers put into everything we love in Walt Disney World!
Thank you, Lauree Little, for such a wonderful note! I'm so thrilled you enjoy it here each week!
Diane Ramos, I am blown away by how many people follow Where in the World each week. We had around 500 correct answers last week! FIVE HUNDRED! Isn't that incredible?
People even stop Deb Wills or me to say how much they enjoy this every Sunday. On top of that, so many people like you drop me a note in their answers. Wow…. I never would have imagined this would happen. It's a piece of Disney magic right here.
Chris Kelly, don't let the Challenges drive you nuts. Let that go, dearheart. We would all miss you.
LOL!
Pssst, Kelly Smith, we're about to do last week's Challenge, so I need to whisper something to you first: you were right. 🙂 And, Christi Ison, you made it in plenty of time!
Here was last week's Challenge: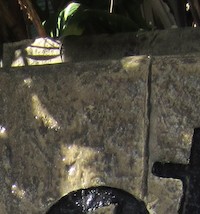 And here's the answer:


Copyright © 2011 Erin Blackwell Canon PowerShot ELPH 300 HS, 4mm, 1/400s shutter, f2.7, ISO 125
The Rainforest Cafe sign in Disney's Animal Kingdom! This was a tough one and I am surprised, as always, at how many people got the right answer. Players, you are amazing! I would never get half of these challenges right, but I do find myself noticing more and more details in the parks after being a part of this game for a year. Maybe I will get good enough to guess the right answer 50% of the time. 🙂
I took this picture last December when two of the AllEars photographers, Scott and Barrie, started their Photo Meet. What a great time that was!
Belicia Cullen was the first to send in the correct answer! Congratulations to Belicia and to all the readers who got the answer right: Scott Cullen, The O'meara Family, The Strukel Family, Daniel Record, Kelly Mager, Julie and Dave Wickware, Dale Knight, Audra Miller, Kevin Miller, Danielle Ciotti Harsley, Elizabeth Edwards And Vicki, Craig, Rob Blundin, Claire Gregory, Paul Dickson, Angie Young, Matt Degrandis, Jennifer Tremley, Millie Tenreiro, Carri Marotto, Scott Otis, Kelly Smith, Sarah Holodick, Tom Buck, Kelli Sangstom, Walter N. Clark, Christi Ison, Agnes Ciotti, Brian Mcwithey, Brian Grabowski, Ashley Elizabeth, Emily Hudson, Halo Barker, Chris Kelly, Ashley Pizzino, Patti Mccaffrey, Mike Cerce, Freya Schmidt, Gabriella & Matthieu, and Margie Larmon. Each of you are entered in this month's winners' drawing.
_____________________________________________________ _____________________
Challenge #222: Where in the world is this?
We had an easy one 2 weeks ago and a tough one last week (Claire Gregory, I'm glad you liked the challenge, and Patti Mccaffrey, girl, it was a teeth grinder, wasn't it!). I'm trying to do a medium level for this week. I hope you agree!
We're staying in the parks, walking around, and we see this:
Do you know? Do you have a guess? Please send in your answer, before the end of the day on Thursday, March 29th, by clicking on the blue box below. Please do not post answers using the Feedback Form link at the bottom of this post. Remember to be specific with your answer – just naming a park will not get you into the drawing.
See you next week, Players!


_______________________________________________________________________
Everyone who sends in a correct answer to a Where in the World Challenge this month will be entered in a drawing at the end of the month for some special AllEars® goodies!