I follow many photographers who enjoy perfecting their craft in Disney parks all over the world. These men and women come up with many photo ideas I often make note of these photos to try an attempt myself. These help to push my photographic skills as I try to master new techniques and see things differently.
Once a person has photographed the many Disney fireworks shows from the traditional viewpoints, one looks for different angles and perspectives. I had seen versions of the photo below. To photograph it, I found this position across from the Journey into Imagination pavilion's famous reverse waterfall a few minutes before Illuminations started. I setup a tripod and put a three-stop neutral density filter on a wide angle lens. Unlike when I can hear the show music, I had to wait for the bursts to emerge high enough to open the shutter.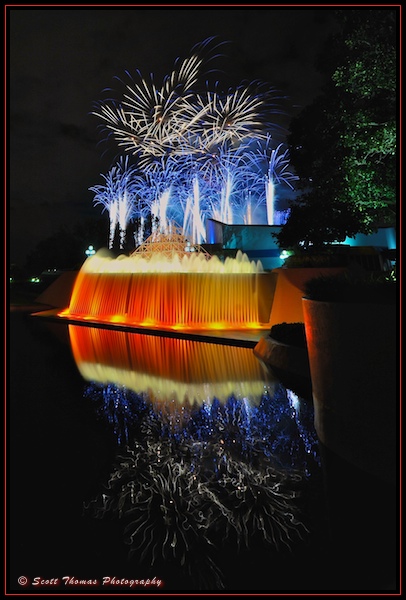 Illuminations firework bursts behind the Imagination pavilion.
Nikon D700/Tokina 11-16mm, 8.6s, f/9, ISO 400, EV 0, 16mm focal length, 3-stop ND filter, tripod.
If you are looking for alternative places to photograph firework shows at any of the Disney parks, websites like flickr have thousands of images for you to get inspiration from.