This is my account of the AllEars.net 15th Anniversary December to Remember events I attended between December 8 and December 11, 2011. I was not sure if Deb Wills and the All Ears team could pull it off. Read below to see if they did.
The kick-off event was held in the Convention Center at Disney's Contemporary Resort. Disney historian Jim Korkis talked about the history of the Carousel of Progress. Like the Wilderness Lodge meet I attended back in October, Jim covered the Carousel of Progress from Walt Disney's initial ideas to how it came about to be included in the 1964 New York Worlds Fair before finding a home in the Magic Kingdom's Tomorrowland in Florida by way of Disneyland. Jim filled in mystery's and included entertaining side stories. For instance, when Walt needed a song for the Carousel of Progress, he went to the Sherman Brothers and told them it had to be uplifting and only 13 and half seconds long.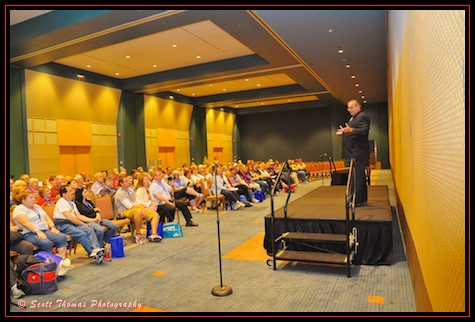 Jim Korkis entertaining a room full of All Ears guest at the Contemporary Resort.
Nikon D700/28-300VR, 1/60s, f/5, ISO 3200, EV 0, 24mm focal length, flash.
I missed out on the Toy Story Mania Eat and Play Meet (click for Laura's coverage) and meet up with the All Ears team and fans for A Night of Sweet Bites and Street Lights in the Art of Animation building at Disney's Hollywood Studios. This event had two parts. The first was a dessert party in the Meet and Greet area. Of course, Minnie and Mickey came out for photos. Barrie and I got a taste of being PhotoPass photographers (that is Barrie on the left below) as we took turns photographing all the All Ears fans with the famous duo.
Barrie doing PhotoPass duty at A Night of Sweet Bites and Street Lights meet in Disney's Hollywood Studios.
Nikon D700/28-300VR, 1/100s, f/8, ISO 1000, EV 0, 28mm focal length, flash.
The second part of the night had all of us being escorted across Disney's Hollywood Studios to an empty and dark Streets of America. Deb Wills had the honor of throwing the switch to turn on the Osborne Spectacle of Lights (see below). We all spent the next thirty minutes enjoying, photographing and being amazed at the new enhancements to this year's display.
Deb Wills turning on the Osborne Lights in Disney's Hollywood Studios.
Nikon D700/28-300VR, 1/30s, f/5.3, ISO 720, EV 0, 98mm focal length, flash.
The next day, around 40 people showed up for Barrie's and mine Smile and Say Jambo at Animal Kingdom photowalk very early the next morning. After a brief introduction, we raffled off some photos, photo gifts and other cool stuff. We then reconvened in Harambe Village for a walk on the Pagani Exploration Trail to photograph birds, meerkats, hippos and gorillas. Most of the group then went on a Kilimanjaro Safari. We filled up most of a safari jeep and had good photo opportunities of antelopes, elephants, giraffes, white rhinos and cheetahs.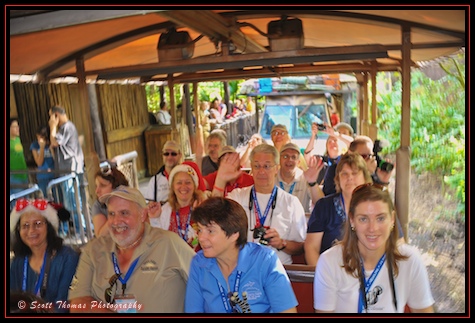 A jeep full of All Ears photowalk attendees on the Kilimanjaro Safari in Disney's Animal Kingdom.
Nikon D700/28-300VR, 1/13s, f/3.5, ISO 200, EV +0.3, 28mm focal length.
After our Africa adventures, it was time to relax at the Open House in one of the Grand Villas at Kidani Village. The villa was a two level, three bedroom suite complete with kitchen, dining and living rooms.
I attended a Hidden Mickey tour with author Steve Barret around the resort's lobby and hallways.
AllEars.net team member and Hidden Mickey author, Steve Barrett, in the lobby of the Kidani Village.
Nikon D700/28-300VR, 1/80s, f/3.5, ISO 3200, EV +0.3, 28mm focal length.
The villa's balconies overlook the wildlife preserve where we all watched and photographed antelopes, giraffes and zebras. Inside, people collected All Ears trading cards, enjoyed snacks, cold beverages and a few raffle give-a-ways by Deb Wills.
All Ears guests watching animals from the Kidani Village Grand Villa.
Nikon D700/28-300VR, 1/125s, f/3.5, ISO 500, EV +0.3, 28mm focal length.
The next morning, we were all in for a special treat as Don "Ducky" Williams gave an hour long talk about how he became a character artist for the Walt Disney Company. His story was full of funny anecdotes, interesting insights and, finally, triumph as he was hired (or more like never asked to leave). The whole time he drew Disney character after Disney character like the one of Ariel below. Afterward, Deb Wills raffled off each of the 22 different characters Don had drawn that morning. Each one was signed by him.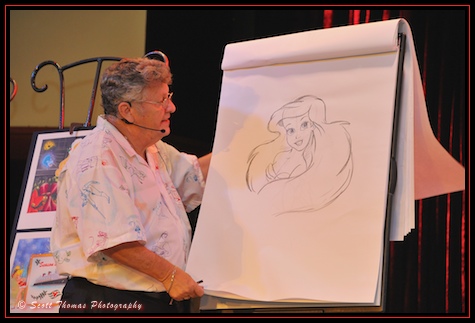 Don Ducky Williams finishing up a character portrait in the Odyssey restaurant in Epcot.
Nikon D700/28-300VR, 1/60s, f/8, ISO 2500, EV 0, 200mm focal length, flash.
The last event of the four days was an Illuminations Dessert party held in one of the VIP rooms inside the American Adventure. It had turned rainy which prompted the change in venue from the Italy terrace. The dessert tables were filled with fruit, cakes, sweets and even some melted chocolate to pour over them. Below you see two All Ears team members enjoying the treats. The rain stopped just before Illuminations and about half of us went out to enjoy the show.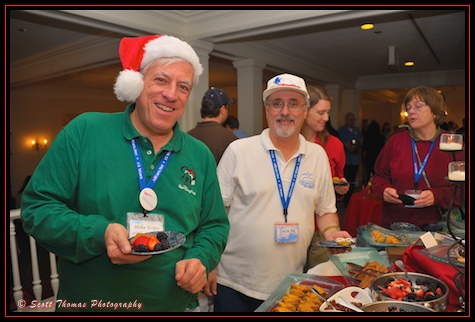 AllEars.net team members Mike Scopa and Jack Marshall enjoying delicious desserts at Epcot.
Nikon D700/28-300VR, 1/60s, f/4, ISO 200, EV 0, 28mm focal length, flash.
It was a jam packed four days. Deb Wills and her All Ears team truly did create a December to Remember. Thank you!