Depending on how old the kids traveling with you are, this oversized playground might not even appear on your radar of things to see at Disney's Hollywood Studios. Honey, I Shrunk the Kids Movie Set Adventure (it's full given name) features many larger-than-life props used for the 1989 family film starring Rick Moranis and Marcia Strassman. If you've never been because the kids are "too old" or none are with you, a quick walk through will only take 2 or 3 minutes of your time. Need to find a place to cool off and let the kiddos run wild? This is the place.
There's something else you can do here with or without children and that's to use the props for photos. The play area has a clear cover which diffuses the sun and those pesky dark shadows. Water squirts about in a few places which can add to your family photos. The ground is spungy rubber making kneeling a bit easier for people in the front row.
For those with kids, let 'em loose and have your camera ready. Give them room to play and you're guaranteed cherished photos for years to come.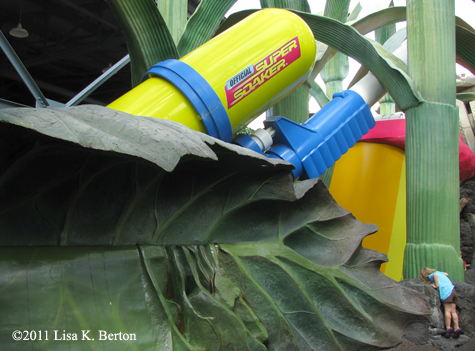 Drinking from the Super Soaker could be dangerous so this smart gal used the water fountain instead.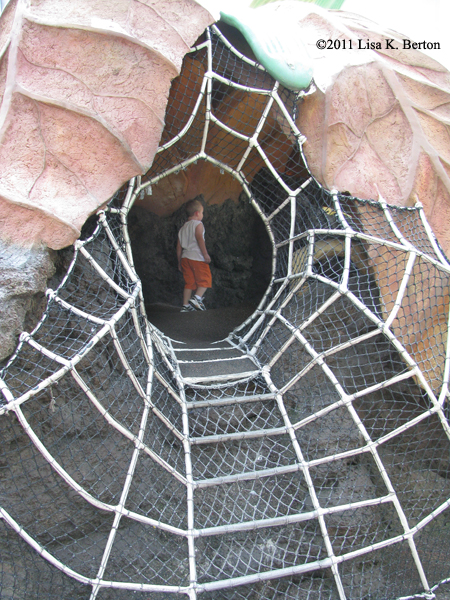 Baby Spidey? Not to worry, he'll grow into his web.
I have to tell you, photographing kids I don't know for this blog felt weird but once I saw a familiar face, I was put at ease. And such an adorable face at that.
All photos taken with the Canon PowerShot SX100 IS and set to Auto.
Follow me on Facebook cuz sometimes I get lost.