Last fall, I stopped for lunch in Italy's new Via Napoli restaurant which specializes in pizza. They even import water from Italy in the making of the crust. The atmosphere of the restaurant is lively and bright.
Each cast member expertly performed their tasks as I photographed each step in the pizza making process. The pizza crust gets carefully prepared before being passed over for the sauce and fresh toppings to be added per order. Then the pizza gets placed in one of the wood burning stoves named after an Italian volcano. For this pizza, it was Mount Vesuvius.
Making a Pizza at Via Napoli Restaurant.
After the pizza is cooked to perfection, young and energetic servers from Italy deliver it to a guest's table like these three men you see below.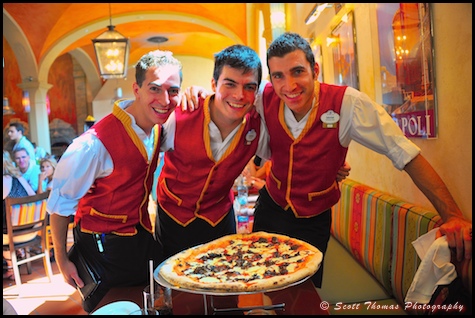 Young Italian servers who brought a pizza to a guest's table in Italy's Via Napoli restaurant.
Nikon D700/28-300VR, 1/125s, f/3.5, ISO 900, EV 0, 28mm focal length.
Each server was in a different stage of their time at Epcot. The one on the left was working his last day after spending two years at Walt Disney World. He was looking forward to returning home and celebrating his brother's birthday. The one in the middle had just started his adventure at Epcot and was being trained to replace the one leaving. I felt he would do well as he was outgoing and very attentive to the guests. The one on the right is in the middle of his time at Epcot but was the most important member of the trio. It was he who brought the large mushroom pizza pie before you. Yes, it was as good as it looks if not better.
Cast members in Epcot's World Showcase countries have fascinating stories about themselves and their homes. Next time you are enjoying a meal at one of the excellent restaurants in World Showcase, ask for more than what is on the menu and get to know a true Disney ambassador.