It is late in the day at the Magic Kingdom and the family wants to go on Big Thunder Mountain Railroad. The standby line is 45 minutes and you agree it is worth the time. Because, you know you will be around the back of the queue which overlooks the ride just as the Sun lights up the mountain like it does in the real American Southwest.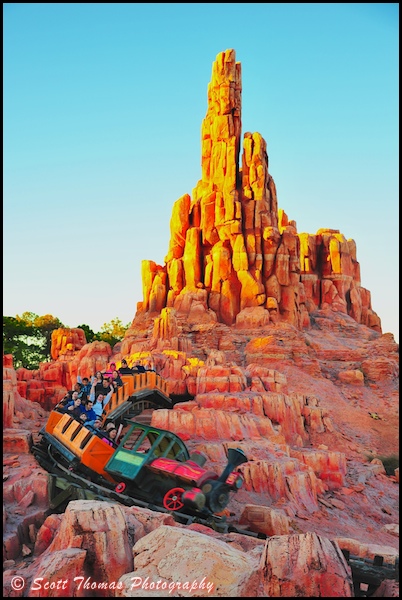 Fire on the Mountain as the setting Sun lights up the Big Thunder Mountain Railroad.
Nikon D700/28-300VR, 1/100s, f/5, ISO 200, EV 0, 50mm focal length.
You still have time as the line is moving slowly to notice something you have not seen before. The train popping up over a ridge where for a split second, you only see the engine.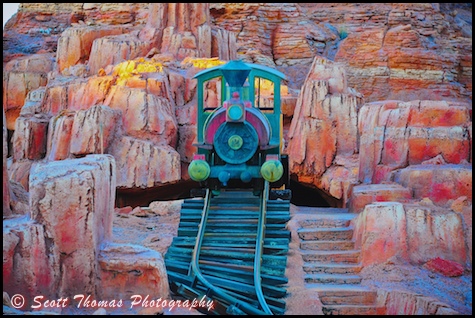 Big Thunder Mountain Railroad engine pops over a ridge.
Nikon D700/28-300VR, 1/60s, f/5.6, ISO 500, EV 0, 190mm focal length.
As you move deeper in the queue and away from the overlook, you hear a couple of young guests excitingly talking as they watch screaming guests riding Big Thunder Mountain Railroad. Everything lined up including framing the train between iron rods.
Watching Big Thunder Mountain Railroad from the queue.
Nikon D700/28-300VR, 1/60s, f/8, ISO 1100, EV 0, 28mm focal length.
Long queue times can be very fruitful at a Disney themepark if you keep your eyes open for photo opportunities. Go back and notice the ISO settings for each photo. As the light got dimmer, the camera automatically adjusted the ISO to compensate.