Big day today – instead of getting up and going to a Disney park, we actually left Disney property (gasp!) and went to Universal's Islands of Adventure Park. Different experience in many ways. Our main objective was to visit the new Wizarding World of Harry Potter.
For those of you who don't want to read a lot more detail I'll summarize here: we were pretty impressed. They put a lot of thought and detail into this area, and there are many small surprises, too. It's very faithful to the books, with lots of little things here and there that we looked at and said: "Oh yeah!" If you're a Harry Potter fan I'd say it's definitely worth a visit.
Ok, back to a somewhat more detailed version. (I still don't have enough time to write about everything, or share all the pictures I'd like to.) We arrived about 8:30 (the park opened at 9:00). It was a chilly gray morning, but fortunately the sun came out later, and although it never got very warm, it was quite comfortable in the afternoon. The crowds were much less than I had expected, so we were very happy about that. Forbidden Journey (the ride inside Hogwarts Castle) was never more than a 30 minute wait. The longest line seemed to be for the Ollivander's Wand experience, but we never did that. Lines weren't too bad in the other shops.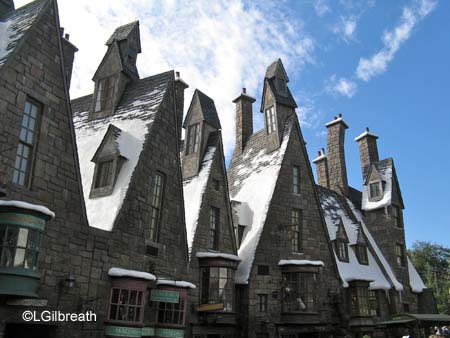 At the park entrance we had to do something we NEVER do any more – buy a ticket!!! Major sticker shock, too – a one day, one park ticket was about $88 with tax. Yikes. They were a bit pushy about upselling – "adding the second park is only $30 more" – uh, no, I'm only going to Islands of Adventure – and "you can buy the express pass for another $29.99" – uh, no, I'm not expecting huge crowds today.
This park is really beautifully themed and I kept having to tell myself NOT to stop and take pictures because we really wanted to get back to the Harry Potter area as early as we could, and there would be time for the others later.
You enter the town of Hogsmeade, where you can see Hogwarts Castle in the background.
And there's the Hogwarts Express. (There was a conductor hanging around providing some interesting "atmosphere", too. 🙂 )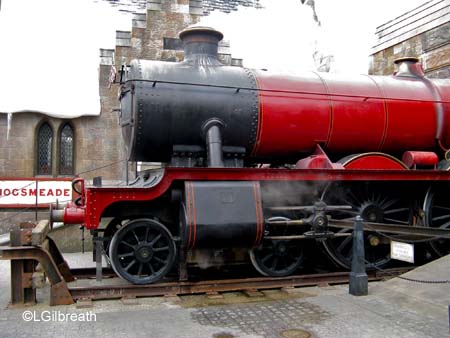 And there's all of the shops, like Zonko's and Honeydukes (I knew I could spend a lot of money there…and I did), and Dervish and Banges. And the restaurants – the Three Broomsticks and the Hogshead Inn (which had a moving snorting boar's head behind the bar).
We pretty much went straight back to the castle to ride Forbidden Journey, which had a 10-minute wait at that point. You must leave all bags and backpacks in a (free) locker before you go on the ride. I carried my camera in my pocket, so I was able to take some pictures inside. It's really wonderfully detailed, and the queue goes through so many areas of the castle that we've all read about – the herbarium, the entrance to Dumbledore's Tower, Dumbledore's office itself, a gallery with (talking) portraits of the former headmasters and headmistresses of Hogwarts, and the Room of Requirement. It's kind of a blur and I don't really remember. Dumbledore talks to you, as do Harry, Ron and Hermione.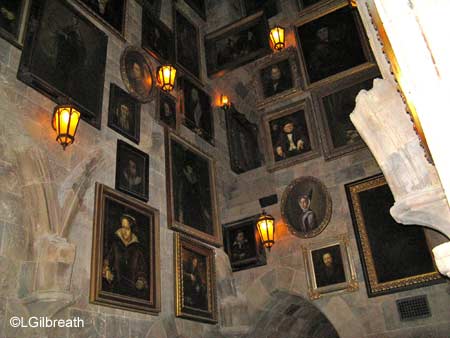 The ride itself is very cool – it's more moving simulator stuff, and there's a lot going on – everything from riding a broomstick in a Quidditch match to getting chased by flaming dragons, spat upon by spiders, whomped by the Whomping Willow, and accosted by dementors. There's a lot of motion – though it really didn't bother me, I also knew that riding it again immediately would not be a good idea. If Star Tours bothers you, I'd think twice about this one.
Next we did Flight of the Hippogriff, which is a pretty small roller coaster – a little longer than Goofy's Barnstormer – but not much. It was cute, but the best thing about it (other than seeing Buckbeak and Hagrid's Cottage) was the view of Hogsmeade.
Lee did the Dragon Challenge roller coaster. That one is too violent for me, so I just went through the queue with him – that's another one where bags must be stored in a locker, though since I wasn't riding I could hold onto his. The queue offers a great view of the castle. And there's also banners supporting the candidates in the Tri-Wizard Tournament.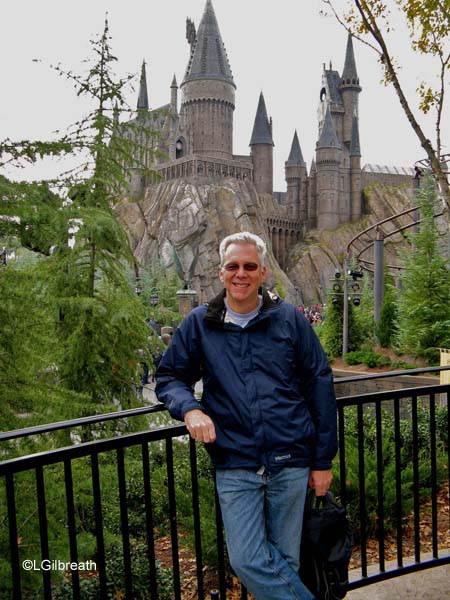 We had an early lunch at The Three Broomsticks. It offers things like ribs, roasted chicken, shepherd's pie, and fish and chips. Because we were eating early we walked right in – there's actually a queue to get into it, so obviously it gets pretty busy. Lee had to try the butterbeer (which is like cream soda).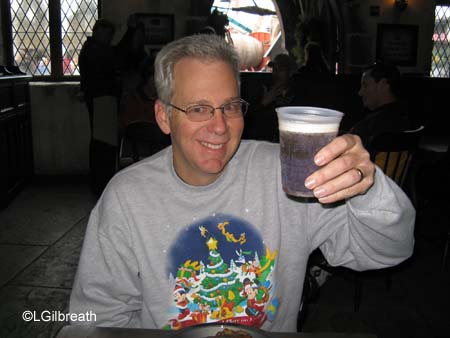 I had the pumpkin fizz, which I really liked – it's pumpkin juice with a bit of carbonation added. The pumpkin juice is more like spiced apple juice (and apple juice is the main ingredient, though it does have some pumpkin and apricot puree). It was really good.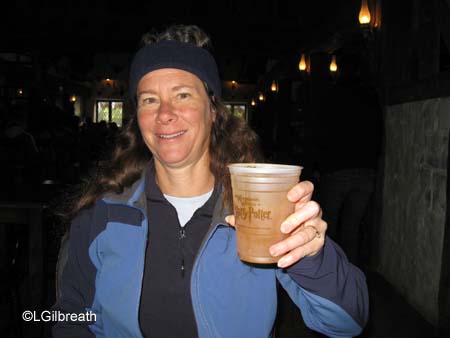 One of the extra touches – occasionally places on the walls would like up and show the shadows of house elves at work. Hard to get a picture of them, though, but it was a lot of fun to watch for it.
Other fun things – this snowwizard and his owl. And, in the restrooms (or "Public Conveniences", we could hear the voice of Moaning Myrtle. Also, the cast members (I'm not sure what Universal calls them) were pretty into it – I heard one of them say when they were posing for pictures that they had to stay very still for Muggle cameras. 🙂
Later in the day we saw the the Frog Choir – this was four Hogwarts students and their frogs. They were very talented – the frogs were singing the bass part. I have some video, but I don't have the processing power or the bandwidth to get it uploaded right now. There was also a Tri-Wizard Spirit Rally, featuring Dumstrang and Beaux-Batons students, but we kept just missing that.
We also visited the rest of Islands of Adventure. Seuss Landing was my favorite the first time we visited, 11 years ago, and it's still really good with lots of charming details. They are doing Grinchmas right now, so everything is decorated for Christmas.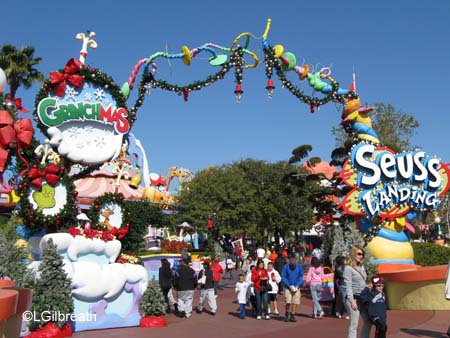 There's a special live How the Grinch Stole Christmas show. Only about 30 minutes long, but it told the story very well, and had some clever dialog and fun moments. (The Grinch realizes he's talking in rhyme – and he hates that!) Max the dog even appears on stage a few times. Though one very non-Disney thing about the show – it's held in a soundstage behind the park, so you have to walk through some backstage areas to get there. They try to hide it with some plants and stuff – but that doesn't really work.
I think The Lost Continent is one of the most beautiful areas of the park. We did not do the Poseidon's Fury show, but we saw The Eighth Voyage of Sindbad stunt show – which was pretty cheesy. Disappointing since up until then everything we'd experienced had been quality entertainment.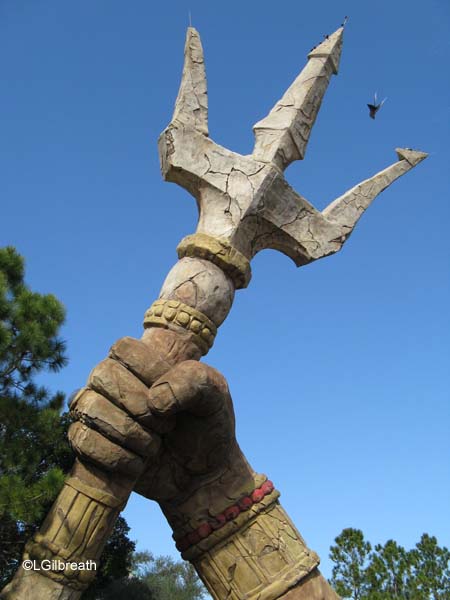 The other half of the park includes Jurassic Park, Marvel Super Hero Island and Toon Lagoon. We didn't do any attractions other than Spiderman – mostly because the attractions in the other two areas involve large amounts of water – and it was not a day we wanted to get wet! Too chilly for that. We found some fun photo ops in Toon Lagoon, though.
The park closed at 6:00, but we left a little after 5:00 – it was starting to get chilly again, and we'd done everything we wanted to do. We made a pretty quick stop in our room before going to dinner at the Garden Grove Cafe over in the Swan hotel. It's a buffet, but they have different themes depending on the night of the week – tonight it was Mediterranean. So we had Greek salad, hummus, couscous, pasta, and antipasto, along with roasted chicken, salmon, and a beef dish. My favorite part was the desserts, though – one of the nicer (and tastier) buffet dessert selections I've ever seen. Two pretty decent chocolate desserts and one that was really good. (The really good one was a chocolate tart, which is not pictured, though.)
After dinner we walked to Epcot, planning to get some Gluhwein at Germany, but we got sidetracked when we went by the America Gardens Theater, where the Candlelight Processional was just starting. Jodi Benson (the voice of Ariel) was the narrator, and she was excellent. We ended up watching almost all of the show – there's just too many songs that I like.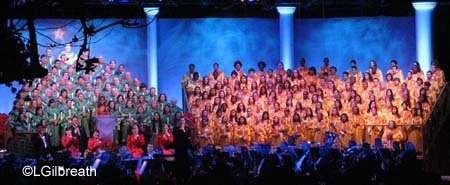 So by the time we walked to Germany the kiosk selling the bottles of wine had closed for the night…oh well. Maybe tomorrow!
We didn't stay for Illuminations this time, though we could have had just about our choice of spots – the park was pretty empty. It seemed a little warmer to us than it did last night, though!
It was really a good day – I'm so glad we went to Universal. It was really a nice change to go someplace new, and do things that we *haven't* done 20 or more times. Yes, it was an expensive day, but I felt I got my money's worth. I really enjoyed taking photos – I wish I'd brought my better camera, but I didn't feel like carrying it around with me all day, especially since I knew I wouldn't be able to have it on Forbidden Journey.
RADP 15 officially starts tomorrow, so we will be at Animal Kingdom for most of the day. Looking forward to seeing lots of friends again!