Hi all,
Before I discuss Pecos Bill – Tall Tale Inn and Cafe, I need to let you know of a change in the way you will be posting comments. Because we have been getting a lot of junk email, we have had to implement a new procedure. After sharing your thoughts, there is one more box that needs to be completed before you press "Post." At the moment, you need to write the word "blog" (without quotes) in this field (this word could change periodically). This will let the computer know that a real person is writing us and not some automated program that generates spam. If you don't complete this field correctly, your comment will end up in a "junk" folder.
Thanks for your help and understanding.
Jack
Many fairytales have become so associated with Disney that it's hard to imagine that they ever existed before the animators brought them to life. Ask anyone the names of the seven dwarfs and they'll struggle to recall Grumpy, Dopey, Doc, Sleepy, and forget the other three. But as we know, it was the Grimm Brothers that first took this folktale and publicize the story of Snow White back in 1812. It's interesting to note, Walt was not the first to give the dwarfs names. This actually occurred in a 1912 Broadway play when author Jessie Graham White came up with his own set of monikers for this band of men. And Walt was not the first to make a movie about this sweet heroine and her protectors. This occurred in 1902 when a silent film was produced by Siegmund Lubin. And other Snow White films were made before and after Disney's 1937 masterpiece debuted. Yet it's Disney's version that we remember.
Pecos Bill has a similar history. Folktales circulated for years about the roughest, toughest cowboy that ever lived. It was Edward O'Reilly who first published an adventure of Bill's in a 1916 edition of "The Century Magazine." Later, a number of his exploits were collected and reprinted in a 1923 book titled "Saga of Pecos Bill." As time went by, other writers added new feats of daring-do to Bill's credit. Between 1929 and 1938, Edward "Tex" O'Reilly and Jack A Warren co-authored a cartoon strip about Bill that was published in "The Sun." But it was Walt who created the character of Pecos Bill that sticks in our brains.
On May 27, 1948, "Melody Time" opened in theaters. This collection of seven "shorts" contained a number of stories including the legend of Johnny Appleseed and the tale of Little Toot. The movie ended with a rip-snorting finale of Pecos Bill's adventures sung to us by Roy Rogers and the Sons of the Pioneers.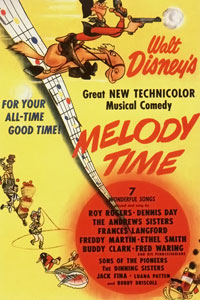 It's interesting to note, when the DVD of "Melody Time" was released on June 6, 2000, the cigarette that Bill smoked throughout the segment, and an entire verse from the song which talks about smoking, had been electronically removed.
Pecos Bill is remembered at the Magic Kingdom with his own restaurant in Frontierland, Pecos Bill – Tall Tale Inn and Cafe. Its main entrance is located at the far end of town and is housed within a saloon facade. However, this restaurant uses several styles of architecture as the building rounds the corner. Classic Western clapboard construction gives way to that of adobe used in the American Southwest. This was necessary so that the transition between Frontierland and Adventureland would be seamless to the guests as they pass from one land to the next.
Tall Tale Inn and Cafe is a counter service establishment that serves burgers, wraps, salads, and BBQ sandwiches. This eatery opens at 10:30am and becomes very busy by 11:30am. If you want to avoid crowds, it's best to arrive early. This is also one of the few counter service restaurants that allows guests to place their order with a cast member or via a computer terminal.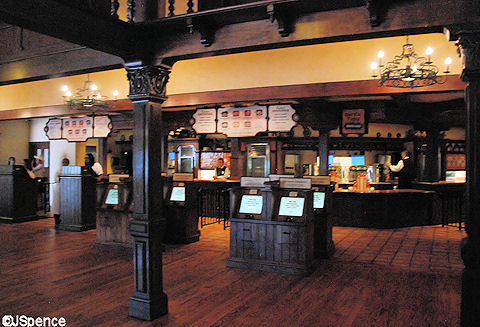 I actually have a love-hate relationship with one of the features in this restaurant, the topping bar. My "love" is generated by the fact that I can garnish my burger, sandwich, and taco salad with all the lettuce, tomatoes, pickles, cheese, and peppers that I like. And I especially like the freshly sauteed onions and mushrooms that are cooked right before my eyes. But I "hate" the crowds this station generates. It can become maddening, jockeying for position as I move from topping to topping – which is why I always arrive early if I'm planning on making Pecos Bill's my lunchtime destination. But in the end, it's worth the hassle.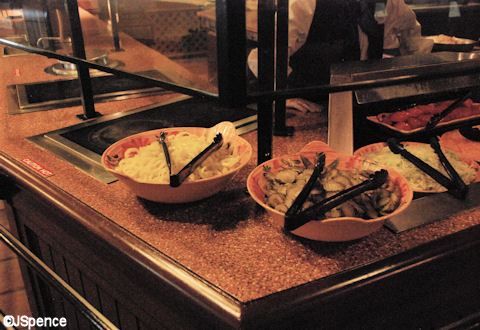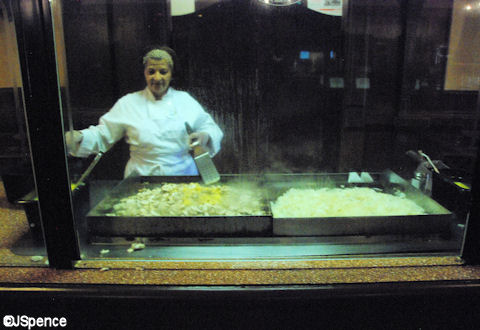 There are several seating areas in the restaurant. One section is themed like the old west while another is modeled after a Mexican patio. Outdoor tables are also available and a pleasant place to dine when the weather is good.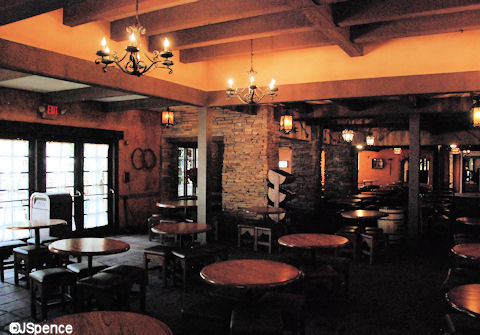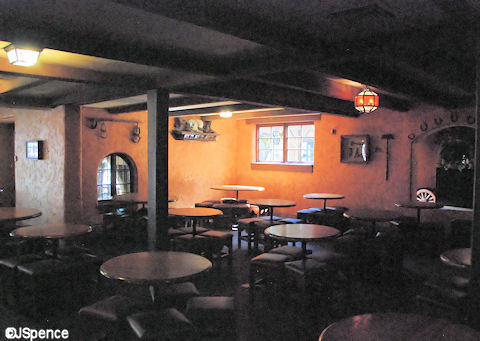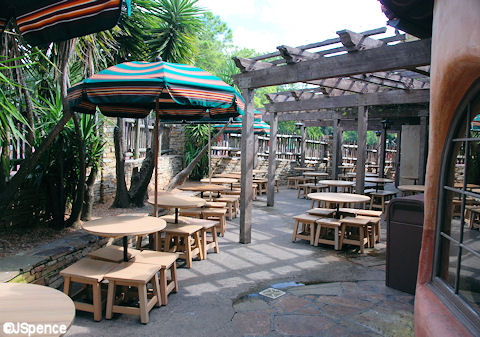 If all of the indoor tables are occupied at Pecos Bill's, there is a hallway that leads to the dining rooms of El Pirata y el Perico located in Adventureland. You can usually find empty tables in this area.
The restaurant's namesake is prominently displayed above a rock fireplace and the legend of this establishment can be found written on a nearby piece of rawhide.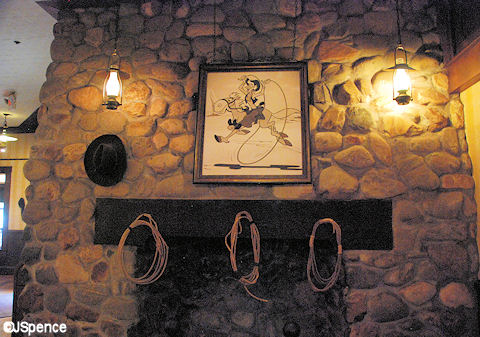 Since I'm pretty sure none of you have ever taken the time to read it, I'll present it for you here. And if you're not in the mood to read the entire tale, then just read the second paragraph.
Considered by many as the meanest, toughest, roughest cowboy of them all, Pecos Bill has been credited for inventing all things western, from rodeos to cowboy dancing, to spurs, hats and lassos. He can draw faster, shoot straighter and ride a horse harder than any man alive. Unfortunately, we don't know when and where he was born, just that he was raised by coyotes and that his name comes from the river in Texas. Over the years, Pecos Bill along with his trusty horse, Widowmaker, have made quite a name for themselves forging new trails and taming others. Legend tells us several tall tales, like the time Pecos Bill jumped on a powerful twister and road it like a bucking bronco. Then there was the time when Pecos Bill dug out a path to create the Rio Grande river during a severe drought that hit his beloved Texas. And then there was the day Pecos Bill was so bored he took his handy six-shooter and shot out all of the stars in the sky except for one. That's why they call Texas the "Lone Star State."
In 1878, with the encouragement of his friends, Pecos Bill decided to open his own watering hole, a restaurant whose motto very much reflects its one-of-a-kind owner. "The tastiest eats and treats this side of the Rio Grande." Pecos Bill called it the Tall Tale Inn and Café and it quickly became a popular hangout for some of his legendary friends. As time went by, it became a tradition when each friend paid a visit they would leave something behind for Pecos Bill to remember them by. As you can see from the articles and artifacts that don the walls, many of which carry inscriptions, Pecos Bill had some mighty impressive friends. Seems that every trail eventually led to the Tall Tale Inn and Café.
If you pay attention, you'll notice the building is dated 1878, the year Bill opened Tall Tale Inn and Café.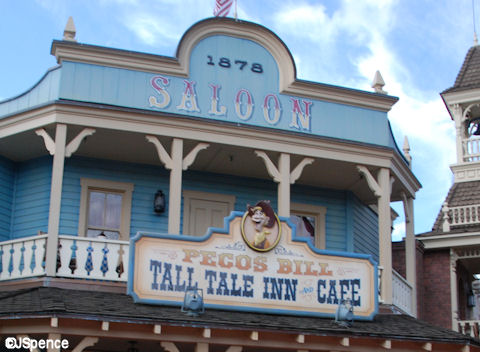 Also, if you check the restaurant walls, you discover the objects left behind by Bill's many friends. Each artifact has been carefully displayed and is accompanied with the donor's name engraved on a nameplate. Pictured here are Johnny Appleseed's pot-hat, Kit Carson's scouting tools, and Davy Crocket's satchel and powder horn.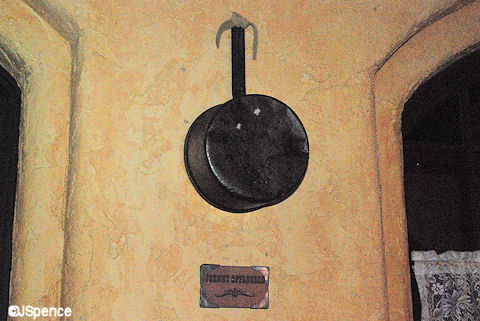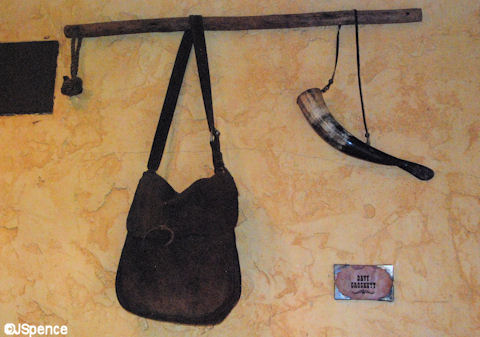 I especially like the artifacts displayed in the next picture. If you notice, the nameplate is intentionally left blank. If you don't get the joke, think about it.
While you're in the neighborhood, be sure to check out some of the signs that are posted on the outside walls of the Frontierland buildings. Some are quite clever. I especially like this one.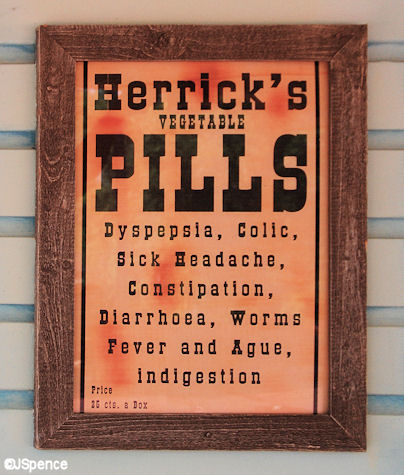 So there you have the story of Pecos Bill – Tall Tale Inn and Café. Like everything at Disney, it's teeming with details if you take the time to look.