In Chinese culture, dragons are symbolic of the elements and considered to be forces of nature. Folklore gives mention of nine types of these magnificent creatures, which also represent good-fortune. Dragons were at one time revered by the Chinese people and referenced as a measure of success in their society. This aspect of Chinese culture is celebrated at the Nine Dragons restaurant, located in the China Pavilion of Epcot's World Showcase.
Of all the World Showcase Pavilions, I find China to be one of the most peaceful and serene. I enjoy touring the exhibits, shopping and just taking a break before Lunch or Dinner. The live entertainment here is top-notch as well.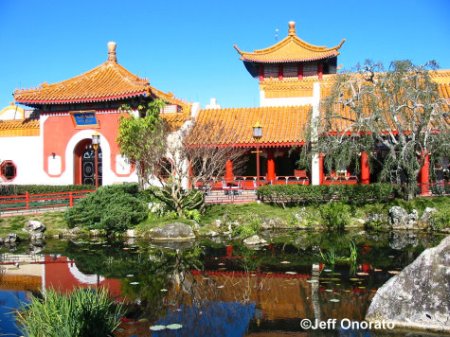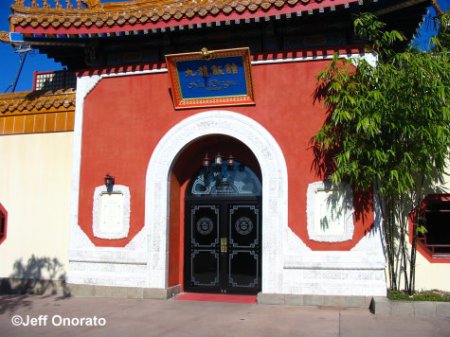 China's table-service eatery shares its name with the Nine Dragons walls (there are three) located in the Beihai Park of Beijing, China. Huge, frosted-glass murals depicting the mythological figures adorn the walls of the restaurant's waiting area. They bear a striking resemblance to the actual Nine Dragons walls in China.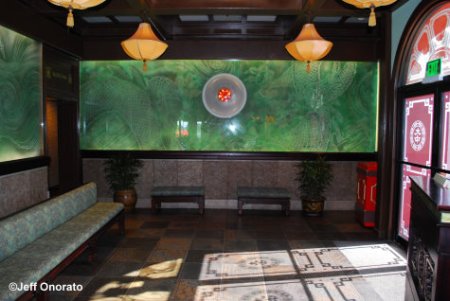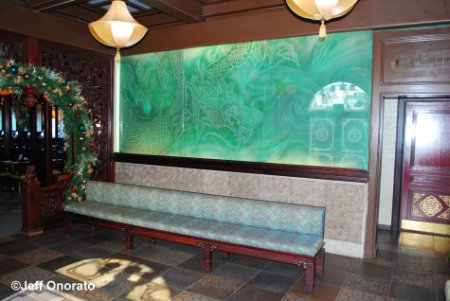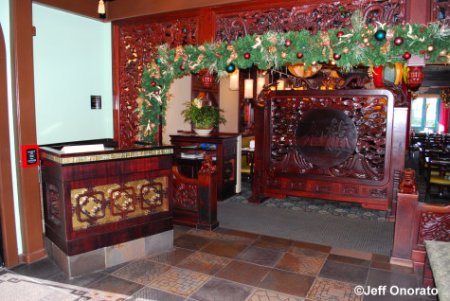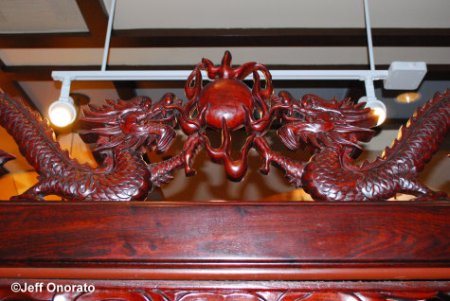 The Nine Dragons restaurant in Walt Disney World underwent a refurbishment about a year and a half ago. In the months it was closed, a colorful, contemporary overlay was put into place by way of new lighting and a glass artifacts display. The standard red and gold color-scheme has been reinvented and brought up-to-date by way of dark-brown, lacquered woods and bubbly lighting treatments.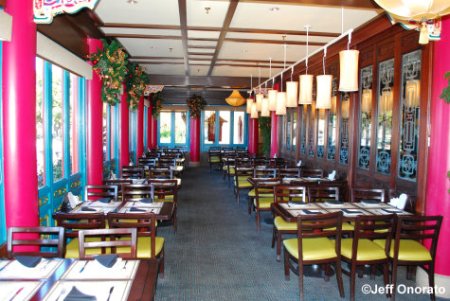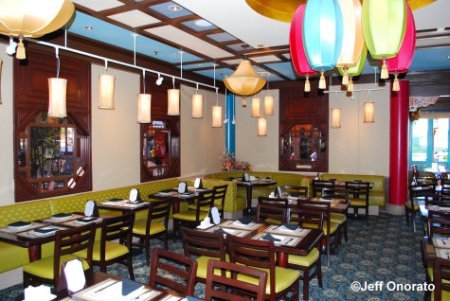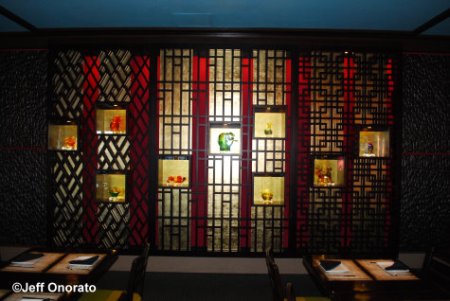 Most of the seating here is by way of tables; however they do have several comfy booths available that can accommodate parties of 4-5 guests. I recommend requesting one of these if available. The tables in the main dining room of the restaurant are not spaced very far apart.
I had dined here prior to the changes. I have always found the servers to be gracious, hospitable and friendly. While I did find the food enjoyable, I can't really say there was anything unique about the meals to differentiate them from other Chinese restaurants. Happily, the Nine Dragons menu was given a refreshed, modernized update to match the new décor found throughout the restaurant. There are now many unique items to choose from. In my subsequent visits here since they reopened, I have made an effort to sample several of these foods that I wouldn't normally find back at home. I have been rewarded by way of several great meals. My most recent was in January.
The current menu is a cross between traditional and original, inventive Chinese fare. The cuisine of Nine Dragons represents the four regions of China. Lunch brings an array of Hot and Cold Appetizers, Soups, Entrees, and Lunch Combos.
I found the lunch prices here to be very reasonable. In an effort to adhere to my dining budget, I chose the Treasures of the Dragon. This is a special three-course meal consisting of one soup, one entrée, and one dessert for $29.68. I was planning to order one food item from each category anyway, so this was a bargain for me.
The two soup options are Hot-and-Sour or "Chicken Consommé with Pork Dumplings" (Won-Ton Soup). I chose the Consommé. The clear broth was very hot when it was served (an automatic plus) and had a generous amount of dumplings and spring onions in it. There wasn't really anything special about the soup, but it was quite tasty. In fairness there is only so much variation that can be found in Won-Ton soup. I would definitely order it here again.
I deviated from my lunch set and splurged a bit. I also ordered the Walnut Shrimp Toast, as this item sounded too interesting to pass up. Shrimp toast is something of a standard with regard to Chinese Dim Sum. Three pieces of the toast are presented with a large Walnut decoratively embedded in the crust. The Walnuts gave the toast a crunchy texture and were not at all grainy. I have found Shrimp Toast to have an overly fishy taste at some restaurants, which is a result of being frozen. This was definitely not the case with Nine Dragons' version. The flavor of the minced Shrimp was fresh. Soy Sauce is brought out with the appetizer, but I didn't find that it needed any.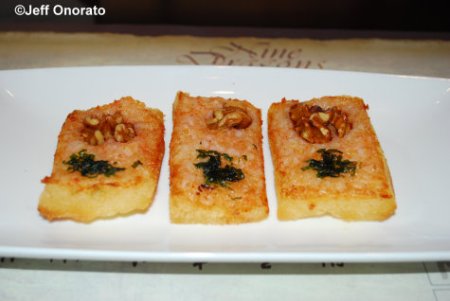 Entrée choices on the Lunch set include Fragrant Five-Spiced Fish, General Tso's Chicken Duo, and Beef Sichuan. I opted for the General Tso's Chicken, which is presented two ways. Most of the portion consists of the traditional Crispy chicken, with only 2-3 pieces of the steamed version rounding out the course. I really enjoyed the Crispy version. They were fried and the sauce had a sweet, spicy taste. Huge chunks of chopped onion were mixed in with the chicken and a scoop of white rice was served off to the side of the plate. The steamed pieces were more like dumplings and gave a unique twist to the presentation. My only complaint would be that the fried version greatly trumps the (healthier) steamed version in portion size.
Dessert choices were Chinese Ginger Cake, Strawberry-Red Bean Ice Cream, and Caramel-Ginger Ice Cream. Having never ordered dessert here, I consulted with my server for a recommendation. Without hesitation, she immediately spouted out "Chinese Ginger Cake". I took the hint. While the other desserts did sound interesting, I was most pleased with this one and glad I took her suggestion. The layered cake was very light and spongy. I couldn't taste much Ginger, however it was topped with a sweet, flavorful icing. The cake was finished off with some decorative chocolate sauce.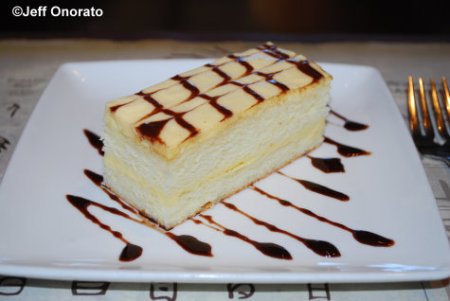 With so many wonderful restaurants around World Showcase, I consider Nine Dragons to be a nice restaurant to fall back on in those instances when the other restaurants are full or completely booked up. China is one of my favorite countries to visit around the promenade, and a visit to Nine Dragons is an enjoyable way to cap-off a day at Epcot.
They participate in the Disney Dining Plan, Tables in Wonderland, and Candlelight Processional Dinner Packages. Views of the Illuminations fireworks can be had from some areas of the restaurant. Reservations are not always needed here and walk-in seating is often available. Nine Dragons is a worthy dining venue in its own right, but also makes for a nice "plan B" when the more popular eateries are on overflow.