Onboard both the Disney Magic and Disney Wonder, there are 22 suites with 18 one-bedroom suites, two two-bedroom suites, and two palatial royal suites, the Roy and Walt Disney suites. These suites take Disney Cruise Line to an enhanced level of luxury with large, well-appointed suites and exceptional concierge service.
(There can be significant differences between the concierge service on the Disney Magic and The Disney Wonder as well as between the individual concierge managers, as they rotate every few weeks. What follows was my experience, but yours may be different. Each concierge has his or her own unique way of adding magic to your cruise)
On the November 7th Eastern Caribbean cruise, my family and I had the opportunity to upgrade to a midship one-bedroom suite, 8032. If you are interested in upgrading from any category, first check in at the port and then go to the port supervisor's desk at the far end of the check-in counter closest to the ship. If there are any upgrades available, the price will be determined based on the category of stateroom you originally booked. Sometimes the upgrade price is a significant discount; other times it will be the full price difference between your category and the category to which you wish to upgrade. The upgrades can go fast so be sure to arrive at the port early.
We arrived at the port early as always and headed upstairs to check-in. We had decided to see if any upgrades were available, after hearing that many people had been having success with upgrading during the quiet hurricane season. After checking in we headed over to the port supervisor's desk and asked about upgrading to a Category 3 suite. About half of the Category 3s were still available and we decided to take the leap. At this point, I actually began leaping out of excitement! It was like a dream come true. We were assigned 8032, which we would come to learn had a slightly different arrangement than the standard one-bedroom and was one of the best Category 3 suites on the ship. Suites 8032, 8034, 8532, and 8534 all share this slightly modified arrangement.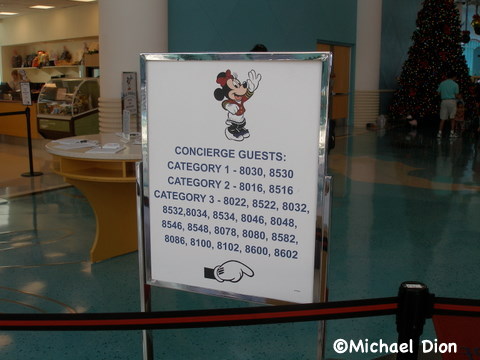 Our original Key To The World (KTTW) cards were taken and we were given the concierge gold KTTW cards. Immediately, the concierge service began as we were escorted past the line for security photos straight to the next available camera. Once our photos were taken, we were brought over to Dante, who was watching over the concierge boarding area. We grabbed a table and chatted with Dante for a while before grabbing our usual pre-boarding drinks and heading out to the balcony to get some photos with the ship.
Boarding began around 11:45. They brought on the family of the day and then started concierge priority boarding through the back door inside the concierge waiting area. We were the 2nd family to board the Magic. The 2nd!!!! Once again I was very excited. After boarding, we headed straight to the concierge reception in Sessions where they had drinks (both alcoholic and non alcoholic) and snacks waiting for us. Linda, the concierge for the starboard side suites introduced herself and told us that Jonathan, the concierge for the port side suites, would be right with us.
Jonathan came over and introduced himself, and presented us with our current itinerary and all of the bookings we had already made online. Jonathan said that before we began, he had to apologize to us. After this cruise, he said, we would be spoiled and always want to stay in a suite! Jonathan then asked if there was anything else we needed to book. The concierge staff can assist with Palo bookings (the adults only restaurant), shore excursions, spa bookings, activities requiring reservations (galley tours, martini/beer/wine tastings, etc.), and any dining room requests you might have. Also, a youth activities staff member is on hand to assist with registering kids for the clubs.
We had been unable to book Palo online due to availability, so Jonathan booked dinner and brunch for us, as well as booking an excursion in St. Thomas and getting tickets for the galley tour. Jonathan also helped us switch to late seating for dinner, and arranged for us to have one of our favorite servers onboard, Sompong. Jonathan asked if we would like to have coffee delivered every morning, or milk and cookies before bed, but we declined. We thanked Jonathan for all of the help and headed off to get lunch and wait for our stateroom to open.
Before we knew it, 1:30 had arrived and all staterooms were ready. We headed down to deck 8, incredibly excited to see what awaited us. Before even opening the door, we noticed what a great location 8032 had – right by the midship elevator lobby and convenient to everything. (For those of you wondering, we never had any problem with noise or foot traffic being by the elevators.)
We opened the door to our suite, and instantly, our jaws dropped. I had imagined what the suites were like, but actually seeing one was beyond belief. Walking in, you find a closet to the left and a bathroom to the right with a sink, toilet, and shower.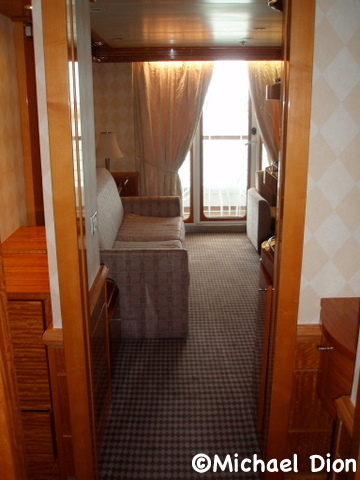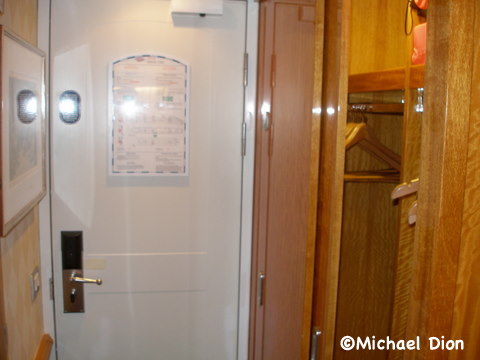 Walking into the living room you find a pull-out sofa, two large chairs, a wet bar, a pull-down bed, a table seating four and two doors out to the verandah.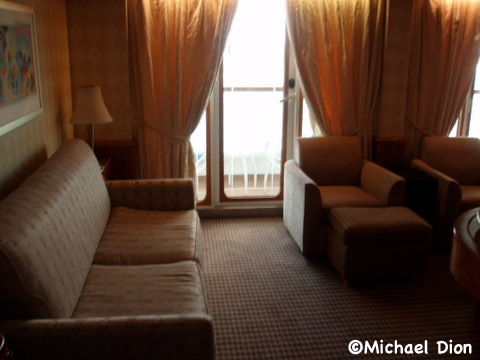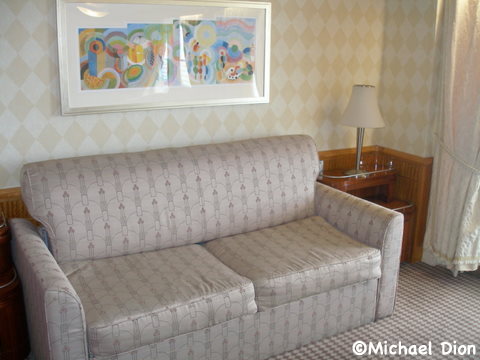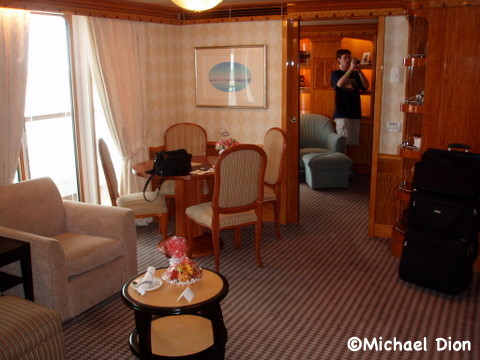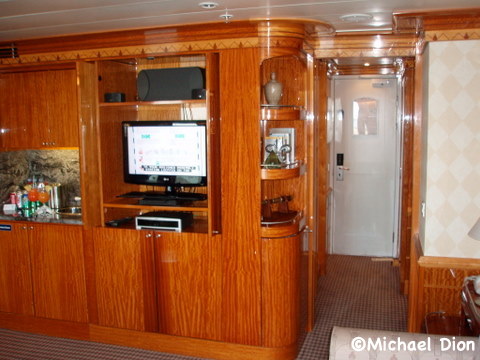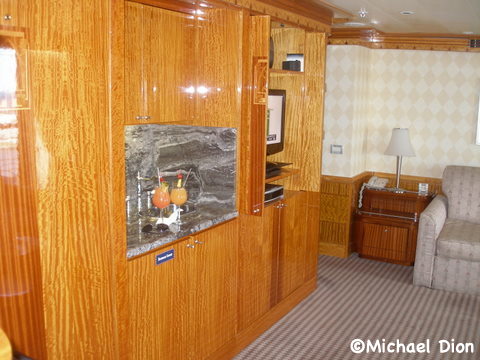 Across the living room is a door to the master bedroom that features a queen size bed and a large chair. Both the living room and the bedroom have large TVs with DVD players. There is also a third door to the verandah from the bedroom.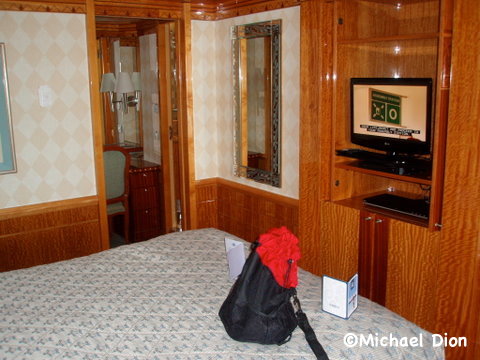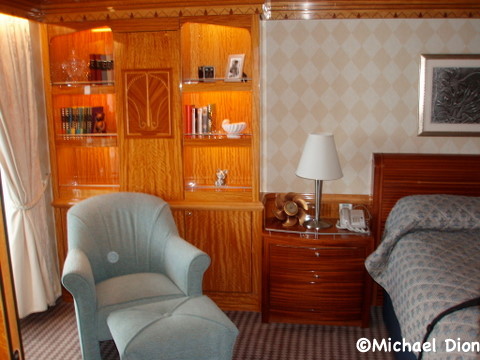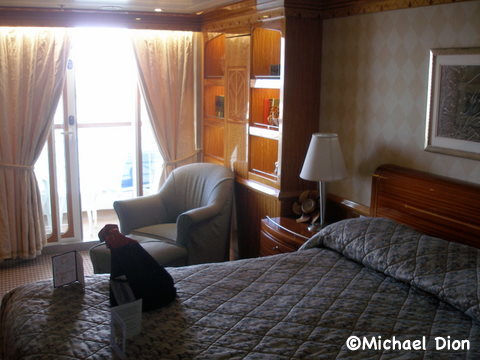 At the back of the bedroom is a door to a large desk/vanity. To the left is a walk in closet, stocked with robes, and to the right is the bathroom with a full size whirlpool tub and a shower.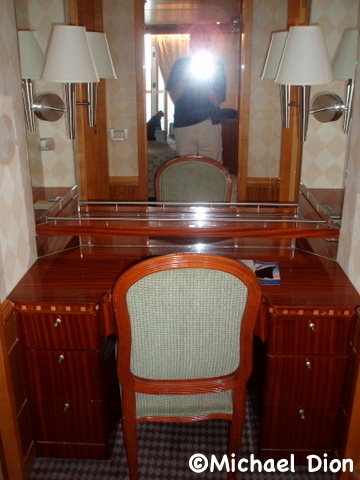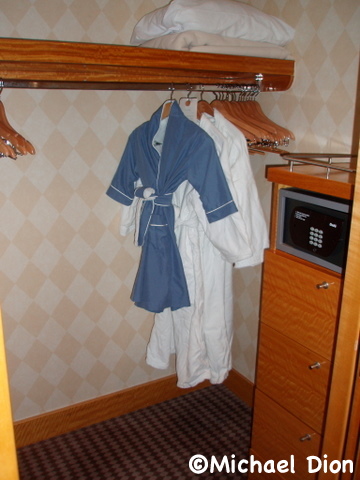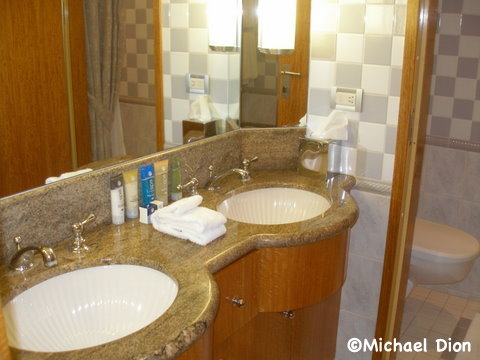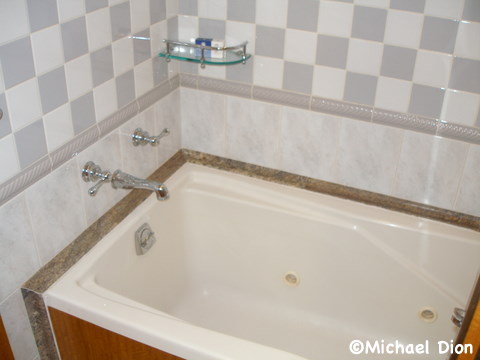 Accompanying all of this is beautiful art and woodwork and a generous amount of storage space. After exploring our room, we took a look at everything that our concierge team had provided. The suite was stocked with sodas and bottles of water, and we had a fruit basket, complements of the concierge team. A cabinet in the living room was stocked with board games and cards and there was a list of all the DVDs that we could request for in-room movies.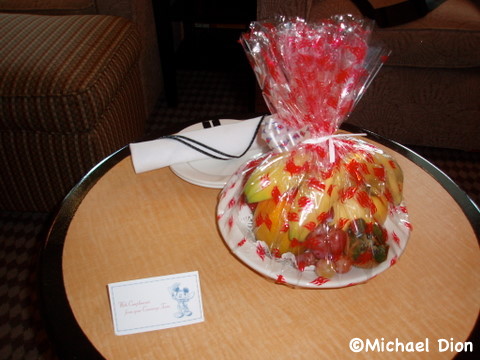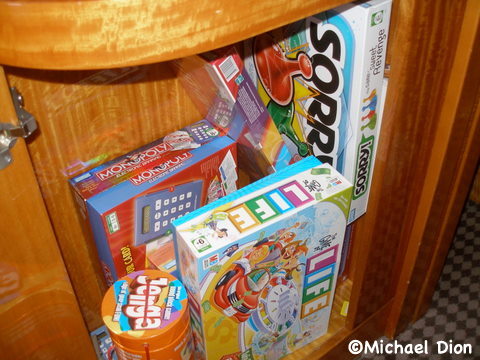 All of this, however, was just the tip of the iceberg. Every day for the rest of the cruise, Jonathan would stop by once or twice a day to see if we needed anything. One day he dropped off some arcade cards for me. Another day I answered the door to find him holding Mickey Mouse ice cream bars. Still another day we came back to find popcorn for the special movie showtime in the Walt Disney Theatre.
Every night there was a different assortment of treats for us: petit fours, chocolate-covered strawberries, and the like. Jonathan also dropped off the dining room menus for each night of the cruise, as guests in suites can order from the dining room menus during a certain time period each evening. Every night we would receive the weather for the next day as well as a list of the character appearances delivered with our Personal Navigator (daily activities schedule). The concierge team was available at any time between 8am and 10pm by calling the concierge extension on the in-suite phone.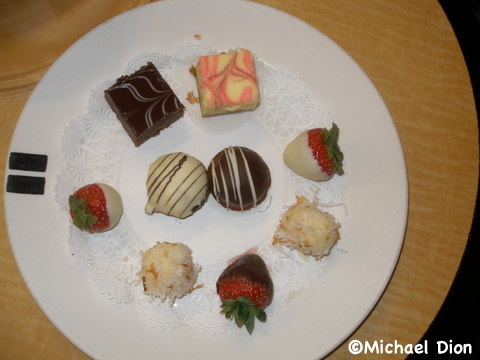 Throughout the cruise, Jonathan went out of his way to make our cruise perfect. One day, we were coming back to the room and mentioned to Jonathan that we were going to get cookies from room service. He told us to just relax and he would take care of everything. Ten minutes later a huge plate of cookies showed up. The night before arriving at St. Croix, we learned that our Jeep excursion had been cancelled. A quick phone call to Jonathan and 15 minutes later tickets for a new excursion were under our door.
The concierge team also hosted a special reception during sail-away from St. Thomas. The reception was originally to be held at the outside deck of Topsider's, but due to rain earlier in the day, it was moved to Sessions on deck 3. Appetizers and free drinks were served and a special guest stopped by to say hello.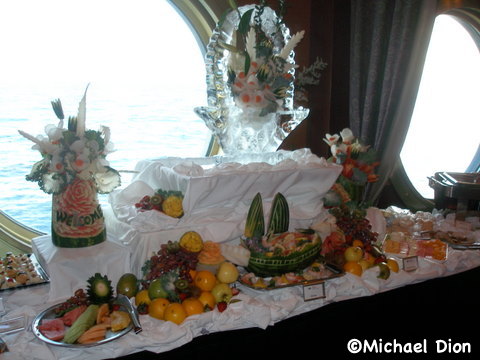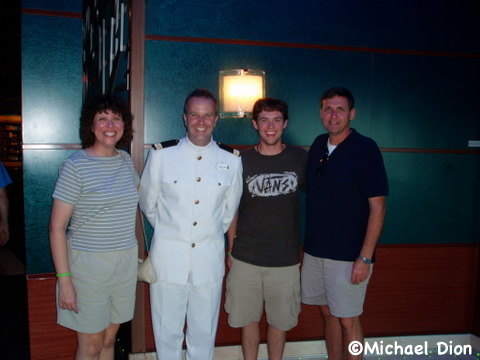 Debarkation was also simplified. We were able to take care of tipping and get our stateroom account without ever standing in line at Guest Services. Jonathan handled everything. One thing to note, Disney has recently added tip envelopes for concierge gratuities; however, there is no suggested amount. Concierge gratuities are at your discretion. Our gratuity slips were delivered to our room along with a copy of our stateroom account.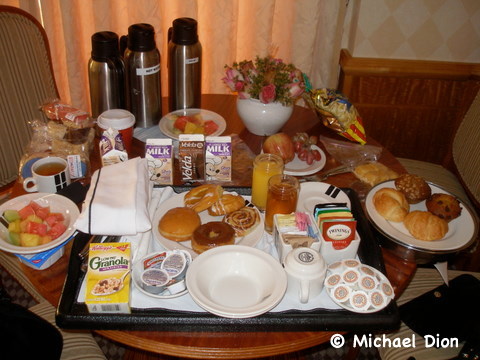 The last night of the cruise Jonathan stopped by and gave us a magical moment certificate for sailing with him. He also gave us a DCL exclusive poster and a special card to have breakfast delivered to our suite the last morning.
After 10 cruises, I didn't think cruising could get any better, but we had our most wonderful Disney Cruise Line vacation yet. We would do it all again in a heartbeat. It truly was a Magical vacation.
Check out Mike's previous blog on the Enhancement Project at Castaway Cay.
Mike Dion is a 19 year old sophomore at the University of Florida (UF) and is pursuing a bachelors degree in International Business. Born in Grand Rapids, MI he fell in love with Walt Disney World on his family's many trips to Orlando. In 2002, he and his family moved to Orlando and have been WDW annual pass-holders ever since. Mike's favorite ride is Splash Mountain, and his favorite restaurant is Ohana. Mike took his first cruise on the Disney
Wonder in 2006 and has since taken 11 cruises with 7 on Disney Cruise Line. In 2008 Mike visited Disneyland for the first time, returning in 2009 as part of the D23 expo. During the school year Mike performs improv comedy at UF.