This was Challenge #117: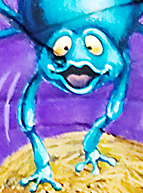 And here's the answer: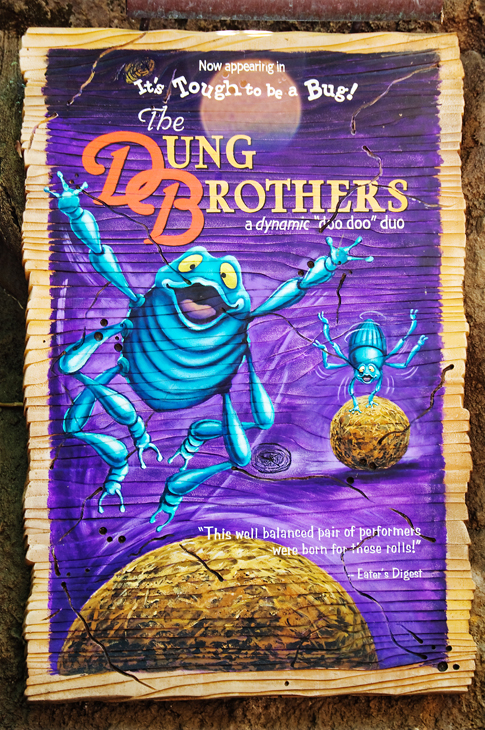 Copyright © 2009 Barrie Brewer, Nikon D300, 18-200VR, 1/6s shutter, f/8, ISO 200
In the queue of It's Tough to Be a Bug at Disney's Animal Kingdom, you will be entertained by several movie posters introducing you to some of the bugs starring in the attraction.
Dawn Burns was the first to send in the correct answer for the challenge! Congratulations to Dawn and all the other readers who got the answer right: Deb Ragno, Charlie Scheer, Phil Vickers, Sharon Pierce, Ed Aleszczyk, Tiffany Gibb, Marc Acosta, Joseph Tortorici, Ronnie Lane, Sandra Shaw, Allison Caputa, James Steele , Brian Yesutis, Christopher Masse, Jake Thompson, Joanna Snow, Sam Rossman, Jessica Folan, Joshua Barnett, Sherry Klinefelter, Jennifer Mccurry, James Berry, Kathy Berry, Brian Haas, Julie Wickware, Douglas Mcknight, Hoekzema Family, Mark Smith, Cara Richards, Lisa Palmer, Matthew Brisbin, Daniel Record, Allison Palmer, Jamie Miller, Jen Cerce, Theresa Peake, Brian Martin, Paula Munson, Theresa Rucando, Jennifer Harmon, Colin Buchanan, Kathleen Harmon, Kirsty Butler, Christine Dagney, Emily Dagney, Kye Layton, Cindy Dore', Jeremy Coto, Jay Bartels, Billy Luce, Jennifer Tremley, Angela And David Blevins, Marissa Dambrosio, Baines Family, Jason Albucker, Ken Gravitt, Tina Firestone, Kris Nixon, Erica Sipich, Karen Nelson, Cameron Love, Brittany &Jesse Siminitz, Kevin Scharf, Jonathan Thomas, Scott Otis, Mckinley Yeaman, Caryn Schill, Steve Cummings, Cathy Schill, Hillary Waldroop, Jennifer Townsend, Chris Connors, Amy Young, Linda Scrivano, Michelle Mcspadden, Joyce Tofflemire, Krista Penno, Tommy Carty, Travis Grim, Kelly Zanauskas, Robin Mcconnell, Bruce Hinterleitner, Donna Currier, Harry Wilson, John Dupre, Amanda M., Jessica Deans, Cameron Lange, Dallas Hamilton, Jaclyn Kelch, Erin Loring, Wade A. Williams, Carri Marotto, Steve Pocopanni, Mary Tackett, Bruce Lawson, Sarah Connors, Michelle Wilinski, Jamie Poynton, Michelle Wilinski, Quincy Delcolletti, Jennifer Schwing, Dan Owens, Melissa Dye, Allie L, Mickey Eckert, Anjanette Tournillon, Scott Junkin, Nicole Ruzinski, John Leach , Ana And Lucas Marlett, Wendy Snelgrove, Noreen E. Rachuba, Heidi Goodhue, Stacey Van Dyke, Misty Mehelic, Matt Cofone, Kathy Lutz, Tom Koval, Jared Orth, Erin Savoie, Christian Baas, Carrie Kenney, Robert Bostic, Trudy Vespucci, Josh Kight, Roye Ann Morris, Jay Reagan, Nicole Lopresti, Rob Frinzi, Kandise B., Louise Herrick, Bruce Arnold, Heather Coursen, Heather, Kelley H, Eileen Miller, Suzanne S., Tim Wingfield, Marie Phillips, Kelly Kobiela, Matt And Danielle Murgia, Kirsten Stark, Michael Fiedler, Theresa Maradei, Tom &Susan Linder, Tim Rachuba, Elizabeth Scarborough and Richard Nussbaum. Each of you will be entered in the February winners' drawing.
_______________________________________________________________________
Challenge #118: Where in the world is this?
Do you know? Do you have a guess? Please send in your answer, before the end of the day on Thursday, February 4, by clicking on the blue box below. Please do not post answers using the Feedback Form link at the bottom of this post. Remember to be specific with your answer – just naming a park will not get you into the drawing.


_______________________________________________________________________
Everyone who sends in a correct answer to a Where in the World Challenge this month will be entered in a drawing at the end of the month for some special AllEars® goodies and a cool Disney book!