Our last day – I can hardly believe it! As usual, it's gone way too fast, and we're left with a list of things that we *didn't* have time to do.
But we got most of a full day today – instead of having a flight in the very early afternoon it wasn't until 6:00, so we had time to go to two theme parks before leaving for the airport.
We actually got up EARLY (for us, at least) – it wasn't even 8:00 yet! We enjoyed the pastries that we got at Kouzzina yesterday morning – the coffeecake was especially good, and there were actually two pieces of that! We also had a "sweet bread" cupcake, a mini-croissant, a small blueberry muffin and some dried fruit.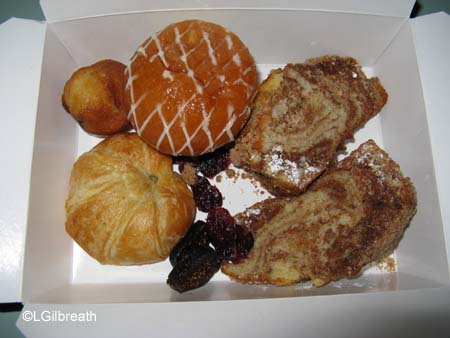 And what a difference a few hours makes – by 8:00 it was already about 10 degrees warmer than it got all day yesterday!!! There was rain in the forecast for the afternoon, but we had blue sky and sunshine for most of the morning – it was a lovely, comfortable, beautiful day!
We got our bags packed and were out of the room by about 9:00 for the drive to Animal Kingdom. After we parked and were walking up the aisle we saw Chad, Kerry, and Kevin ahead of us, so we walked in with them. Unfortunately that meant that we were both distracted and neither of us noticed which row we were parked in! Oops. (But when we came back later we did actually go down the correct row.)
Back at Harambe Fort the AllEars meet was already in full force – there was a Hidden Mickey seminar, conducted by Steve Barrett, going on, and a lot of other people were standing around chatting. I had the chance to chat for a while with Kitty (who writes about vegan and vegetarian dining for AllEars) and Rocky and I really enjoyed that – I had been hoping that I would get to see them. We all love cats and Disney, and we're also Crescent Lake Snobs – we just needed Steve Russo there for a "Crescent Lake Snob" photo. (That's kind of an inside RADP joke.)
Somehow Rocky got designated to take a photo of those of us who were still around at the time we decided to take a group photo – and then people kept handing him cameras. 🙂 He must have taken 7-8 at least!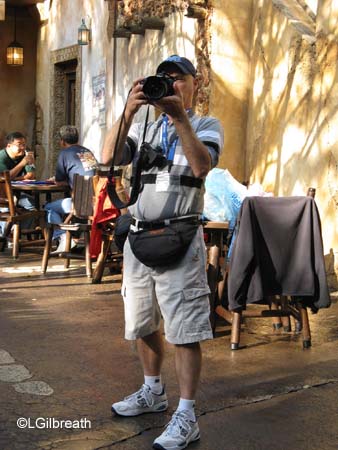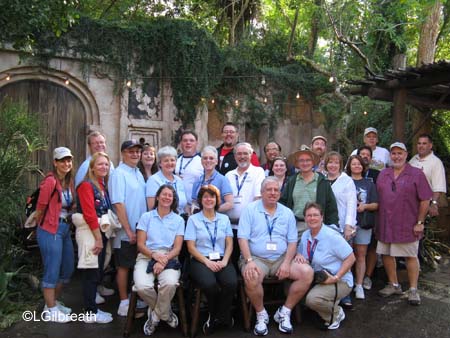 And we posed for an AllEars team photo as well – I think there were almost more people taking pictures of us than there were people in the photo, LOL!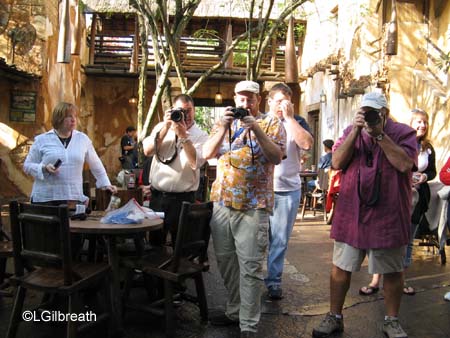 After that it was time to do the videoing for the AllEars Holiday video that Lee will be putting together – Coming Soon to a Youtube Channel near you. 🙂 Some of us did it in one take, some weren't happy with the first and wanted to do it again…and of course those of us watching weren't helping matters. It was really a lot of fun.
We had a Team lunch at Tusker House, where 13(gasp!) of us descended upon the place. Fortunately that was not an unlucky number and we had an excellent meal with a great server. I think I like Tusker House even more than Boma, though I think Boma has better desserts.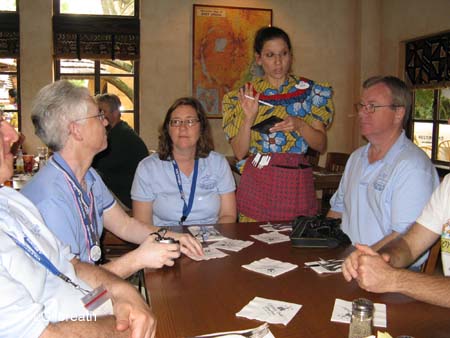 We laughed and shared stories – most of us live quite far apart from each other so the chances we have to get together and socialize as a group are rare. And we missed all of you who weren't there with us!!!
Lee and I had to say our goodbyes to everyone after that since we were starting to head home. 🙁
But we still had a couple hours, so we went back to Epcot to do a few things that we had missed, with a stop in the lobby of the Boardwalk to get our boarding passes printed – something we hadn't had time for in the morning.
All week we'd been planning to see Joyful, the gospel singing group that is performing at the stage behind the Epcot fountain, but the timing had never worked out. We missed the first 10 minutes of their 2:15 show but were able to hear them perform several songs – they were pretty good, and brought a nice energy to the stage.
We had time to catch one more set of the Voices of Liberty – this time they performed two songs we hadn't heard – Angels We Have Heard on High and Rudolph the Red-Nosed Reindeer.
While we were there we went into the Liberty Inn to see the life-size gingerbread house they have in there. I like the "glass" on this one.
And the very last thing we did was to see the World Showcase Players perform their version of A Christmas Carol. We thought Lee was going to get selected to play Bob Scratchit, but at the last second they selected the guy standing next to Lee instead. Both of the audience "volunteers" were pretty good, though, and we enjoyed the show.
Now it was time to say goodbye…we had an uneventful trip to the airport, and I think we encountered the shortest lines at security that I've ever seen there.
We're cruising at 36,000 feet as I write this – should be an on-time arrival in San Diego.
It was a good trip, but looking back on it I think we did the fewest attractions that we have ever done – just two! Kilimanjaro Safari on Tuesday and Hall of Presidents on Friday. LOL! Some people would probably interpret that to mean we had a really bad trip, but it's not at all about the attractions for us. We actually spent a lot of time in the parks but we were wandering around doing things other than riding rides. And we spent a lot of time hanging out with friends both in and out of the parks – and that was really the best part.
Thanks to everyone for reading – I'll have some final thoughts about things I didn't have a chance to write about coming soon.