Got up (at about 8:45 again) to a cloudy and chilly day – no sun expected, and high was only supposed to be about 67 – and I'm not sure it ever got even that warm.
We decided to have breakfast at Kouzzina – we'd had dinner there back in October with the Koma family and really enjoyed it. There were a surprising number of people having breakfast at 10:00, but we waited less than 10 minutes for a table.
There were a number of items on the breakfast menu that looked good – we could definitely eat here again, and I'm sure we will in the future. Lee really wanted waffles, so he had the Classic Golden Waffle which came with a large spoonful of whipped mascarpone cheese, honey, and chopped pecans. He also got a side of the sweet potato hash.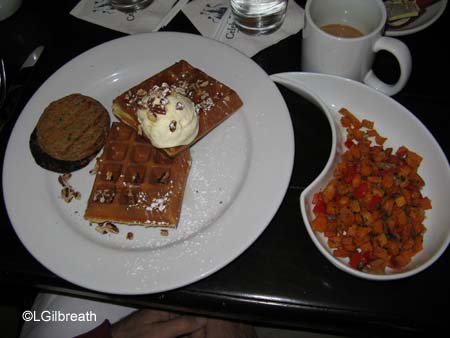 I was torn between the Spinach, Tomato, and Feta Scrambled Eggs and the Create Your Own Yogurt and Granola, but I finally chose the latter. It came with Greek yogurt (which I really like) and granola, and then with some fruit and sugared nuts and honey. I was disappointed in how little fruit there was…for $10.49 I expected a little more, but it was good.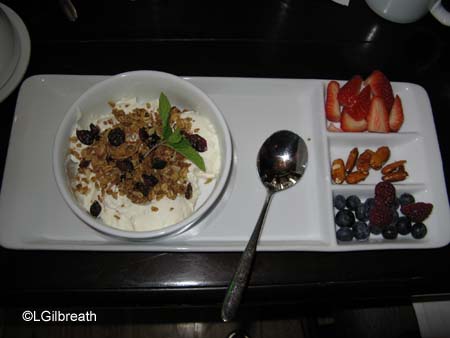 Just about the time our food arrived Linda and Deb came by our table – they had just finished their breakfast. But they joined us while we ate and we had a great time talking to them and catching up a little bit. They are a couple of special ladies, that's for sure!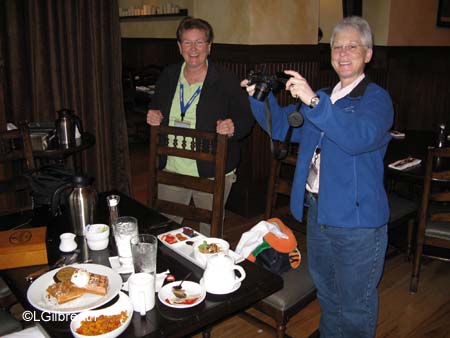 We'd gotten some Kouzzina pastries to have for breakfast tomorrow, when we know we'll be rather rushed in getting out of here, so we dropped those back in our room and then headed out to do a little more Christmas decoration resort hopping. First stop was the Yacht Club. They have the usual tree decorated with nautically-themed ornaments (like ships!) in the lobby as well as the alpine village train set, which has all kinds of things going on around it.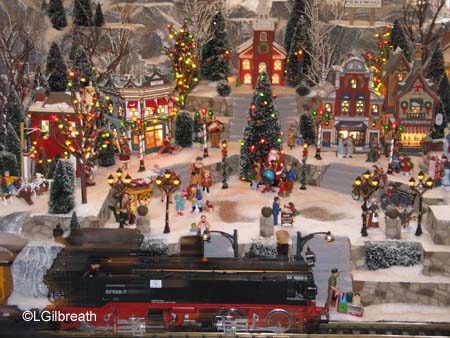 Over at the Beach Club it is the 10th anniversary of the gingerbread carousel.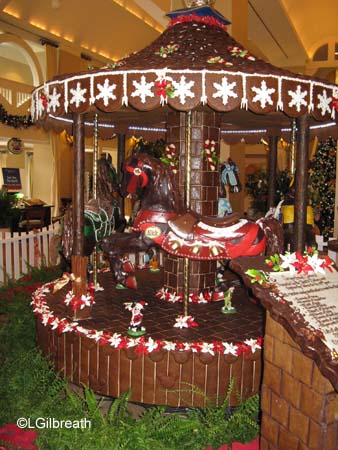 They had a rotating gingerbread castle on one corner, with Snow White on one side and Belle on the other:
And an the opposite corner was a rotating version of Chip and Dale's treehouse – they seem to be the "mascot" of the carousel, though I don't really understand why. There's also a special carousel 10th anniversary pin that has Chip and Dale on it.
This is the first time I remember them selling gingerbread in a shop in the lobby. One of the pastry chefs was hard at work decorating Mickey-faced gingerbread cookies.
Then we were off to Epcot for Mike and Masayo's Kaki-Gori meet. The temperature really wasn't very conducive to ordering a kaki-gori, but I saw a number of people who are apparently far more hardy than I am, and ordered them anyways.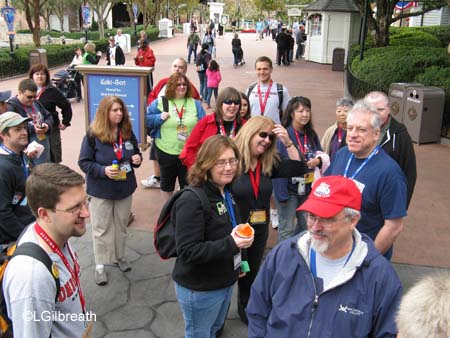 Masayo brought bags of origami cranes and swans that she had made – I think she said there were about 200! Wow…I can't even imagine how much time that took to do…they were both pretty intricate.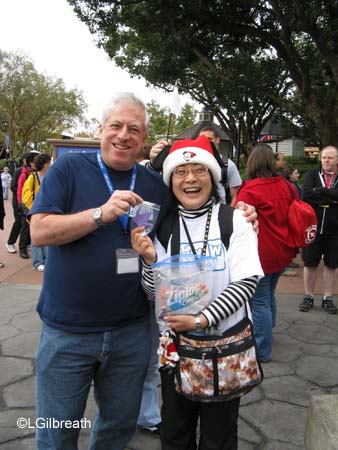 Here are all of the AllEars team members who attended (except Mike, who had to leave early for his podcast, and Barrie, who arrived after we took the picture) – Linda, Jack, me, Erin, Deb, Michelle, and Fred.
And here's Jack, Lori, Kevin and John – they were trying to keep Lori warm, I think!
After people had mostly dispersed several of us who were more the RADP folks hung around visiting, and eventually decided to go have lunch at Yakitori House. One of the things I enjoy most about RADP meets is the small groups that break off after a larger meet, and go off and do something like eat, or get our picture taken with Mickey, or some other activity where we get the chance to just visit for a while. We were with Jack, Julie, and Kevin, and we had a really good time just being together. Luckily we were able to sit inside and eat, since it was still quite chilly outside, and the wind had come up a little bit.
Kevin, Julie and I all had the Shrimp Tempura Udon, which I enjoyed very much. Kevin and Julie ate it with chopsticks – I'm afraid I am not that accomplished. 🙂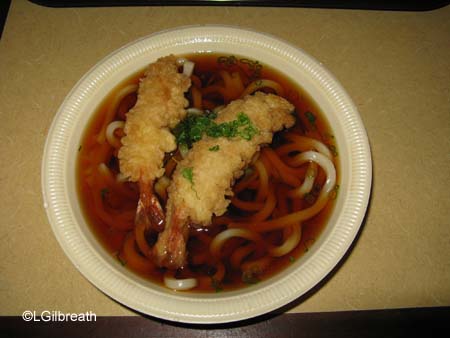 Jack had the teriyaki chicken, I think, and Lee had the Japanese Curry – it doesn't look very appealing in the photo, but fortunately it tastes a LOT better than it looks!
After lunch (it was after 3:00 by then) Lee and I headed over to Magic Kingdom via monorail, though we stopped at the entrance to Epcot to take a few pictures of the holiday topiaries.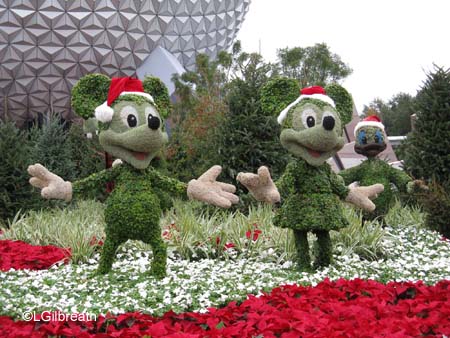 At Magic Kingdom we went back to see the Hall of Presidents – our timing was great because a show was just a couple of minutes away. This is the first time we'd seen it since they changed it and added the new President Obama figure. It focuses much more on the presidents and how even someone from humble beginnings (like Abraham Lincoln, and Andrew Jackson, who was labeled a "barbarian") can become president. I enjoyed it, though I didn't think the Obama figure was that realistic. But I liked how he looked back at his "notes" (or maybe it was a teleprompter) before making his speech. I have to say that during his speech I thought back to the D23 presentation I saw on the making of the Hall of Presidents, and how the Imagineers who went to talk to Obama and record his speech sort of ran wild on their tour of the White House – sounded like they had a lot of fun! 🙂
We got out just in time to make it to Erin's "Remembering Walt Disney" meet at 4:30 – we were meeting out by the floral Mickey.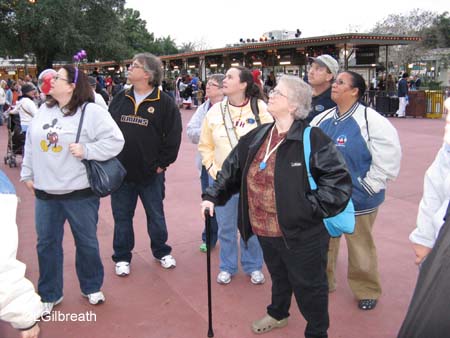 Erin did a great job with this – she had lots of stories to tell us about Walt and Roy Disney and other things that went on as they tried to build the Disney Studios, and then of course Disneyland and Walt Disney World. I don't know how she remembered everything she did since I never caught her consulting any notes!
She'd originally planned for us to wander around the park as she spoke about various topics but because the weather was so chilly we went to Pinocchio's Village Haus and co-opted several table and she talked there. That was very considerate of her – a cup of hot chocolate tasted pretty good by then!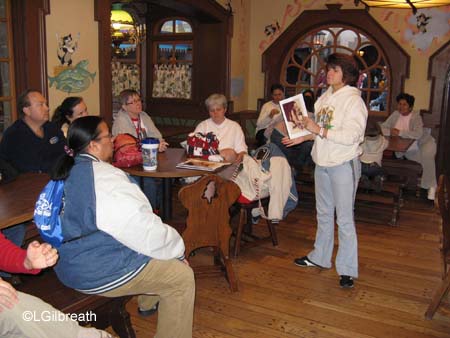 The meet ended just in time for us to get to the front of the castle for the Cinderella's Holiday Wish show (aka the castle lighting ceremony) at 6:15. It would be nice if they did this more than once each evening like they do at Disneyland…but at Disneyland there's no characters involved, just the soundtrack and the lighting effects. Still, it's awfully pretty as it lights up!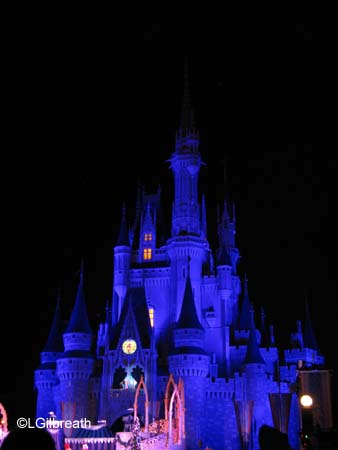 The park was getting ready to close since there was a Christmas party tonight, so we joined the hordes of people exiting the park. But instead of going back to the Epcot area we took the boat to Ft. Wilderness, because we wanted to see some of the Christmas displays over there that we had heard so much about. There are quite a few really large ones that are not too far from the Settlement House which is where the boat dropped us off. Some of these have lots and lots of different inflatable figures, as well as lights and other decorations.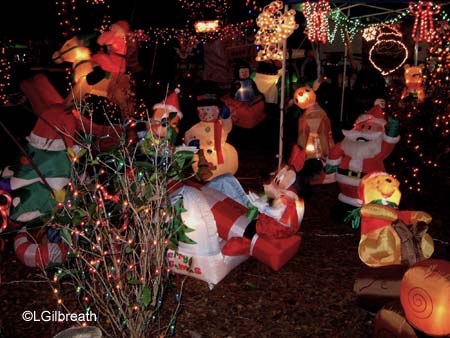 I thought this one was nice – not as cluttered as some of them were: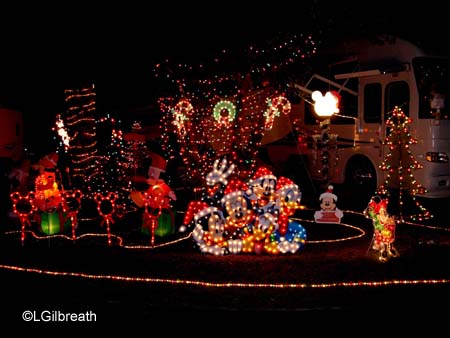 And this one had both a monorail and a train set!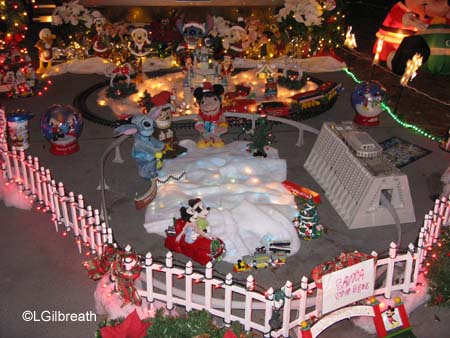 We managed to make our way out of Ft. Wilderness and our timing was great because when we got to the Outpost an Epcot bus was waiting – it ended up being pretty full, too – but I'm sure that's because it was Extra Magic Hours at Epcot that evening, and Magic Kingdom had closed early because of the party. It was a little after 8:00 when we arrived at Epcot, and our first order of business was FOOD!!! We went to Seasons in the Land mainly because it was indoors. Though we also enjoy the food there. It was still fairly busy, and that is never a quiet place to eat. I had a bowl of vegetable soup and a salad, and Lee had the cashew chicken and chow mein, which came with a big side of steamed broccoli – I helped him eat that. 🙂
We'd originally planned to stay for Illuminations but that was still almost 45 minutes away, and we didn't feel like standing out in the cold for that long, so we decided to get some hot spiced wine and then head back to the Boardwalk and watch Illuminations from our balcony. That decision was reinforced when we walked out of the Land only to find that it was raining lightly. Hmm. So instead of getting glasses of wine we got a whole bottle – two glasses was $12, and an entire bottle was $13-something – and there's a lot more than two glasses in it – I wish we'd gotten one before this. Oh well, we'll remember for next year. (By the way – it warms up just fine in the microwave!!!)
It had mostly stopped raining by the time we had bought the wine, but we still were anxious to get "home". And as we had thought, we had a pretty good view of the fireworks from our balcony – they were going off right over the ESPN Club. It's still a terrific show, even from 1/2 mile away!
We fly home tomorrow evening, but we have a busy morning since we have to finish packing before we head off to Animal Kingdom for the AllEars meet that starts at 9:30. That means we have to get moving earlier than we have any other day this week…but hey, I'm done with this blog and it's not even midnight (but close!), so I'm ahead already. 🙂
I probably will not have a blog on tomorrow's events ready to publish on Sunday morning since we don't get home until late Saturday night. But who knows, maybe I'll be able to take advantage of free internet access on our layover in Houston and get it done then…but probably not.
Thanks to all of you who have been reading and letting me know that you are enjoying the blogs!