We get up this morning…the morning that we are LEAVING Kidani Village…and of course all of the animals have suddenly found our savanna. Sheesh…they are as uncooperative as cats! The nyala (which we had not seen at all until this morning) were out grazing: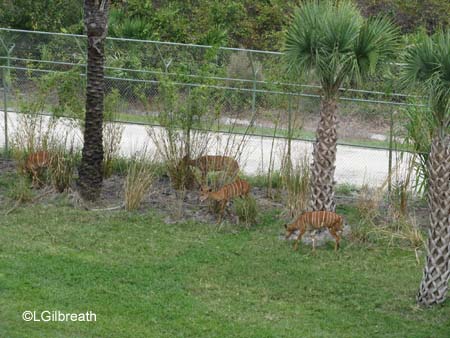 And a pair of waterbuck were camouflaged in the brush:
And we had one of the okapis, though it was about as far away as it could be and still be in view. The impalas were out there, too. What was going on – "Laura and Lee are leaving – time to move back to the savanna!" 🙂
Or maybe it was the weather…black, black clouds out there, and it started raining about 10:30. Oh great…the day we are switching resorts and have no "home" to hang out in, and it rains. Sigh. Hard to plan based on weather when you make reservations 11 months in advance! Though I remember the last time I scheduled a trip where we had to change resorts in the middle – and I said to myself: "Self, this is really not a very good idea – what were you *thinking*?" And then I went ahead and did it again this year. Seemed like a good idea at the time, but I think in the future I will limit myself to one resort per trip – it's just such a hassle to move.
After we'd loaded our bags in the car we went to the lobby to hang out in the library for a while in hopes of better weather. And I wanted to take a video of the moving butterfly ornaments on the tree – I received a message from the Baines Family asking me to video it. So this is for you! 🙂
I didn't count the number of butterflies on the tree but there were more than this. Many of them apparently had "damaged" wings and weren't moving very much – these two were still doing pretty well, though.
The rain had apparently stopped, so we headed out to the Boardwalk – but it started up again – not hard, just steady. We arrived at the Boardwalk about 12:15, and, wonder of wonders, our room was actually ready!!! Even the Cast Member who checked us in was surprised. We have a one bedroom with a Boardwalk view up on the 5th floor. Ahhh. You know, I liked Kidani Village, but coming back to the Boardwalk really DOES feel like coming home. One of the first things I noticed is how much lighter and brighter the room is compared to Kidani. Of course the decor also isn't as exotic, and it doesn't have two full bathrooms like Kidani, but still, it's comfortable and familiar and feels like home.
By about 12:45 it had stopped raining, so we went into Epcot – I wanted to see the Voices of Liberty doing some of their Christmas sets. We took umbrella and rain jackets, though. The weather had *really* cooled off – it was almost 75 at 10:00 in the morning, but all it did was get cooler after that. I'd changed into long pants and even with a light jacket I was sometimes chilly.
On our way in from the International Gateway we passed the Kim Possible station and discovered they were still recruiting, so we volunteered to be agents – we had time to see the Voices of Liberty before saving the world, though. 🙂
We saw the 1:15, 2:40, and 3:10 performances of Voices of Liberty – they are really incredible. We even heard a couple of songs that were new (or new arrangements). Here's a couple of them…the first is one of my favorites, Joy to the World, and second one is one of the few numbers I've seen them really do for fun – I don't know the name of it, but it talks about "What a merry Christmas tree", so that's what I call it.
In between Voices of Liberty sets we dealt with killer robots, monkey ninjas, and secret rocket bases on our Team Possible missions. The park was not very crowded, but there were a lot of other people doing them, too – we had to wait behind three other parties before we could trigger the final effect in China!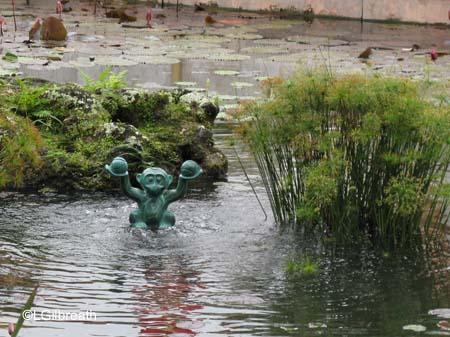 We were also in Mexico and Japan. I think that Germany, which we did back in March, is still my favorite, though. It is really a lot of fun to see what the Imagineers have come up with as interactive bits in the various pavilions – there are a number of pretty clever things. The robot "bebe" in Japan was pretty good – a robot brat who needed to be burped, apparently!
We also tried something that Erin had recommended – the hot spiced wine in Germany. That tasted really good on a chilly day!
While we drank our wine we sat on a bench and listened to the Holiday Storyteller in Germany, and saw the giant nutcracker come out and join her – that seems like the kind of thing that would give children nightmares!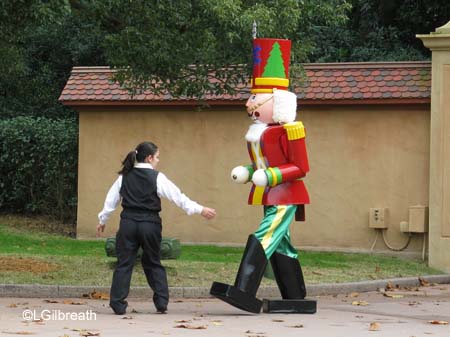 It was after 3:00 and we hadn't had anything other than spiced wine since our (late) breakfast, so we stopped by the UK to get an order of fish and chips – with plenty of malt vinegar, of course! It's really nice that they have moved the ordering station away from the pick-up window – I think that makes things go a lot faster. Though there really wasn't a line today – just two other parties in front of us.
After we walked out back out the International Gateway we did something we have never done – attended the DVC "Merry Mixer". It's a holiday event that DVC puts on several times during December for members – there's entertainment, characters, the opportunity to buy exclusive merchandise (the line for that was HUGE), refreshments, and of course you could learn more about DVC and buying more points if you wanted to, though they really didn't push that at all. We didn't stay long, but we did get this holiday photo taken!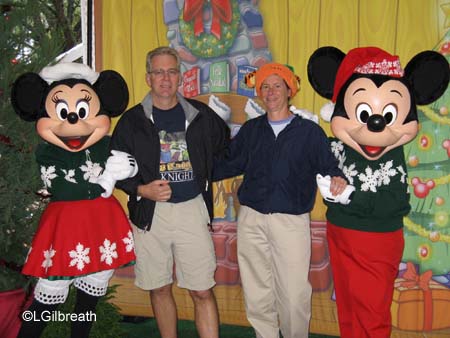 It was oh, 4:30 or so when we came back to our room to rest, work on photos and video, and that sort of thing – it was nice to have a short break today! This evening we decided to go to the Dolphin Fountain for dinner – they have good soups, sandwiches, burgers, and flatbreads. They are better known for their ice cream but neither of us felt much like having ice cream tonight!!! Even Lee was cold as we walked over there – the wind blowing over the water made it seem a lot colder than it really is.
The place was busier than I've ever seen it and pretty noisy – next time I think we should just get take-out and eat in our own room! But it was good – I had the turkey burger, which I think was a handmade patty and not a pre-made frozen thing, and Lee had the Cuban Pork Fladen (flatbread), which was basically a big open-faced ham and cheese sandwich. We both enjoyed our dinners, and were both members of the clean plate club!
It was after 7:00 but we decided to walk over to see the Osborne Lights – this time at our OWN pace, unlike last night. The park was open until 8:00, since that's when Fantasmic! started, but we knew the lights would be on for quite a while after F! got out. We weren't sure how crowded it would be back there but it was VERY nice – the least crowded I have ever seen it, except maybe for one night I was there when it was raining and a lot of the lights were out. But tonight was dry and almost everything was working (the big globe wasn't spinning).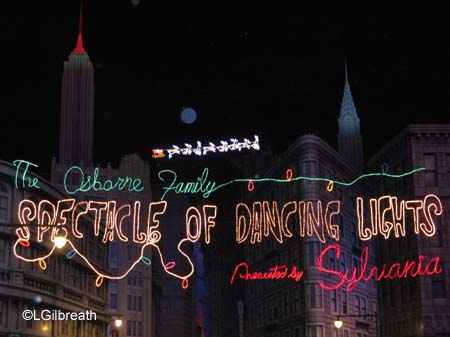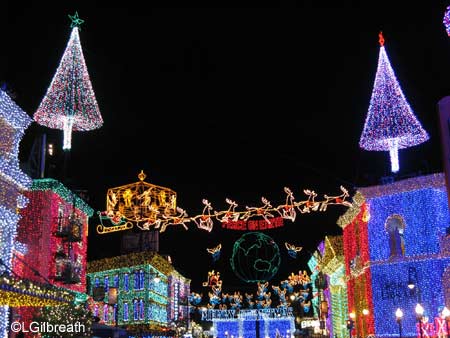 We were there for at least half an hour and saw/heard three of the "dancing" numbers: Jingle Bells by Barbra Streisand, and Nutcracker Suite and Christmas Eve/Sarajevo, both by Trans-Siberian Orchestra. Sarajevo is one that we really love – it was the first song that Lee choreographed for our Lights of Winter at home (and we used it several years before Disney did!). Lee also took some time to see how the Disney people did the connections on some of their lights…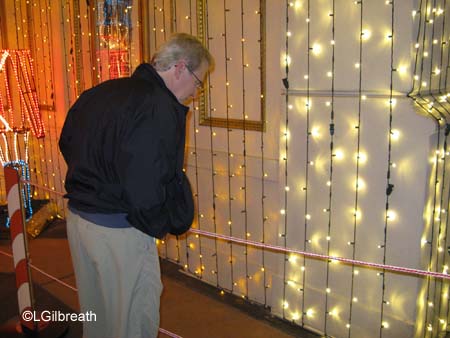 Quick stop back at the room to pick up Lee's video camera (the room is pretty much on the way to Epcot anyway!), and then we went into Epcot to see Illuminations again, though we probably could have seen most of it from our room. We went to Germany for a little dessert, though – one of their gingerbread cookies with chocolate Mickey ears. That's one of my favorite holiday treats, and it was good.
And then we saw Illuminations again. The holiday finale is still spectacular, and I am always grinning like a fool at the end when all of those shells go off and light up the sky!! It is just amazing.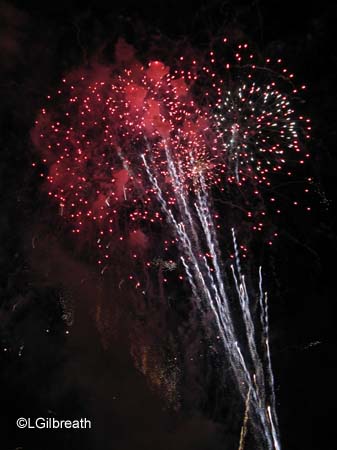 I can't believe that tomorrow is our last full day!!! We want to do a few more things in Epcot tomorrow, and will be going to the Magic Kingdom tomorrow afternoon for a tour that Erin is doing – which concludes by watching the castle lighting ceremony that we didn't see last night.