It's been another long day (it's after midnight right now as I'm starting to write this!), so we'll see how much I get done tonight…you may get a "Part 2".
So…another morning…another animal-free savanna. Sigh.
It was another beautiful day – except for a rain shower as we drove from the airport to the resort on Monday night the weather has been beautiful, with highs close to 80, and still warm in the evening, too.
We decided to take the bus to Animal Kingdom rather than drive…in hindsight that was a bad idea because between the wait for the bus (saw 2 MK buses and 3 Epcot buses in that time, though Studios was worse off, with no bus at all!), loading an ECV, and the extra stop at Jambo House, it was 45 minutes from the time we arrived at the bus stop until we were at Animal Kingdom. Yikes. But we saw my RADP friend Brian – he got on the bus at Jambo House, so we chatted with him on the ride to Animal Kingdom.
They only serve breakfast at Pizzafari until 10:30, and we thought we were out of luck since a cast member was taking the breakfast sign inside when we got there, but the nice ladies at the cash register said "oh, no, come right ahead!" Whew. And as a bonus we got a coupon on our receipt good for 20% off merchandise at Island Mercantile until 12:00 p.m. It was good at places in other parks, too, like MouseGear, and the Emporium, but there was no way we were getting to any of those by noon! We took a quick shopping trip – I found a shirt I liked, but Lee didn't see anything. LOTS of people had those coupons, because Island Mercantile was busier than I have ever seen it.
Animal Kingdom itself seemed very busy to us – the standby lines weren't bad, but it seemed very congested – lots of people around.
We stopped to see the otters on our way back to the Safari ride – there were two of them out. One was swimming laps, and I guess the other one was coaching from the island – he was certainly sitting up there doing a lot of chirping! So cute…I love otters.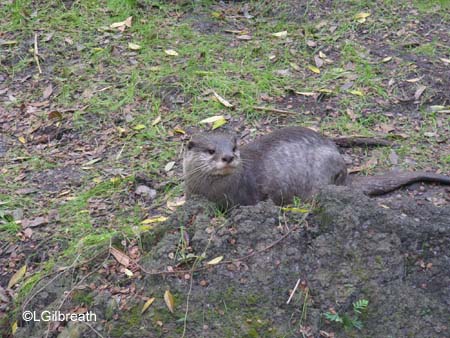 We had gotten Fastpasses for the safari ride before breakfast, so we got through the line pretty quickly, though the standby was listed as less than 30 minutes. Saw a fair number of animals – quite a few on the savanna, and mostly on the near side rather than the far side, which is unusual in my experience. They called these white rhinos…but they looked red to me. 🙂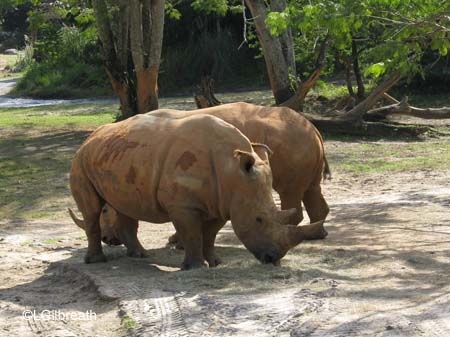 Normally we walk the Pangani Forest Trail after our safari, but there were tons of people headed there so we passed it by and went over to Asia to the Maharajah Jungle Trek instead. We expected that the tigers would all be sleeping, but several of them were up and active – that was a very nice surprise! We knew that there were six, all females, but learned that they are 12 years old, and some of them don't get along very well. Which isn't really surprising in a family of six females…We saw two of them over in the viewing area that you see from the suspension bridge – I've never been able to see them from the bridge (not that close, at least) before. I could inundate you with tiger pictures, but I'll just share this one: My, what big teeth you have!!!
We wandered over to Dino-Rama (20-minute standby for Primeval Whirl). I'd never noticed the way that this brontosaurus(?) looms over the area…good thing it looks friendly!
There was a character greeting area there that I don't remember seeing before, so I don't know if it's just for the holidays or not.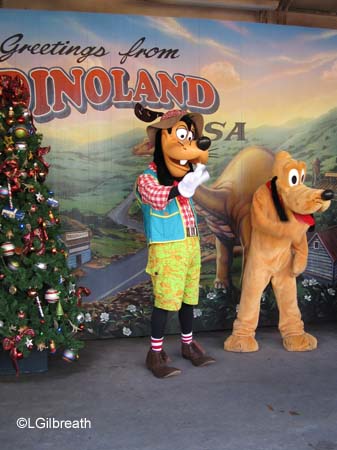 Over at the Tree of Life we discovered a path that I don't think we've ever been on before! Some very nice views of the Tree looking up, but there's an awful lot of scary big-toothed critters carved into the roots in that area.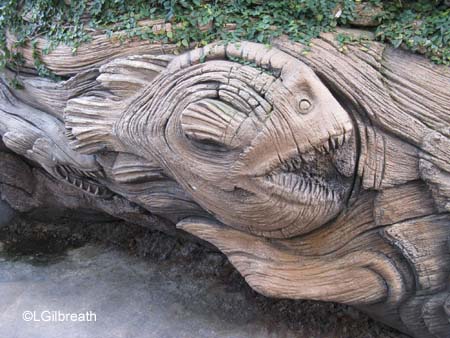 At the end of the path (which came out behind the tattoo stand) there was this strange-looking fish – it's called a Paroon Shark-Catfish – I think you can see why. It's pretty big – close to 3 feet long, I think.
It was about 1:30 and we headed out of the park – we had a late lunch scheduled at Sanaa. Fortunately the bus ride back was quick and efficient – Kidani Village was the first stop. It sure is a looooong way from the bus stop to our room, though.
We had the last lunch seating at Sanaa. The restaurant wasn't full, but there were a pretty good number of parties there. We got a window table which was great, because the windows in Sanaa look right out onto the savanna, and the animals come to within 10-15 feet of the restaurant! We saw giraffe, zebra, wildebeest, and Ankole cattle while were were eating – two of the zebras were in view most of the time, and the giraffes went by two or three times. It was really cool! Of course, it helps that they feed them in front of the restaurant – a keeper came by and dropped off some hay and most of a banana tree while we were there.
Lunch was really good – I'll write up more of a review eventually, but we both really enjoyed what we had, and I'm sure we'll be back here again in the future. We had an excellent server, also. She performs in the Cast choir for the Candlelight Processional, and we talked about that a little bit, since we would be seeing it later in the evening.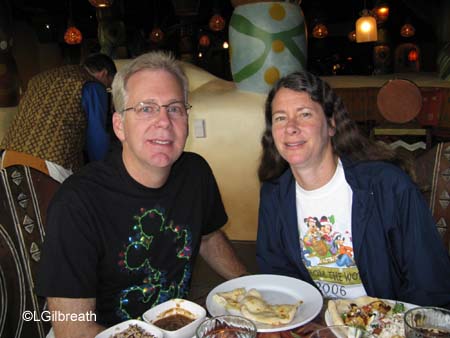 Made a brief stop back in our room, and in all fairness I have to say that there was an okapi and several waterbuck on our savanna. And when we returned tonight there was the herd of impala and a couple of waterbuck. Of course you couldn't really see them in the dark, but they were there. Though it was interesting that it was so quiet that we could hear them as they wandered around and chewed on grass.
Then it was off to Epcot, where we were doing the new Holiday D-Lights tour. Mike Bachand has already written a terrific blog about it which you can read HERE, so I'm not going to go into much detail, except where our tour differed from his.
We also had Mark as one of our tour guides, and he was really good – very knowledgeable about a lot of the techy stuff that we like. Our other guide was Dena, who also did a fine job, but not so technical.
As Mike stated, we started off by visiting the Decorating Support building which is over near the Magic Kingdom. I thought our next stop would be Magic Kingdom, but instead we went over to the Studios to see the Osborne Lights. When I asked Dena about that she said that the Studios was closing early, at 7:00 (the tour actually got underway a little after 5:00), and so they had to take us there early.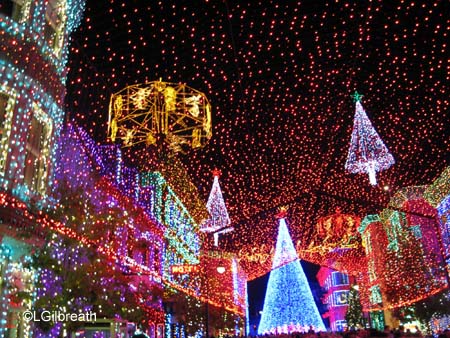 They pointed out the "black cat" that's in a different place in the lights each year – it was a Halloween decoration that somehow got thrown in with all of the Christmas lights (there are about 5 million of them now, most of them LEDs), but the Imagineers decided to put it up anyways. 🙂 I guess last year it was an alley cat…this year it's a cat on a hot LED roof. 🙂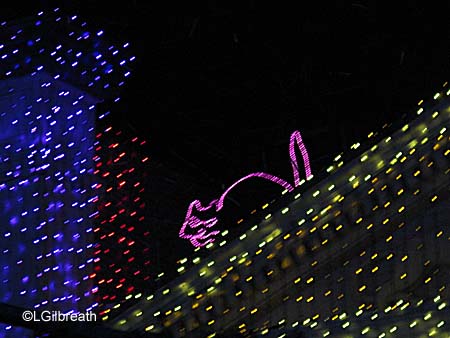 I felt we were rushed getting through the lights, though – we only got to see one performance of the dancing lights – they were starting Trans-Siberian Orchestra's Christmas in Sarajevo (which is one of the musical number we use with our lights at home) as we had to leave. 🙁
Our early stop at the Studios unfortunately meant that we missed the lighting ceremony for Cinderella Castle at Magic Kingdom – it was already fully lit by the time we got back there. I was disappointed in that. We also got caught by the SpectroMagic parade, so that was going on in the background when we were trying to listen to what Mark had to say – even with our earphones that was a little difficult. The castle was this funky orange color for most of the time we had a really good view of it (which seemed much more appropriate to Halloween than Christmas!).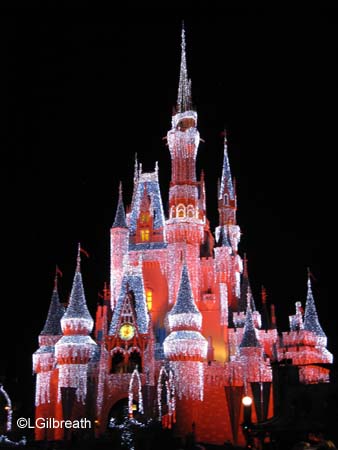 Of course after we had to get out of the way of the parade it started changing colors again…
Lee picked up a few lighting tips that he wants to try on our roof "ice" lights at home, though.
As Mike talked about, we finished up the tour at Epcot with the Candlelight Processional. I think we had better seats than he did, though – our tour was only 26 (full capacity is 40), so they put us closer to the stage, and not so blocked by trees. Andy Garcia was the narrator, and he was pretty good. His favorite song is also one of my favorites – They Rejoiced with Exceeding Great Joy. He tried to get them to perform it a second time. 🙂
We really enjoyed the tour, though I felt gypped because we did not get to see the castle lighting. Seeing it already lit wasn't really that special. But we both felt that for the price ($179/person!) the experiences should have been a little more exclusive/special – we were pushing through the crowds at the Osborne lights with everyone else, though at least we had reserved seating for the Processional.
The tour ended not long after the Processional – they took us out of the theater and took back our headsets and gave us our pins (limited edition of only about 250!), and then strongly encouraged us to watch Illuminations – especially the holiday finale. Though Mark wouldn't give us exact numbers, he said that there are as many fireworks in the four-minute finale as they are in the rest of the show!!! I believe it, though…that last 30 seconds is insane.
Anyway…we found a decent spot to watch it. Both Lee and I noticed that the images on the globe seem a lot more clear and distinct than we've ever seen them – and we were here at the end of October, so I'm not sure what's changed since then.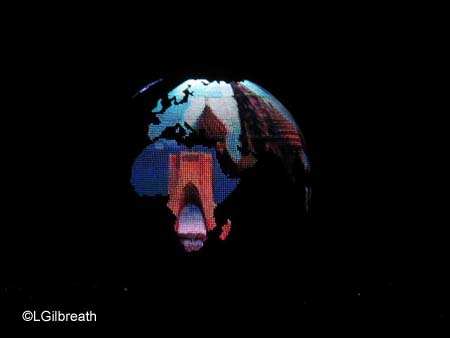 The holiday finale…WOW. That's really all I can say. I think that is my very favorite thing about the holidays at WDW. It blows me away every time I see it – and I have seen it a number of times over the years. I can't believe the number of fireworks they shoot into the air – as I said before, it's just insane. As we've often said: "Nothing says 'peace on earth' like shooting off a bunch of explosives!"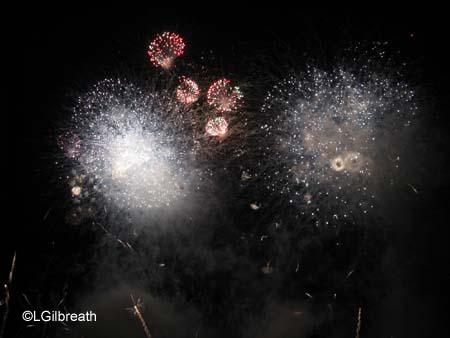 Wow…I actually did finish this – and it's still only about 10:00 – west coast time, that is.
Tomorrow we're moving from Kidani Village to Boardwalk Villas – it'll be nice to get back there again. I think we'll try to see the Osborne Lights again without feeling so rushed, and definitely will be seeing Illuminations again!!!
By the way…for those of you who have submitted comments – thank you, I'm sorry that I haven't replied and gotten them published yet, but I'll get to it as soon as I can. I'm glad you are enjoying the blogs!