Still on west coast time, so went to bed about 1:30 a.m. and got up about 9:00 this morning. We still have a mostly animal-free savanna, but did catch a glimpse of these impala as they migrated across and out of view.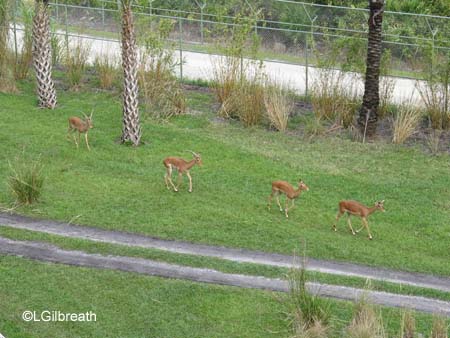 We didn't really have any plans for the morning – Lee suggested going resort-hopping to see Christmas decorations, so that's what we did. We drove over to Wilderness Lodge first – that's one of our favorite resorts at Christmas time. On the road in we saw this topiary display.
The tree in the lobby is always very impressive – it's so tall!
And they use antlers in all of their decorating. 🙂
Whispering Canyon was surprisingly busy for 10:00 in the morning, but even without a reservation we were seated in less than 10 minutes. Luckily they put us in the back room by the fireplace which is a little quieter – and we knew better than to ask for ketchup! 🙂 Lee had the breakfast skillet which he enjoyed, and I had the standard 2 eggs, bacon, potatoes, and biscuit, which was fine.
We thought about going to all of the monorail resorts, but we've been underwhelmed with the decorations at the Polynesian and the Contemporary in recent years, and haven't heard that there was anything new there this year, so we went straight to the Grand Floridian instead. There's always plenty of decorations at the Grand!!! Lots of beautiful wreaths and small trees and the big lobby tree – though of course the gingerbread house is one of the most outstanding things.
Poor Lee…little does he realize what lurks above him, waiting to launch an attack…it'll be years before he goes near the Grand Floridian's tree again! 🙂
There were also many beautiful arrangements of fresh flowers – I thought this one was especially nice.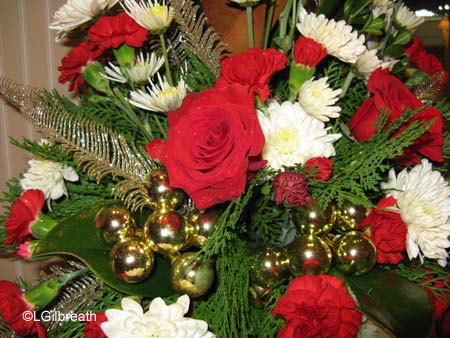 As we were driving away from the Grand I noticed something along the edge of the golf course that I was very surprised to see…
A flock of wild turkeys – either that, or the Thanksgiving rejects. There must have been at least a dozen of them. That was really a treat to see them!
On the way back to Kidani we stopped at Coronado Springs – they always have very nice Christmas decorations – nicer than some of the deluxe resorts, actually!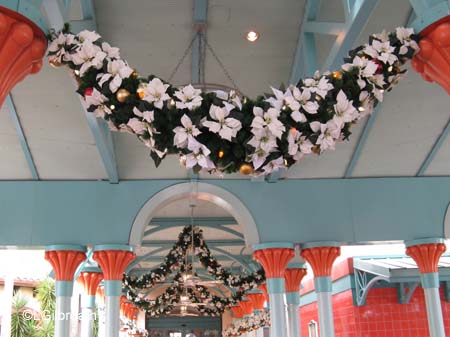 The tree in the registration area was very pretty.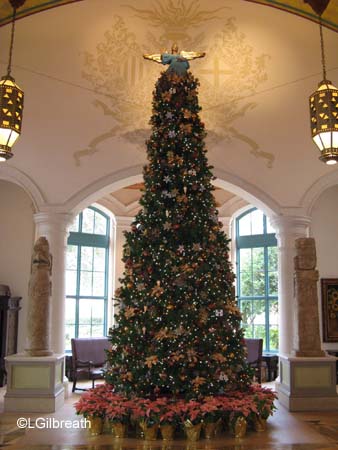 And then there were these characters outside…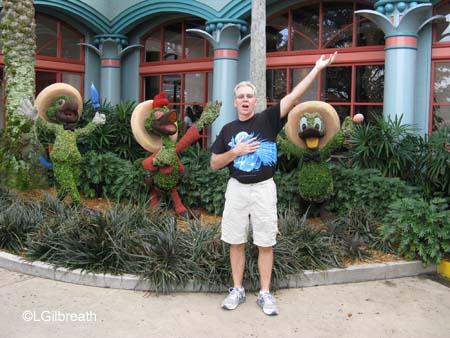 Back at Kidani we checked out the lobby in the daytime…aren't these really cool chandeliers?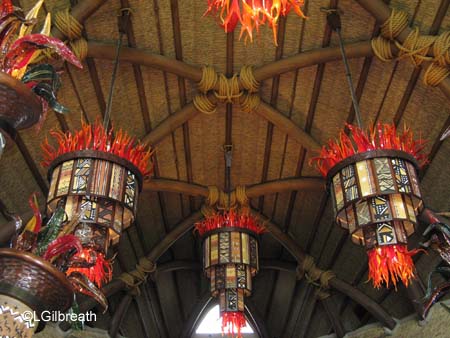 And then our Kidani Village room search adventure began. Those of you familiar with the rec.arts.disney.parks (RADP) newsgroup will know who Keane is – Keane and his PiC (Partner in Crime) are also staying at Kidani, and we were going to his room to have a drink – also meeting Steve Russo there. We knew from Keane's room number that he was staying in the other half of the building, but what we didn't realize is that the only place that the two halves connect is on the second floor where the lobby is. So we had to go down to the second floor, walk across to the other part of the building and then take an elevator up. At least on his half of the building the room numbers make sense – 74xx is on the 4th floor, 75xx is on the fifth, rather than our side where the fourth floor is 78xx. We eventually found it, though – but not before Keane called us to find out where we were. 🙂
Keane has a great view looking into the center of the big savanna – we saw giraffes and eland wandering around. I was jealous. 🙂
It was nice to meet Steve for the first time, and good to spend more time with Keane – I'd only talked to him briefly at last year's RADP meet. Keane has taken some amazing panorama photos, and his ulterior motive was to get us up to his room to show us some of them. No, not at all like etchings. 🙂 They really are beautiful and he insisted that we choose one. Very generous of him, and a tough decision! You can see some of them (and see how big they are!) in this photo.
And here's a photo of Steve, me, and Keane.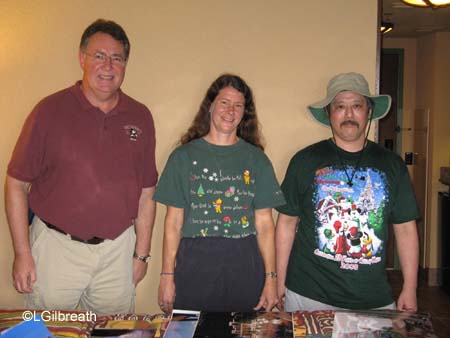 By then it was after 3:00. We went back to our room briefly, where we found a few more animals on the savanna – there were several female waterbuck. They seem rather odd-looking to me – sort of donkey-like.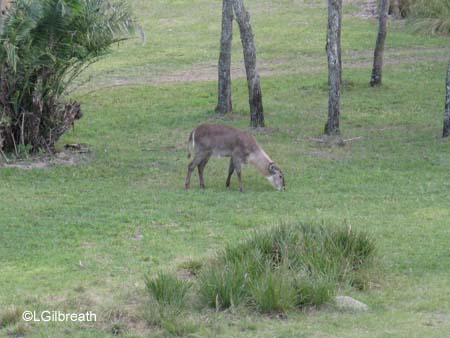 I guess we'd put it off long enough…it was finally time to go to a theme park. 🙂 We were meeting Erin, one of my fellow AllEars teammates, in Epcot at 4:30. It was very strange to drive to the front of Epcot – we are so used to staying behind it and walking in from there! The walkway between Future World and World Showcase looks so strange without the Lights of Winter…they even got rid of the lighted dove decorations in the planter in front of it. Waaaaaa!!!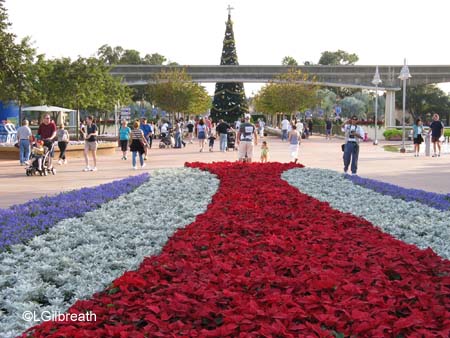 Lee and I had had a late breakfast but nothing since then, and we wanted some food before we started drinking frozen margaritas. 🙂 The food booth that was in front of the Mexico pavilion during the Food and Wine Festival is still there, though now they have a different menu: beef taquitos, a chicken quesadilla, and guacamole and chips. We got the quesadilla and the chips, which were both pretty good.
I don't remember now how Erin and I decided that we needed to meet for margaritas in Mexico, but it's something we've been looking forward to for months and we had a lot of fun. After we got our Fiesta margaritas we wandered around World Showcase.
Erin had done several of the Kim Possible Adventures, but hadn't done the one in Germany. We wanted to show her one of the effects at the little train in Germany, but wouldn't you know it there wasn't any one doing the Kim Possible thing – normally people are practically tripping on top of each other! But finally a family showed up and triggered the effect – it still makes us laugh. You can see it in this photo if you know what to look for – I'm not going to spoil it for those who haven't done it, so instead you can enjoy this photo of the village all decorated for Christmas. I always enjoy seeing how they decorate the train area for different events, though I think Christmas is when they decorate it the most.
We completed our circle around World Showcase and stopped to chat for a while near the entrance to World Showcase. I thought the sunset behind the Eiffel Tower was pretty nice.
Erin walked out of Epcot with us and we said goodbye, though we will see her later this week. Our next stop was Old Key West, where we were invited to a Fish Fry at Charlotte and John's (more of our RADP friends – even though we missed most of the meets, between mini golf last night and the Fish Fry tonight we have been able to catch up with a lot of the people we would have seen, so that's been very nice). John had actually caught the fish, a saltwater trout, himself, so that was very special. He'd also fried up some hush puppies to go with it (yum!), and there was lots of other food as well. It was really a fun evening catching up and enjoying some really good food. Lee was really happy since he got to sample Jan's coconut cake and bread pudding, which are two of his favorite things.
Here Jack serves up some of that Southern home cooking!
We have no plans for tomorrow until late afternoon, when we are doing the Holiday D-Lights tour. That goes from 4:45 until about 9:15, so we're going to eat a late lunch…based on Keane's and PiC's recommendation today, I think we'll try Sanaa. We may have to actually do an attraction tomorrow! 🙂