We're back at Walt Disney World for our usual "see all of the holiday stuff" trip.
This day was a lot different than our usual first day at WDW though…for one thing, we are staying at Animal Kingdom Villas (Kidani Village) and not at Boardwalk Villas – it seemed really odd to drive past the entrance to the Boardwalk!
And instead of going to Epcot on our first night we had dinner at Mara, and then went to Fantasia Gardens to meet the RADP group for a round of mini-golf. We could hear (and see a little bit of) the Illuminations show from Epcot, though.
We arrived at Kidani and walked into the lobby – it's like a scaled-down version of Animal Kingdom Lodge, so it looks a little odd. The room numbering is also really odd – all of the room numbers here are four-digit numbers starting with "7". So you'd think our 4th floor room would be something like 74xx, right? Nope…it's 78xx.
Another odd thing about Kidani Village is that guest parking is *under* the building.
There are multiple elevators so you can park fairly close to your room – providing you know which section of the building to park under! They didn't actually tell us that, but we figured it out from the room map. Good thing, because we're at the far end of the building – had we parked at the entrance to the parking garage it would have been a loooong walk to our room. It was kind of spooky down there, though – there were some areas that had no cars in them at all, and even where we parked there weren't very many cars.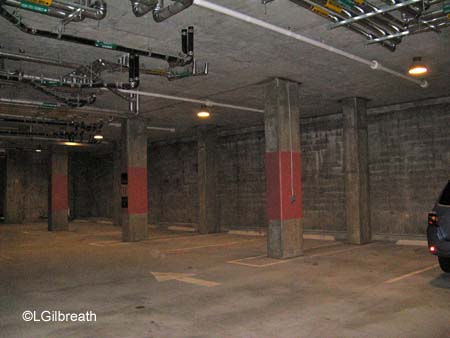 The room is really nice, though it seems very dark – not helped by the fact that we arrived after dark, of course. And we had a terrible time finding the light switches in the dark. We have a view of the Pembe Savanna…which seems to be the smallest one, and there haven't been any animals out there yet, but hopefully tomorrow in the daylight we'll see some.
One of the nice touches in the room is the wall paintings in the tile in the tub and shower areas.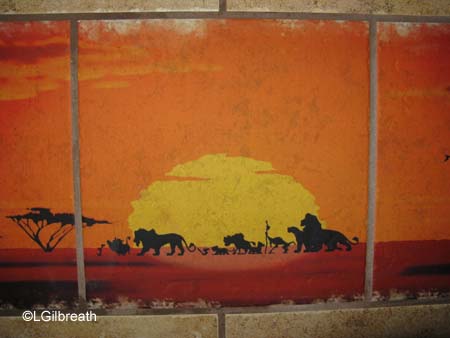 There's no quick-service dining location here…we didn't have enough time to eat at the service restaurant, Sanaa, and still get to the mini golf meet, so we drove over to eat at Mara at the "old" Animal Kingdom Lodge instead. It was pretty busy – it took over 20 minutes to get our food!!! But it was good – I had the falafel pita with a side of couscous (which they forgot to give me, and I had to go back for), and Lee had the butternut squash soup and a vegetable flatbread pizza.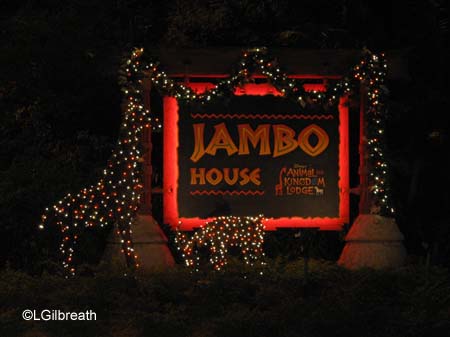 We drove over to Fantasia Gardens where quite a crowd had already gathered for the mini-golf meet. I think we ended up with 24 or 25 people playing.
We played with Tracy, Jack, and Kevin, and were the final group out. I think we all had at least one hole-in-one (mine was an assist from Kevin – thanks, Kevin!), and we had a good time.
The course was not too tough and had some pretty interesting holes – I think the cavern with the "Night on Bald Mountain" theme was my favorite.
After we'd finished our round we noticed a bunny rabbit in the shrubbery – it really didn't seem too concerned about all of the flashes going off as several of us took pictures of it!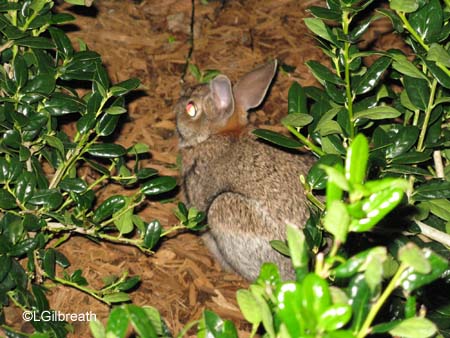 I'm sorry I missed out on most of the RADP fun over the weekend, but I'm glad we were able to join them for the final event of the weekend!
Not sure exactly what we're doing tomorrow morning…we'll be at Epcot tomorrow afternoon, though.