This was Challenge #105:


And here's the answer:


Copyright © 2009 Barrie Brewer, Nikon D300, 18-200VR, 1/60s shutter, f/8, ISO 1600
I think Mama Melrose's is a real hidden gem. I'm a big fan of Caprese salad and the one I had here was delicious. This shot was taken in the lobby where there is a display of photos of the Legends of Disney's Hollywood Studios.
A lot of people guessed Hollywood Studios this week but remember, you have to give me a bit more detail than just the name of the park to be entered into the drawing. Dan Owens was the first to send in the correct answer for the challenge! Congratulations to Dan and all the other readers who got the answer right: Alissa Ammons, Robert Anderson , Douglas Mcknight, Brianne F, Bruce Hinterleitner, Kristin Olmedo, Baines Family, Mike Thomson, Kye Layton, Karen Schlumpf, Sharon Lee, Jerry Weldon, Caryn Schill, Emily Currier, Amanda Campbell, Jennifer S., Scott Otis, Jennifer Townsend, Melody Salemi, Daniel Record, Doug Brigger, Kristen Gainey, Jen Norris, Danielle And Matt Murgia, Vanessa Gordon, Karrie Mooney, Lisa Graham, Ashley Salters, Ed Aleszczyk, Matt Cofone, Mike M., Lisa Mccormack, Anne Hainsworth, Jeremy Reichelt, Eric Gasser, Carri Marotto, Travis Grim, Tiffany Keenan, Sarah Connors, Matt Degrandis, Penny, Aubrey Cooper, Jillian Domings, Katy &Emily Robinson, John R. Frangakis, Donna Currier, Melissa Dye, Leigh Mertz, Lauren, Heidi Goodhue, Alicia Roth, James Dezern (dzneynut), Christopher Bourassa, Craig, Jessica Reed, Marie Phillips, Ashley Ryan, Holly Anderson, Nicole Mason, Barbara Cardarelli, Marianne Goode, Roye Ann Morris, Debbie Poole, Alicia Henderson, James Berry, Kathy Berry, Tim Rachuba, Theresa Rucando and Ronnie Schreyer. Each of you will be entered in the October winners' drawing.
_______________________________________________________________________
Challenge #106: Where in the world is this?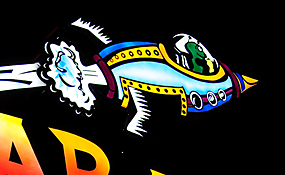 Do you know? Do you have a guess? Send in your answer, before the end of the day on Thursday, October 22, by clicking on the blue box below. Please do not post answers using the Feedback Form link at the bottom of this post. Remember to be specific with your answer – just naming a park will not get you into the drawing.


_______________________________________________________________________
Everyone who sends in a correct answer to a Where in the World Challenge this month will be entered in a drawing at the end of the month for some special AllEars® goodies and a cool Disney book!