On Sunday, September 27, 2009, I attended one of the Passholder previews of the new Tinker Bell and the Lost Treasure movie — a month before its Oct. 27th release on Disney DVD and Blu-ray; there were five of these preview held over the weekend.
The Passholder previews were held at the Town Square Theatre at the Exposition Hall on Main Street U.S.A., Magic Kingdom — the same place the Wishes! fireworks presentation was held earlier this year. The building donned Halloween/Fall decorations:
As a 28-year old bachelor without kids, who honestly didn't care too much for the first Tinker Bell installment, I went into the preview more interested in the "event" than the movie. Going in, I didn't know what to expect, but I'll say right now that I ended up very pleasantly surprised on both accounts.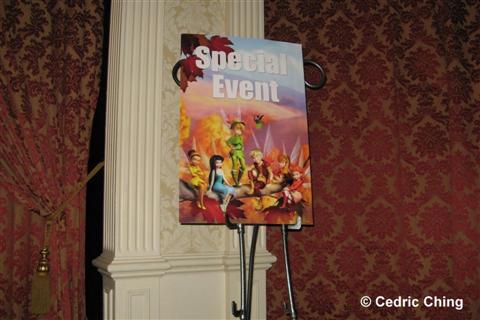 Upon check-in, guests were given a small ticket to exchange at their concession stand for our choice of snack: a bag of popcorn, a candy bar, or as a healthy option, a piece of fruit — I opted for a banana:
There was also water available:
Food in hand, I entered through a set of doors and entered their Pixie Hollow of sorts (I was accompanied by Kermit for this trip):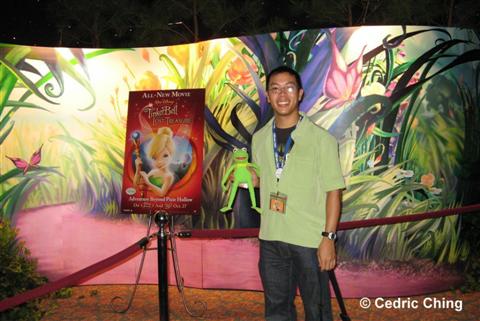 I had gotten there early (always a good idea), and at about half-an-hour before the presentation was scheduled to start, Jen, a WDW Passholder Events cast member, who had previously hosted many of these Passholder events, welcomed everyone to the preview then shared with us a couple of sneak peeks.
We watched one of the bonus features from the upcoming DVD/Blu-ray disc: "Pixie Hollow Comes to Walt Disney World", a behind-the-scenes look at what went into designing and planning the Pixie Hollow Fairy Garden for last year's Flower & Garden Festival.
We were then shown a slide with the layout for next year's Pixie Hollow Fairy Garden — it will be three times as large and will feature two new fairy topiaries, Terence & Vidia. Next, we saw the music video for Demi Lovato's "The Gift of a Friend" — which can be found on YouTube, but seeing it on the big screen was pretty cool.
By then, everyone was in a "fairy" good mood and ready to watch the movie, which we did… after a brief reminder that any recording (video or otherwise) was prohibited and after we were introduced to Jerome, a security guard there to be sure that everyone behaved, which we did. 🙂
That said, I thought the movie was a lot better than the first. I really enjoyed it. By not having to re-introduce every type of fairy or re-explain the fairy world, the movie was able to focus on telling a good story, which it did.
Here's my attempt at a synopsis ofthe movie:
"Tinker Bell and the Lost Treasure opens as the fairies are preparing for the upcoming Autumn Revelry. Tinker Bell has been chosen to create the septor for the special occasion, which is extra special this year because it coincides with a blue harvest moon.
For this task, Tinker Bell receives some help from her friend Terence, a dust keeper, but of course, things do not go as smoothly as planned and an adventure ensues. Along the way, she meets some new characters including an adorable firefly/lightning bug named Blaze, who everyone will love, and a pair of out-of-practice trolls."
After the screening, Justin Muchoney Disney's first CMO (Chief Magical Officer), had the microphone and encouraged the audience to stay in their seats because there were more surprises.
Justin introduced Michael Rola, from Walt Disney Studios, who presented us with an exclusive sneak peek of the trailer for the next movie in the series, Tinker Bell and the Great Fairy Rescue (currently slated for an October 2010 release on Disney DVD/Blu-ray). Michael then announced the names of the other two Tinker Bell movies in works — Tinker Bell: A Winter's Tale, and Tinker Bell: Race Through the Seasons.
Next, the audience was introduced to the the newest member of Pixie Hollow at the parks, Terence, who should be showing up at the Meet & Greets by late October. It was a photo moment if I knew one, but since the start of the movie, I had been sitting on my hands not to take any pictures. So, once I saw another person in the audience take out her camera (and saw that Jerome didn't tackle her), my camera was out and back in commission:
🙂
Well, as mentioned, Tinker Bell and the Lost Treasure introduces some new characters, including a couple of trolls, of which there were life-sized cut-outs of on the stage.
A little girl from the audience was given the opportunity to ask Grimsley, one of the trolls, some questions. He replied, and we learned that he and the other troll have been friends for 348 years, that the worst name he has been called was "Dobby", and that he is friends with Brad Pitt, Mylie Cyrus, and of course, Tinker Bell.
At this point, Justin introduced Rob Paulsen, the voice actor for Grimsley and Bobble in the Tinker Bell movies. Among Rob's other voice credits are Jose Carioca (from The Three Amingos), Experiment 625 (from Lilo & Stitch: The Series), Pinky (from Pinky And The Brain), and Yakko Warner (from Animaniacs). And it was as Yakko that Rob Paulsen sang the "Nations of the World" song — I remember watching that on television growing up. So cool.
After that, Justin instructed us of how the rest of the event would go: row-by-row, we would have the opportunity to have our picture taken with the Trolls, then with Tinkerbell and Terence, and then Rob Paulsen would be available for pictures and to sign autographs.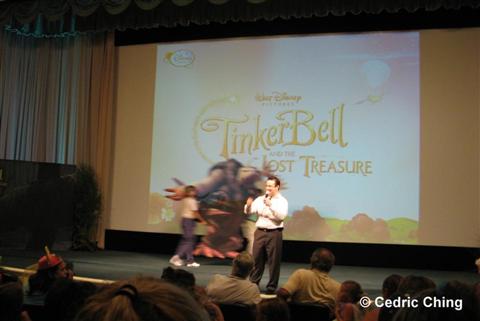 And for those who were waiting, Justin had some Tinker Bell Trivia. Here are a couple examples:
"Who is Tink's adorable mouse helper?"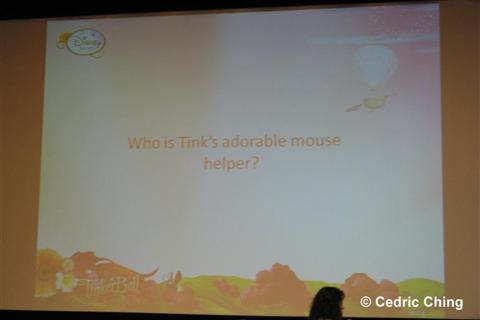 and "Who is this?"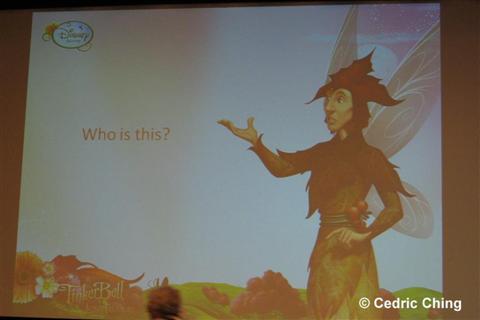 Anyways, Justin and Jen (and Jerome) were great, along with all of the special guests. They looked like they were having as much fun as we were.
And it was in no time that it was my turn for pictures!
Trolls (not to be confused, I'm the one in the center)
with Terence and Tinker Bell
and Rob Paulsen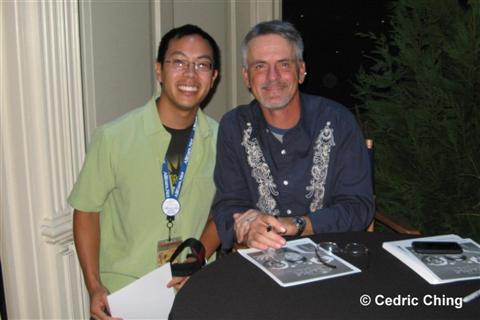 As I exited the theatre, a Castmember was there, ready to hand guests a parting gift — a Tinker Bell cup with a couple trinkets. It was a nice, unexpected touch.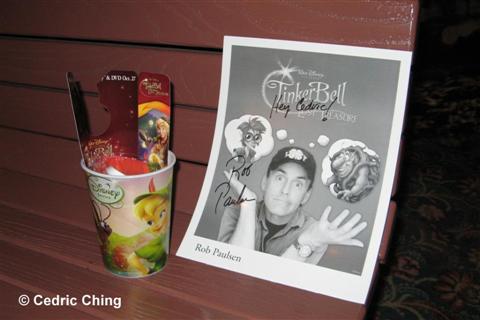 I thought that the WDW Passholder Team did a superb job with this event. It was well-organized and immersive with lots of special touches. The movie was also very good. I can't wait until next year when they'll hopefully have a Passholder preview for Tinker Bell and the Great Fairy Rescue.
And if you are interested in any of the Tinker Bell DVDs, visit the AllEars Amazon.com Store!