It's interesting what fond memories the Fort Wilderness Railroad conjures up in so many of us considering its short life. It only ran between 1973 and 1977. Still, this little train made a big impact and continues to cause us to wax nostalgic when we think of it.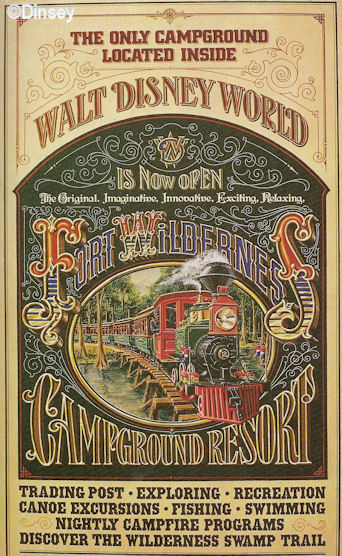 Originally built at a cost of $1M, these trains were used to transport guests around Ft. Wilderness in the same manner the buses do today. They ran from 7am to 11pm and guests could ride all day for $1. The scenery was magnificent as you traveled beneath a pine and cypress forest, over canals, and through meadows. You didn't need a destination. Riding was sufficient.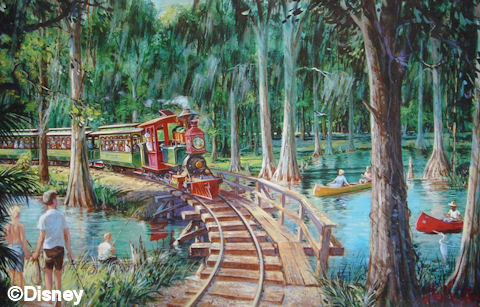 If this train was so great, then why did the Fort Wilderness Railroad have such a short life? Well, there are several reasons and they all combined to create a headache for Disney – a headache that aspirin alone couldn't cure.
The design for the Fort Wilderness Railroad was based on narrow-gauge plantation locomotives that were used in Hawaii to haul sugarcane and pineapples from the fields to the docks. They were reliable and considered steadfast workhorses.
The four Fort Wilderness engines and rolling stock (five cars per train) were built in California by Mapo, Disney's engineering and development department. Built at 4/5 scale, these engines had a 2-4-2T wheel design and used diesel fuel to heat the water for steam. Fully loaded, each train could accommodate 90 passengers.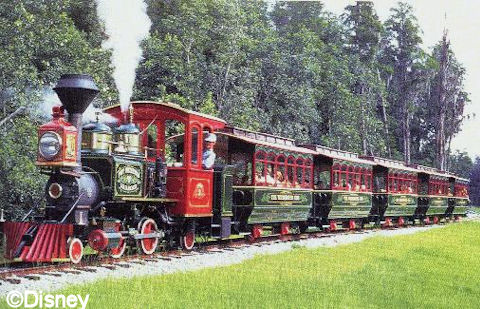 The total length of the Fort Wilderness track was twice as long as the track that circles the Magic Kingdom. Yet, the Fort Wilderness engines only held 225 gallons of water and 175 gallons of fuel compared to the Magic Kingdom's engines which carry 1,837 gallons of water and 664 gallons of fuel. This decreased capacity required the trains to make frequent stops to replenish their supplies – an often overlooked detail. It wasn't uncommon for a train to run out of "gas" and be stranded on the tracks.
Much of this inattention could be attributed to Disney's desire to save money. Rather than hire a professional railroad crew, inexperienced workers were employed off the street. These cast members were given the "basics" of steam train operations, but in essence, they were simply ride operators with no experience in running a railroad. A steam engine is a complicated piece of machinery with temperaments that require constant attention, something these undertrained cast members simply weren't equipped to provide.
Another problem had to do with the roadbed. Corners were cut while laying the rails, installing the spikes, and placing the ballast. Because of this, the tracks often shifted and derailments were common. Repairs and maintenance were an ongoing nightmare.
There were also complaints from guests that the trains were too noisy and disturbed the tranquility of the campground. Since they started operation at 7am, campers did not appreciate being jolted out of their sleeping bags to the sound of the engines' whistle. In addition, there were no barriers between the track and the campsites. There was nothing to prevent a child from wandering onto the rails as you can see in this next picture.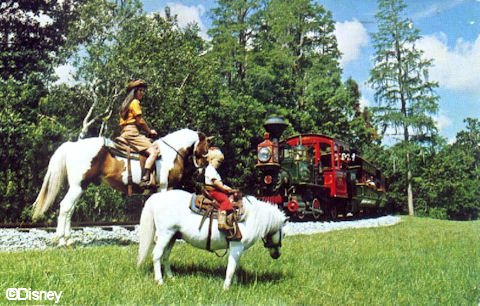 Eventually it was decided that the Fort Wilderness Railroad was more trouble that it was worth and Disney did not want to invest any more capital to fix the problems. The trains were retired and eventually found themselves in a field exposed to the elements. After years of neglect, several members of the Carolwood Pacific Historical Society purchased the decaying trains and have restored them to their original beauty.
Two of the coaches were briefly used as ticket booths at Pleasure Island, but they too were eventually replaced by permanent structures.
All of the track has been removed from Fort Wilderness, but you can still see some of the trestles that once spanned the canals.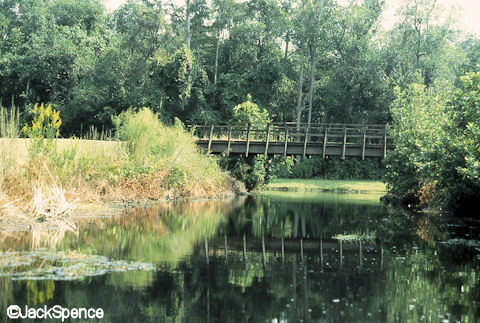 It's a shame this endeavor wasn't undertaken properly in the beginning. If it had been, maybe we'd still be riding this lovely train today rather than buses on our way to the Hoop-Dee-Doo Musical Review.