Saturday, March 7
by Guest Blogger Sue Van Vleet
On March 7, 2009, Disney's Hollywood Studios held an exclusive Passholder event featuring the Muppets. The original session was scheduled for 3:00pm, but they added an 11:00am event. I attended the 11:00am session. We all met near the entrance to the Backlot Tour and were lead in groups backstage to a theatre. Prior to the speakers we watched a pre-show starring Rowlf and Sam Eagle (I think this was the original pre-show for Muppet*Vision 3D).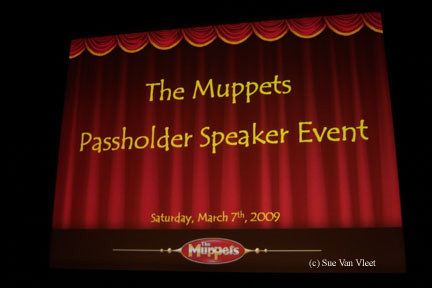 A cast member who specializes in Passholder perks introduced the first guest: Craig Shemin. Mr. Shemin is on the board of directors of the Jim Henson Legacy and was a writer for the Muppet Show (among other things). He began by telling us about the early days of Jim Henson and the Muppets. Then he showed us clips of "Sam and Friends," the first Muppet show, as well as the first national TV appearance by Muppets on the Today Show with Dave Garroway. More clips shown were eight second commercials and the Muppet version of "Glow Worm" through the years.
Mr. Shemin then introduced Dave Goelz, the Muppeteer for Gonzo the Great. He continued with the Muppet stories and showed more clips. One of the clips was from a documentary done during the last season of The Muppet Show that showed the logistics of shooting one number ("In The Navy" starring pigs on a Viking ship). We also saw a blooper reel from a 1990 show shot at Walt Disney World.
Mr. Shemin and Mr. Goelz then took questions from the audience. While I like the Muppets and truly enjoy The Muppet Show – there were some true Muppet fanatics in the audience who were thrilled to be asking questions of Mr. Goelz.
After a few questions from the audience Mr. Goelz brought out the real star of the event – Gonzo. And then Gonzo took some questions as well. We learned a bit about Camilla, his chicken girlfriend and how he travels, among other things.
Another highlight of the event was the introduction of Heather Jenson, one of Jim Henson's daughters. The funniest story she told was about wearing Miss Piggy's clothes during The Muppet Show years.
At the end of the event we were each allowed to have a picture taken with Gonzo and Mr. Goelz. This was another wonderful Passholder event and I'm so glad I was able to attend.
Sue Van Vleet
St. Augustine, FL
I've been visiting WDW since 1972 and have moved from Iowa to Florida in 1993. Since then I'm able to visit almost whenever I want. I'm an Annual Passholder, DVC member, and I love all things Disney!!