Dumbo the Flying Elephant
Dumbo is a timeless classic. Both the movie and the attraction have been delighting children and adults for years. And the Dumbo attraction at Disneyland Paris is perhaps the most delightful of them all.
Much of the beauty of this ride can be attributed to its location. It sits on the banks of a picturesque stream, surrounded by flowers. Also, one side of the ride is flanked by an impressive waterfall.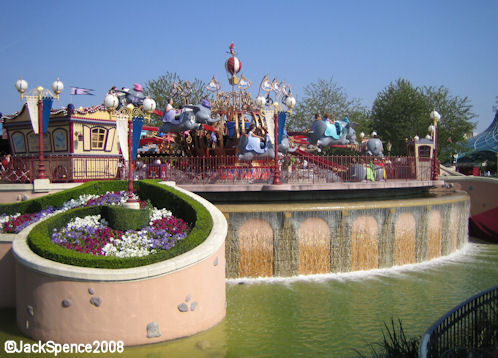 Dumbo also loads and flies over an intricate fountain. This water feature is similar to the Dumbo attractions at California and Hong Kong.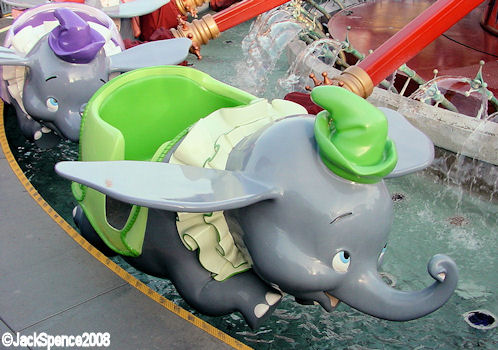 Below is a picture of me videotaping the Paris park.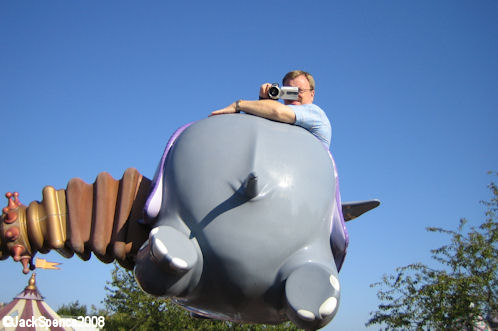 Here is an interesting bit of trivia. Timothy the Mouse holds a whip at Tokyo and California. In Florida, Hong Kong, and Paris he holds Dumbo's magic feather.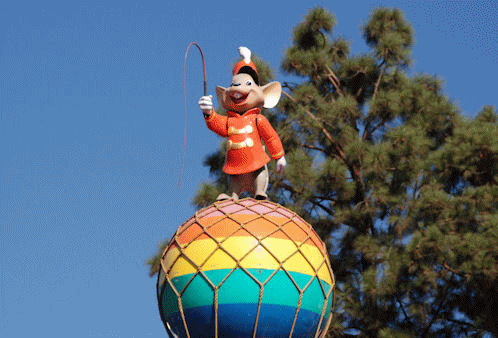 Like its overseas cousins, this is a very popular ride. If you have children who simply must ride on Dumbo, it's a good idea to make this one of your first stops in the morning.
Mad Hatter's Tea Cups
This is another classic attraction that makes an appearance at all five Magic Kingdom-type parks. But once again, I think the Paris version is the most attractive.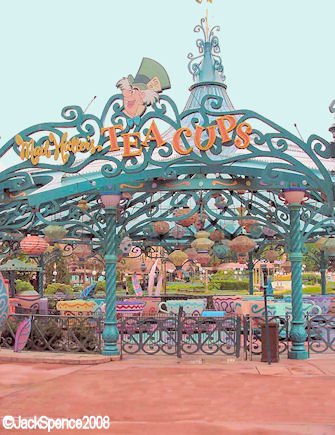 The beauty of this attraction is two fold. First, it sits on the banks of the same stream as Dumbo. It is also surrounded by manicured lawns and wonderful landscaping. But the structure itself is where the real beauty comes from. A delicate roof of tinted glass covers the riders below. This canopy provides protection from the elements, but also lets the sun shine in for a brighter experience than that found at Walt Disney World.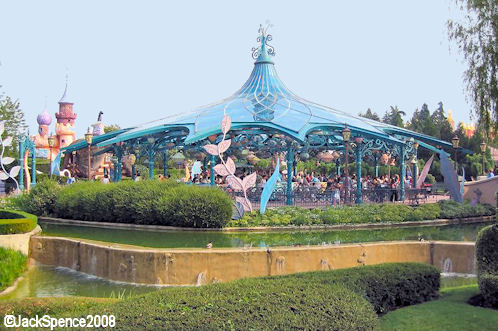 But no matter how beautiful the Imagineers designed this attraction, the experience is the same. Spin and puke.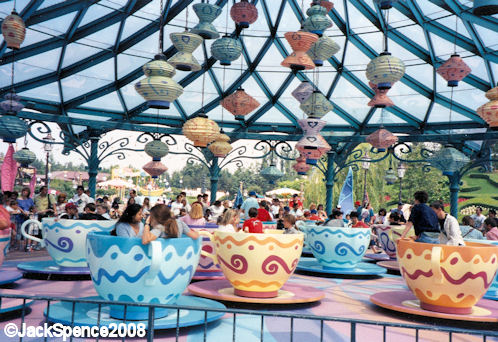 Alice's Curious Labyrinth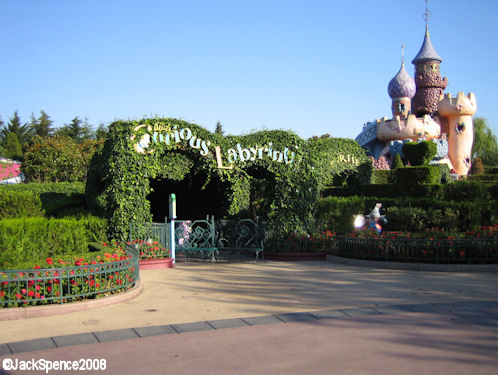 This attraction is unique to Disneyland Paris. The experience here allows you to take on the role of Alice and venture into Wonderland. You travel through a hedge-maze that is relatively easy to navigate. There are a few dead-ends, but for the most part, it's difficult to get lost. Along your journey you see a variety of characters from Disney's "Alice in Wonderland" movie.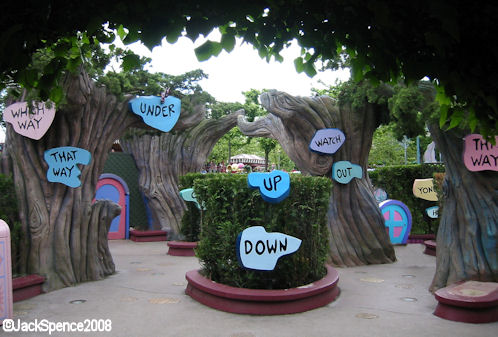 Some of the characters are minimally animated. Others emit sounds or talk.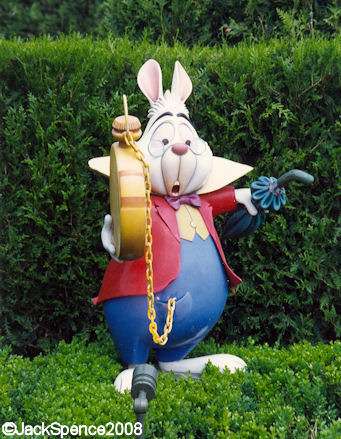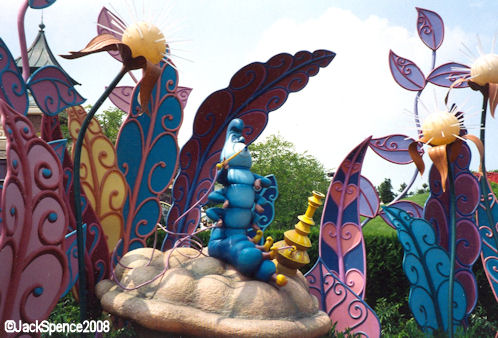 The Caucus Race is represented in all its confusion as your path spirals inward, then out again. All the while, music from the movie can be heard.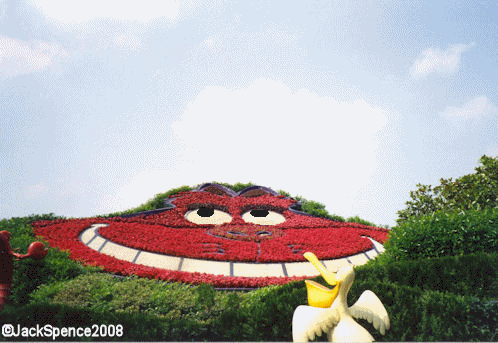 Eventually you reach the realm of the Queen of Hearts.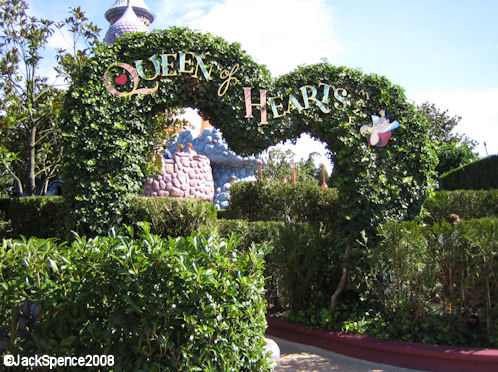 The Queen makes several appearances along the way yelling "Off with their heads" in French. She pops up from behind walls and bushes, but only the most timid child would find this frightening.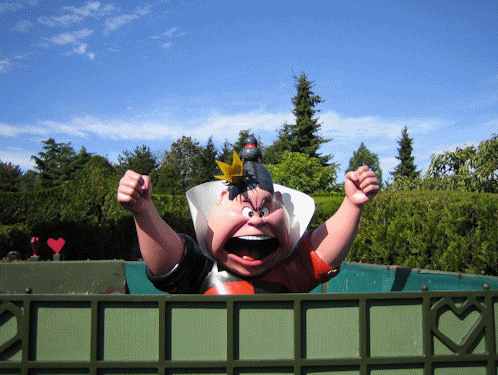 Her minions are also on hand to add merriment to the day.
Eventually you reach the royal castle. Look up and you can see the King of Hearts looking out on the confusion below. If you want to pay him a visit, feel free. There is a stairway inside the castle to the upper levels. From the top, a great view of Fantasyland can be had. Note, it gets VERY crowded inside this small structure.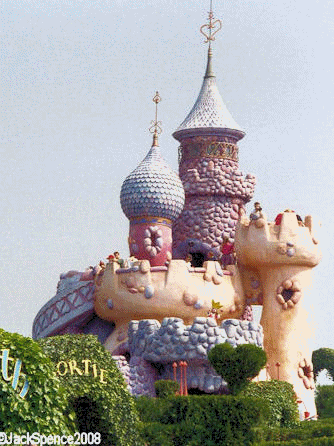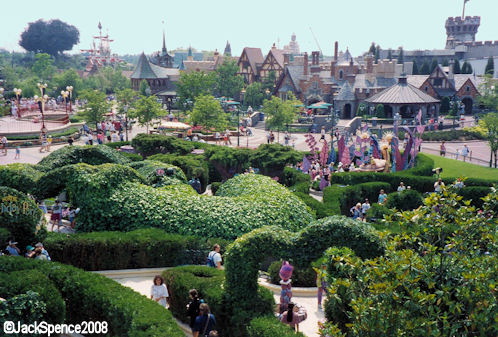 It takes about 20 minutes to make your way through the entire labyrinth. Even though it's basically a one-way path, there is a lot of back-tracking taking place as everyone is trying to get a picture of this and that.
I really like this attraction. It's simple, but delightful. I think this would be a nice fit at Fantasyland at the Magic Kingdom in Walt Disney World. It could be placed were the old 20,000 Leagues attraction was located – and it would be relatively inexpensive compared to other options.
The Old Mill (Les Pirouettes du Vieux Moulin – Turning of the Old Mill)
This attraction is based on Disney's Academy Award winning short "The Old Mill." This is a simple Ferris wheel where guests ride in buckets and are afforded nice views of Fantasyland. Due to its low capacity, it was permanently closed in 2002. A snack bar is located within the main structure.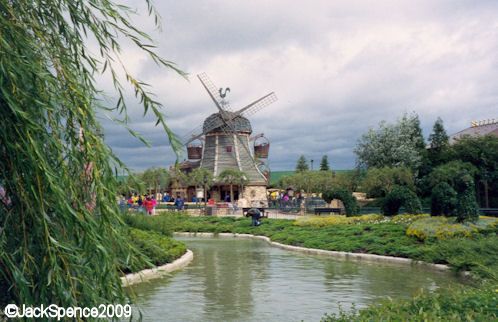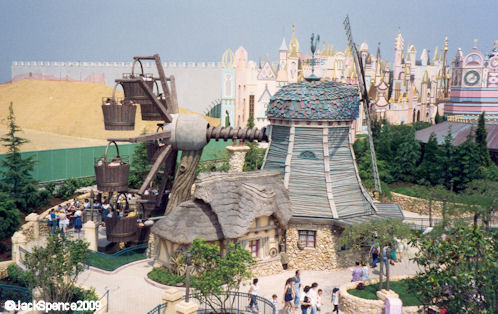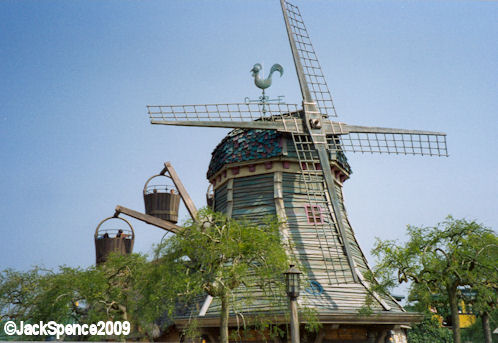 In my next blog I'll be discussing Casey Jr. and Le Pays des Contes de Fées.