A wide angle lens for a digital SLR camera is usually considered a lens of focal length 24mm lens or less (for full frame SLR it's about 1.5 times more or 35mm). Wide angle lenses can take in a wider field of view then normal, telephoto or telephoto zoom lenses. On my last trip to Walt Disney World, I brought an Ultra Wide Angle zoom lens made by Tokina with a range of 11 to 16mm. This lens comes in Nikon and Canon flavors and work only on digital camera bodies. These lenses are a lot of fun to use and give new ways to photograph familiar subjects.
The best way to get the most ouf of a wide angle lens is to put something of interest in the foreground, middle area and background so a viewer's eye can be lead into the photo. In this photo I took from the Big Thunder Mountain Railroad queue (you can see the roof in the upper left hand corner) at 11mm in the Magic Kingdom, the rock shelf is in the foreground, the train and mountain is in the middle area and the trees and sky is in the background.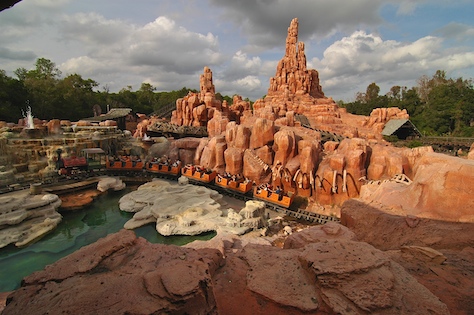 A train returns from it's wild ride on Big Thunder Mountain.
Nikon D70/Tokina 11-16, 1/400s, f/10, 200 ISO, +0.3 EV, 11mm Focal length
Ultra wide angle lenses are great for sweeping landscapes. I know at Walt Disney World there's not a lot of places for landscapes in the parks. I found the resorts and waterways a better choice. I took this of the Grand Floridian while riding the resort monorail (you can see the monorail's windows being reflected in the sky) for a kind of photo you normally do not see of a Disney resort.
The Grand Floridian from the resort monorail on the way to the Magic Kingdom .
Nikon D70/Tokina 11-16, 1/125s, f/11, 200 ISO, +0.3 EV, 11mm Focal length
Again, notice the three elements used. The water in the foreground, the Grand Floridian resort in the middle area with the clouds and sky in the background. Also notice the location of the horizon in the bottom third of the photo to give emphasis to the sky.
I know you hear a lot about how third party lenses (lenses not made by a camera manufacturer like Nikon or Canon) are not as good. However, I have used two Tokina wide angle lenses (and own the 11-16mm) and have no reservations about recommending them to you.