There are six Disney owned and operated hotels at Disneyland Paris. Here are their names and price categories:
Hotel Cheyenne – Budget
Hotel Santa Fe – Budget
Sequoia Lodge – Moderate
Hotel New York – Moderate
Newport Bay Club – Moderate
Disneyland Hotel – Deluxe
The French have long had a love affair with the American West. Cowboys and cattle drives and six-shooters and stage coaches have caught their interest. To capitalize on this appeal, Disney built two hotels with a western theme. The first one we'll discuss is the Hotel Cheyenne.
The Hotel Cheyenne was designed by architect Robert A.M. Stern and is a budget resort. Each of its 1,000 rooms has a set of bunk beds, intended for children only, and a double bed for adults. The décor is decidedly western with a cowboy boot lamp, patchwork quilt spreads, and a lasso framed mirror.
The exterior of the resort is arranged to look like an old west town. Two streets are lined with 14 two-story buildings. Some of the structures you'll encounter along these streets are a general store, a jail, boarding houses, a saloon, and a bank. Many of the rooms face out onto these old-west streets while others have a view of the "Rio Grande River" or gardens.
For vittles, there's the Chuck Wagon buffet. As you might expect, this restaurant offers western chow and barbeque. Next door you can whet your whistle at the Red Garter Saloon complete with live country music.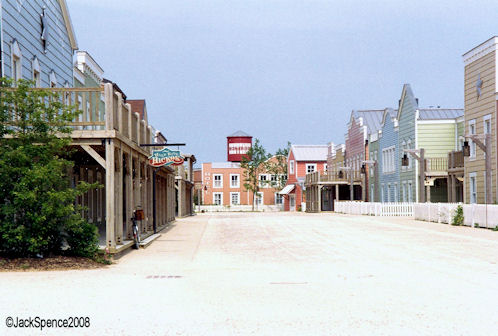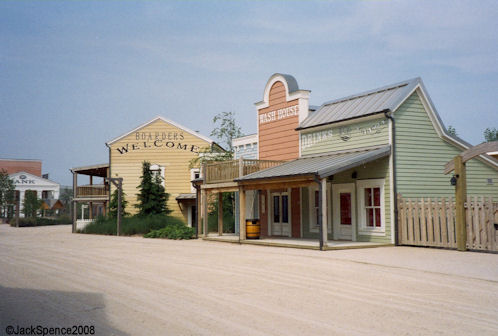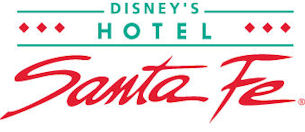 The Hotel Santa Fe is also a budget resort and is designed to look like pueblos that might be found in the American Southwest. Unlike the Hotel Cheyenne, whose timeframe is the mid to late 19th century, the Hotel Santa Fe is set in the 1950's.
In this desert like atmosphere, cacti are numerous and a keen eye might even spot a flying saucer that has crashed landed in the sand.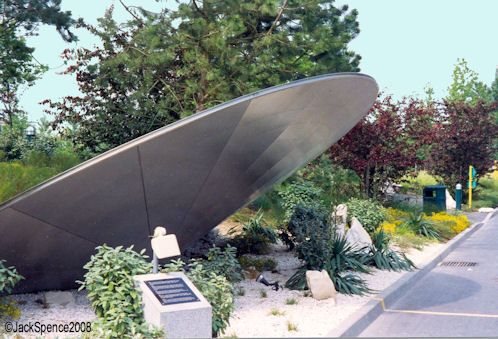 The check-in lobby is easy to spot. This area is designed to look like an old drive-in movie theater with Clint Eastwood looking down from the screen.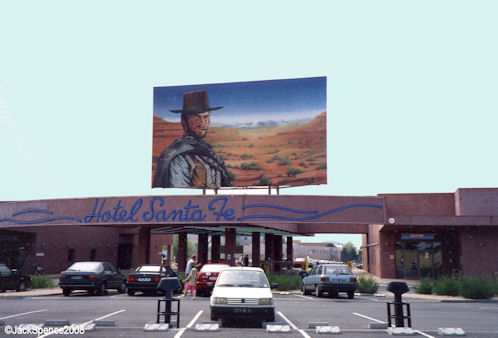 The rooms are decorated with a Navajo motif and each features two double beds. The bedspreads look like Native-American woven blankets and simple pine furniture completes the mood.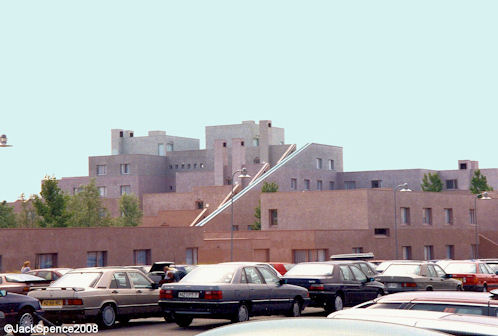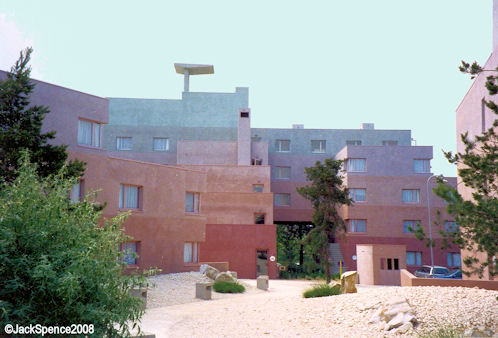 At mealtime, check out the La Cantina buffet. Tex-Mex is on the menu and a salad bar is ingeniously built into the back of an old truck parked at a gas station. Cocktails are served nearby at the Rio Grande bar.
Air conditioning is not as common in Europe as it is in the U.S. and neither of these hotels features this wonderful invention. But all is not lost, they do have ceiling fans. For most of the year, the fans are adequate, but be forewarned, summers can get a little warm and humid.
You can walk to the theme parks from either of these resorts, but they are a "fur piece" away. The hike will take you approximately 20 minutes. A better option is to board one of the Disney transport buses for a ride to a central drop-off area. Please note, it's still another 5-7 minute walk from here to the theme park gates.
Davy Crockett Ranch, a campground, is located about 15 minutes away from the theme parks by car. Since no "Disney" transportation is provided to this location, I've never been there and can offer you little information or pictures. I do know that besides the campsites, "cabins" similar to those found at Fort Wilderness in Disney World, are available.
In my next blog I will discuss the Sequoia Lodge and the Hotel New York.