NEW YORK (Oct. 6, 2008) – In response to guest demand, Disney Cruise Line will reposition one of its ships, Disney Magic, to Europe for an unprecedented five-month season of Northern European and Mediterranean cruises in 2010.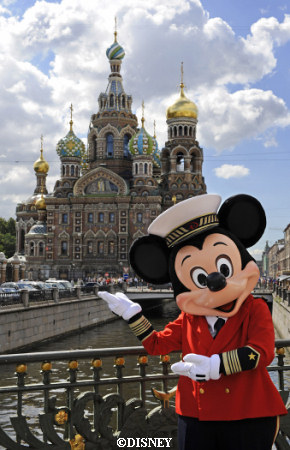 With a wide variety of European itineraries in 2010, families have the ability to explore exotic and unexpected destinations with the safety and comfort of traveling with Disney Cruise Line, the leader in family cruising.
For the first time, Disney Cruise Line will offer a 12-night Northern European Capitals cruise, where guests can experience breathtaking fjords, historic city centers and Viking lore at enchanting Scandinavian ports such as Oslo, Copenhagen and Stockholm. The ship will also sail to Warnemunde, Germany, gateway to Berlin, and to St. Petersburg, Russia. The Disney Magic will overnight in St. Petersburg, allowing Disney Cruise Line guests time to experience the city known as the "Cultural Capital of Russia" or use the second day to book a shore excursion to Moscow.
"The Northern European Capitals itinerary provides our guests with an amazing collection of destinations to explore," said Disney Cruise Line President Tom McAlpin. "We're excited to bring the rich history, culture and folklore these ports offer to life for our guests in a family-friendly way only Disney Cruise Line can deliver."
Departing out of Dover, England, the Disney Magic will sail a total of four 12-night cruises to the Northern European capitals in June and July 2010. Rates for the 12-night Northern European Capitals itinerary start at $3,649 per person for a category 11 stateroom.
Book-ending the summer season in Northern Europe, the Disney Magic will once again return to the Mediterranean with 10- and 11-night cruises, but with three new ports of call not offered when Disney Cruise Line last sailed the Mediterranean. In addition to popular ports in Italy, France and Spain, the Disney Magic will visit Tunis, in Northern Africa, the island nation of Malta, and Corsica, an island oasis off the southern coast of France known as the birthplace of Napoleon.
"The response from guests who sailed on our Mediterranean voyages in 2007 was overwhelmingly positive," said McAlpin. "We're thrilled to bring the ship back and look to make the 2010 season in the Mediterranean even better, with new destinations and more one-of-a-kind Disney experiences for our guests."
Departing out of Barcelona, Spain, the Disney Magic will sail four 10-night and four 11-night cruises in the Mediterranean in April, May, August and September. Rates for the 10- and 11-night Mediterranean cruises start at $2,529 per person for a category 11 stateroom.
Disney Cruise Line will also offer four repositioning cruises including two 14-night transatlantic voyages, a seven-night cruise from Barcelona to Dover, England, and an eight-night cruise from Dover back to Barcelona.
Disney Wonder 2010 Schedule
The Disney Magic isn't the only Disney ship embarking on new itineraries in 2010. For the summer of 2010, the Disney Wonder will shift to four- and five-night cruises sailing to Nassau, Key West and Disney's private island, Castaway Cay. The shift is designed to accommodate guests looking for slightly longer cruises with Disney Cruise Line while children are enjoying their summer break. Rates for the special five-night voyages to Key West or two stops at Castaway Cay start at $899 per person, while the four-night voyage begins at $849 per person for a category 11 stateroom.