For many years, Universal Studios featured Halloween Horror Nights. This was a separate, ticketed event and the park was transformed at night from its regular theming into a frightening ghost town. It was marketed toward teenagers and young adults and the idea was to truly scare their guests with monsters, vampires, werewolves, and other terrifying surprises.
In response, Disney started their own Halloween party. But since they cater to a more diverse age group, Disney realized that their gathering would need to be more tame than Universal's. Thus was born, Mickey's Not So Scary Halloween Party (MNSSHP).
On given nights during the months of September and October, extra theming is added to the Magic Kingdom and it is transformed into a playful Halloween experience, suitable for ALL ages. This is a separate, ticketed event and admission can be purchased at any of the "Guest Relations" desks at Walt Disney World.
I attended this year's first event on September 5th. The party officially runs from 7pm – 12 midnight, however, guests can enter the Magic Kingdom at 4pm with their MNSSHP ticket. Upon entering, you will be given a wrist band and a trick-or-treat bag. At precisely 7pm, cast members make a sweep of the entire park and politely, but firmly make anyone not wearing a wrist band leave the park.
Although some decorations and exhibits are not displayed until the party begins, others are on display for all of September and October.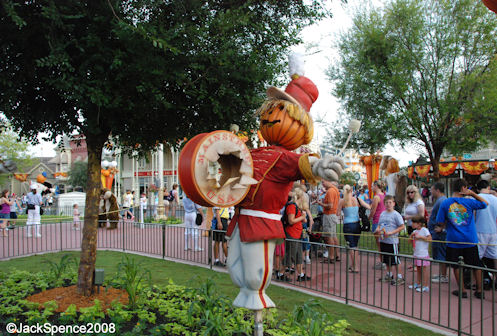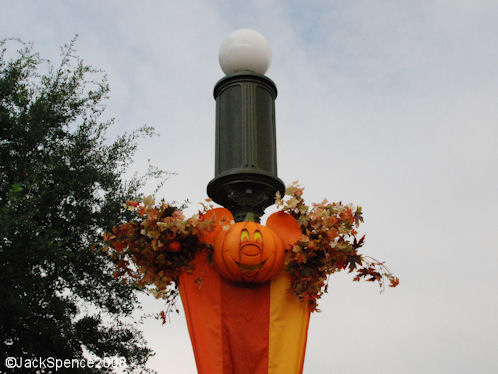 Pay special attention to many of the carved pumpkins above the shops on Main Street. Pictured below are a few found above Casey's Corner and the Plaza Ice Cream Parlor.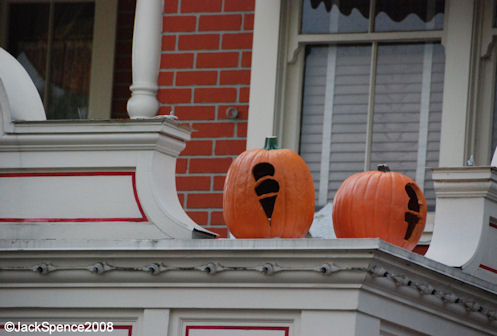 Here are a few more pictures of the special theming that is added for the event.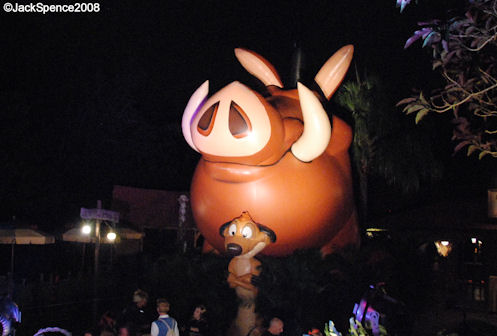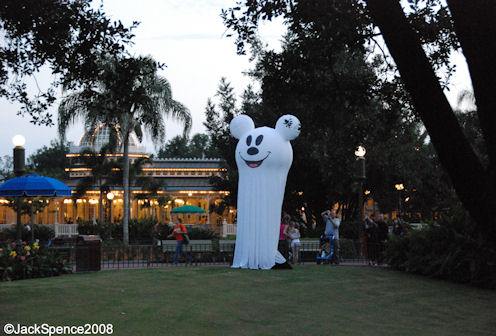 Normally, guests over the age of nine are not allowed to wear costumes in the Magic Kingdom, but this rule is waved for this event. Many children and a fair number of adults dress for the occasion.
Free face painting is also available so those of you who forgot your costumes can also get into the spirit.
Opportunities to trick-or-treat are everywhere and are clearly marked by signs.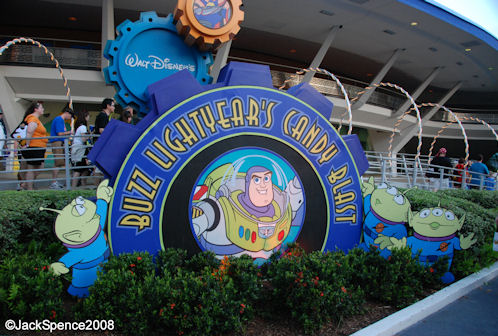 Candy is generously distributed at each location. Cast members dressed in special Halloween garb give out 2-4 pieces to each guest as they pass through the line.
Besides some inexpensive lollypops a chocolates, name-brand treats are also dispensed like, Oh Henry, Snickers, Tootsie Roll, Skittles, and SweetTarts. Note, these are the miniature versions, like the ones you'd buy to give out from your own home.
Beginning at the back of Mickey's Toontown Fair, you can stroll through Alice and Mad Hatter's Treat Party.
As guests walk the trail to Tomorrowland, they encounter a number of props and characters, and photo opportunities abound. And as you might guess, more candy is available.
The cast members working the Haunted Mansion also get a makeover. Besides their regular, somber costume, their faces are made up to look ghoulish. Also, a "spirit from beyond" takes center stage on the lawn of the mansion and entertains guests with wonderful stories of her life, both living and dead. Many let others pass them in line so they can stand longer and listen to her tales. To add to the creepiness, the gravestones are given a spooky look with the addition of low lying fog.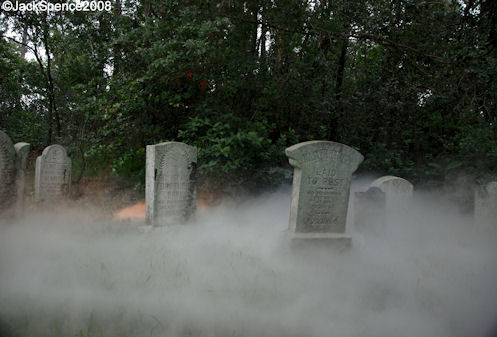 There are a couple of Dance Parties held during MNSSHP. One at Ariel's Grotto in Fantasyland and another at Cosmic Ray's Starlight Café in Tomorrowland. I snapped this picture of Stitch impersonating Elvis at Cosmic Rays.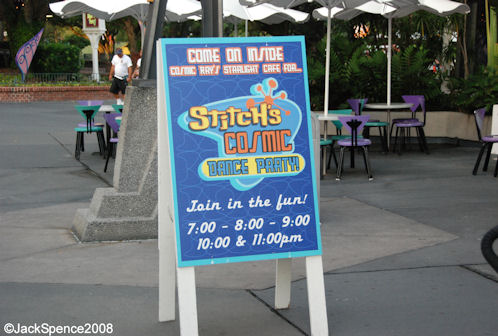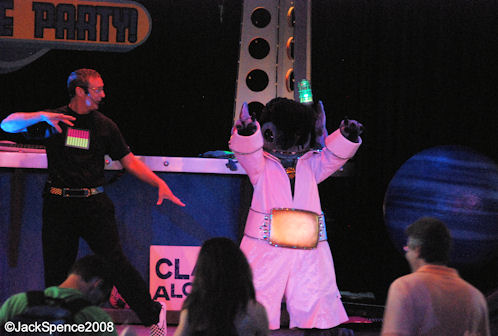 Presented on the Castle stage is the Villain's Mix and Mingle show. Here, some of Disney's greatest bad-guys and gals dance and rant and try to impress you with their evilness.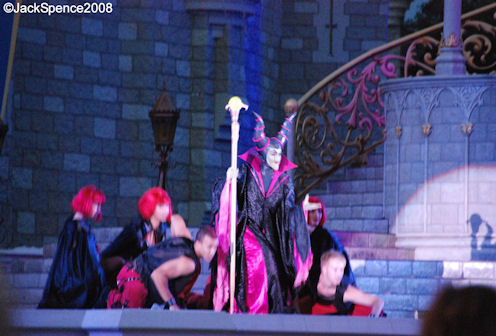 Character Meet-and-Greets are numerous so it's easy to get pictures with some of your favorite Disney friends as you've never seen them before. In Fantasyland, you can have your picture taken in front of Cinderella's glass coach.
I think most people would agree that Mickey's "Boo-to-You" Halloween Parade is the highlight of the evening. Shown twice each night (8:15 & 10:30), this spectacle is a hoot. Be sure to find your viewing spot by the announced beginning time as the Headless Horseman makes a mad dash along the parade route to the cheers of the crowd. If you're not there in time, you miss him.
The beginning of the parade starts off tame enough with some of the not-so-scary characters, but then the villains take over for a haunting good time.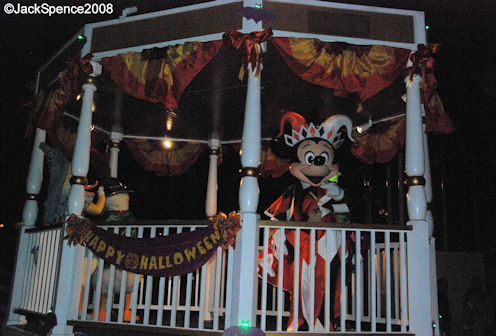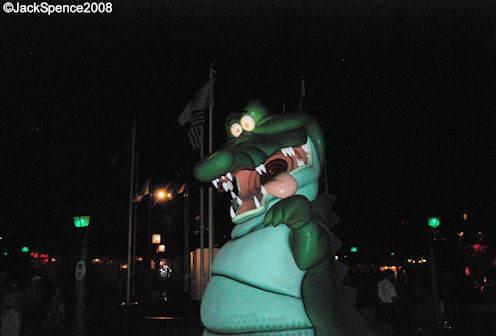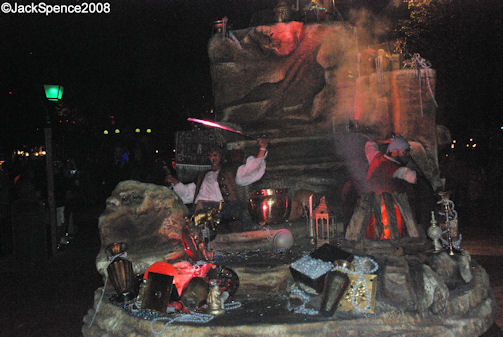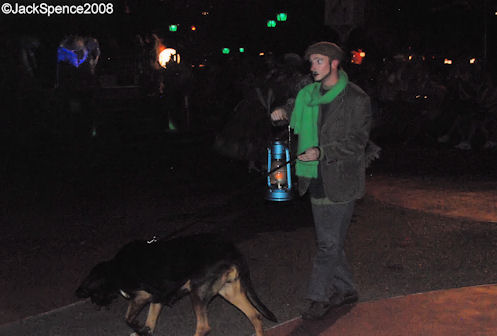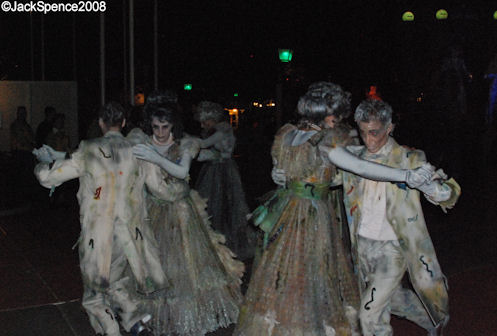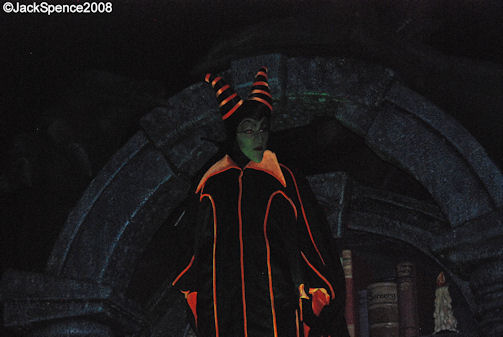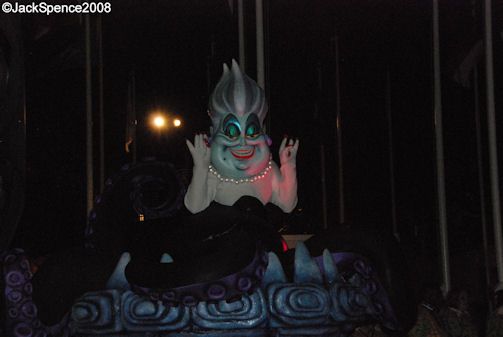 Toward the end of the parade, several Goofy's Candy Company carts. stroll by and a number of his minions pass out treats to the crowd.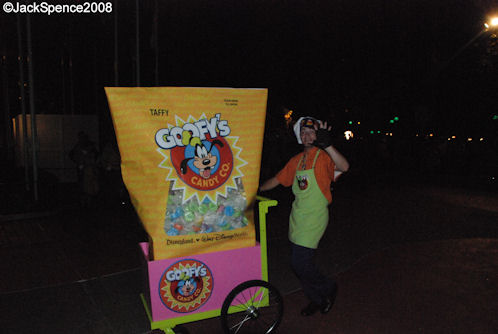 At 9:30, a special fireworks show called Happy HalloWishes is presented. A Ghost Host introduces villain after villain and the castle is illuminated appropriately while color coordinated fireworks burst over head.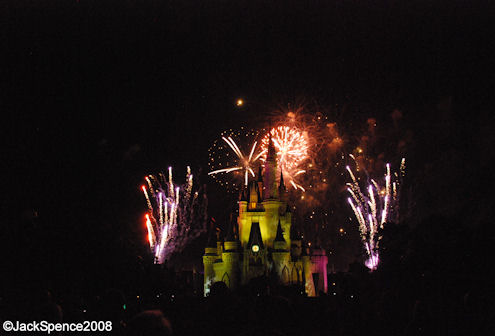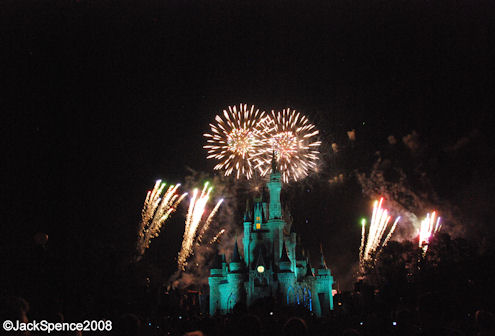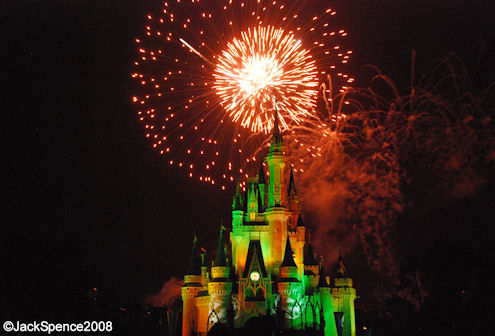 Not all of the rides and restaurants are open for this event. But since Disney caps the attendance at a reasonable number, it is never crowded and lines are usually short to non-existent.
Here is a list of the OPEN rides and attractions for MNSSHP:
Swiss Family Treehouse
Pirates of the Caribbean
The Magic Carpets of Aladdin
Splash Mountain
Big Thunder Mountain Railroad
The Haunted Mansion
Peter Pan's Flight
Cinderella's Colden Carrousel
Dumbo the Flying Elephant
Mickey's PhilharMagic
Snow White's Scary Adventures
The Many Adventures of Winnie the Pooh
Mad Tea Party
"it's a small world"
Tomorrowland Indy Speedway
Space Mountain
Astro Orbiter
Buzz Lightyear's Space Ranger Spin
Tomorrowland Transit Authority
Stitch's Great Escape
Monsters Inc. Laugh Floor
The Barnstormer at Goofy's Wiseacre Farm
Stitch's Cosmic Dance Party at Cosmic Rays Starlight Cafe:
7:00pm, 8:00pm, 9:00pm, 10:00pm, and 11:00pm
Ariel's Grotto Dance Party:
7:00pm, 8:00pm, 9:00pm, 10:00pm, and 11:00pm
Villain's Mix and Mingle shows at the Castle Stage:
7:45, 9:00, 10:05, and 11:15
Character Greetings take place from 7 – 11:30.
Hallowishes Fireworks at 9:30pm.
Here's the special map provided for Mickey's Not So Scary Halloween Party!
There is only one table-service restaurant open during MNSSHP, Tony's Town Square Restaurant. Personally, I think it might be a mistake to eat here during this event. MNSSHP is only five hours in length. Do you really want to spend almost an hour of your time eating a meal? I would suggest eating before you arrive or take advantage of one of the many counter service restaurants available.
Note, the official handout that Disney gives to guests states that Tony's is the only full-service restaurant open for these events. However, one of my readers has informed me that the Liberty Tree Tavern is open on selected nights as she has a reservation and confirmed this with Disney.
I enjoyed MNSSHP. However, I am an annual pass-holder and visit the Magic Kingdom often. Before I purchased my ticket, I had to ask myself if I really wanted to spend $50+ to see a special parade and fireworks show, because that's what it really boils down to. Yes, Disney has added some special theming, candy, and limited entertainment, but is that really enough to justify the money. Obviously, many people think so as this event is very popular. But you need to consider this before you attend so you won't be disappointed.
Remaining 2008 dates are:
September 9, 12, 16, 19, 23, 26, 28, 30
October 2, 4, 5, 7, 9, 10, 13, 16, 19, 21, 23, 24, 26, 28, 30, 31 (31st SOLDOUT)
Disney's Official Press Release: New Character Costumes at Mickey's Not So Scary Halloween Party!