About a year ago something Disney popped into my email box. Well, to be honest, this happens several dozen times each day, but this was a bit different. Disney was launching something called the Disney Mom's Panel: they would choose about 10 Disney parents, regular people who love Disney, to serve as "advice givers" to trip planners visiting the Disney site"¦.and as reward, Disney would spring for a trip to Walt Disney World in December.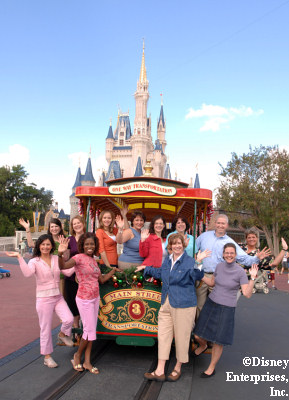 Did this have Michelle written all over it?! Well, my family and friends certainly thought so"¦they encouraged me to go for it. Sensing this was something that was going to generate an enormous response, I quickly fired off an application which consisted of telling a bit about myself, my family, and, of course, making a case for my Disney expertise.
Well"¦I was correct"¦.this offer from Disney generated a gazillion responses from Disney-loving parents (in truth, it was several thousand) – the response was so overwhelming, in fact, that Disney was forced to close the application process fairly quickly. So, I submitted my application, crossed my fingers, and waited"¦.
"¦.and waited"¦and kept on waiting until early November when I found out that they had chosen some other worthy candidates, but not me. Awww. I was disappointed but quickly got over it"¦.
A few months later I got yet another Disney email which basically said, "Hey, all of you thousands of people who didn't make it"¦.we want to stay in touch with you and we're forming a club of Disney-loving parents such as yourself"¦and we'll let you name the club and promise to send you lots of neat stuff"¦for free!"
Well, that sounded like my cup 'o tea! Disney gave the runners up of this contest a chance to vote on the name of this new club – and the name I chose – The Mickey Mom's Club, was the name that was eventually chosen.
I was excited, but unsure of what this meant. Would I have responsibilities? Would I need to be at my computer, at the ready for Disney planning questions that may come my way? It was all a bit nebulous.
Then it hit me: this was a stroke of Disney marketing genius!! Disney had several thousand people who were all willing to coach their friends and neighbors through planning their trip to Walt Disney World – they had, in essence, a cadre of Disney mini-mouseketeers"¦.er"¦marketeers at the ready (smart move, Disney!).
Soon I started receiving emails with planning tips, desktop wallpaper, and lots of praise for being a member of the Disney Mickey Mom's Club (I thought, "Gee, thanks, Disney, but I haven't actually even done anything).
About two weeks ago I received a huge lavender envelope with Mickey Ears all over it. Oh, boy, was I excited and I opened it to find a bundle of really fun Disney stuff including:
– Two Disney Tinkerbell pins (one for me and one to share)
– A huge Disney Mom's Club (DMC) magnet for my car
– A DMC "mouse pad"
– A glossy photograph and stickers of the "Fab Five"
– A Disney planning DVD
– A pocket guide to planning for WDW trips
This is great stuff! I feel very spoiled"¦and, although I know I'm being rewarded for doing some Disney marketing, it doesn't bother me. Every day I give trip and planning advice, as I suspect the other thousands of DMC members do"¦ We love Disney and we're happy to help our friends and family.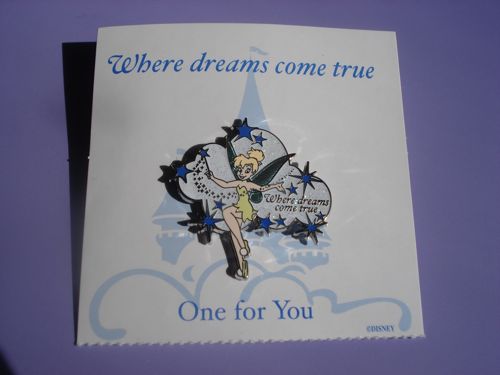 So, I'm happy with my DMC loot"¦.now I could just need find a worthy recipient of that other Tinkerbell pin.