Orlando Attractions Magazine – A Review
By Michelle Scribner-MacLean
I remember the fateful day back in 2005″¦.I received my monthly Disney Magazine and, just as I had every other month, I devoured its contents, wanting more and more Disney information "¦only to receive a notice a few weeks later that this issue would be the last: the magazine was abruptly closing its doors and would no longer be available.
For the Disney fans who can't get enough (and if you're reading this, that probably includes you), it doesn't matter what the medium: We want our Disney!
Books, Travel Channel specials, podcasts, blogs, and websites – it doesn't matter – if it's Disney-related – bring it on! That's why I was so excited to see a new, Orlando-based publication spring up.
Orlando Attractions magazine, published by Ricky Brigante (of the Inside the Magic podcast) and edited by Matt Roseboom, hit the stands with its premier issue in December 2007 and, in many ways, is filling a void for fans who need more Disney"¦and who are also interested in learning more about the happenings in the Orlando area.
I took a peek at the first two issues and noticed some things that I really liked, for example both issues had several reoccurring features that were interesting. The Work in Progress section gives readers a snap-shot of the status of the attractions at Disney, Universal Studios, SeaWorld, and other attractions in the area.
I was pleased to see a description and projected opening day for The Wizarding World of Harry Potter at Universal's Islands of Adventure. The progress of Disney Studios' Toy Story Mania, with a photo and link to the attraction website was also described in this section.
The Photo Finds section appears as a bulletin board with fun photos and captions of happenings and special events in the area. The Restaurant Report section offers a glimpse at some of the areas new and long-standing dining experiences. The Vacation Planner is a handy three-month glimpse at special events, concerts, festivals, and special parties around the area (quite handy to browse and check off what you might want to do when you're in the area). T
he magazine also features attraction-inspired cartoons (there is a niche for everything) called Bemusement Park, as well as some puzzles. At the accompanying website (http://www.attractionsmagazine.com/) , readers can order back-issues of the magazine, review videos and photos, and read a blog about current Orlando happenings.
Based upon the first two issues, a strength of this magazine is its in-depth feature articles.
Issue One documented EPCOT's 25th anniversary celebration in October 2007 with construction photos and early EPCOT maps, perspectives from Disney leaders, a special merchandise overview, and park milestones. In addition, the writers recognized the extraordinary efforts of the Disney-fan community (led by Celebration 25's Adam Roth) who attracted the attention of Disney and who worked with Disney leaders to make the event a tremendous success.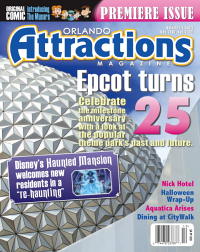 This first issue also featured an article describing the enhanced features of the Haunted Mansion, which re-opened after an extensive refurbishment this past fall.
Issue Two took an in-depth look at the development of the new Simpsons ride a Universal Studios including an interview with the executive show producer. This sneak-peek details the theming and merchandising in the area that will immerse visitors in the world of the Simpsons.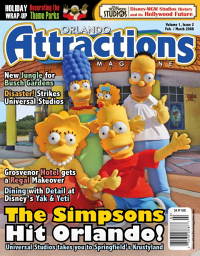 While the magazine has a lot to offer, there is still room for improvement. In some sections the magazine layout looks and feels more like a free flyer that one might find in a road-side pamphlet stand (the higher-quality paper chosen for Issue Two was a good choice in helping the magazine distinguish itself from the freebies).
Also, because the format of the magazine combines all area attractions together and I found myself saying, "Ok, now where is this happening again? Where was this event?" Another suggestion would be to group attraction info together in their own sections or code them in some way (by color or by icon) so that readers can quickly identify where the events are taking place.
Finally, while I'm thrilled that the magazine is choosing to review some new and interesting dining experiences, I'd like the see the Restaurant Report section extended to include reviews of more menu items and suggested choices for those with special diets.
However, it would seem reasonable that any new magazine would go through some "growing pains" and this publication has the potential to fill a niche for those who want more in-depth information about the many attractions in the Orlando area.
While it doesn't completely replace my beloved Disney Magazine, Orlando Attractions is a fun read for those of us who adore Walt Disney World, Universal, and other attractions in the area.
Here's the cover for Issue #3!
Website: Orlando Attractions Magazine