Recently I met up with Bill and his wife Donna, and Byron Hall for lunch at the Concourse Steakhouse in the Contemporary Resort. Bill and Donna help me find Hidden Mickeys at WDW.
Byron is accumulating donations for his weight loss plan. He's using the donations to sponsor a child in the Make A Wish program. I met Byron to donate my autographed books (Walt Disney World's Hidden Mickeys, Disneyland's Hidden Mickeys, and my annually updated guidebook The Hassle-Free Walt Disney World Vacation) to his first sponsored child Tommy.
The day was sunny and hot. The restaurant wasn't crowded, and we had a long, leisurely lunch. Bill is an accomplished photographer, and we reviewed his recent photos of Hidden Mickeys. (Bill also drinks more coffee than anyone I've ever known, so he talks fast.) Byron updated us on his fascinating program. By the way, I recommend anyone visit and tour the Give Kids The World Resort near WDW. A neighbor of mine volunteers there; it's an inspirational, eye-opening place sponsored by Disney and other central Florida businesses.
We strolled over to the Magic Kingdom to hang out for a while. The park wasn't crowded. (Early September is a great time of year to visit WDW). Several folks have posted on my website about a classic Mickey antenna topper on the Big Thunder Mountain Railroad ride. Supposedly, it's to the right of the vehicle, near a lamp at the beginning of the hill that has the loose boulders that threaten to fall on you.
BTMR had only a 10-minute wait (at 4:30 in the afternoon!), so we hopped in line and were soon on the ride. Bill and Byron (who's also an accomplished photographer) took photos and videos of the ride, and I just kept my eyes peeled and tried to spot the antenna topper. Alas, none of us saw it! Of course, we'll study the photos soon to determine if it's still there. If it's not there, I'm wondering if the antenna topper was removed because it wasn't placed there on purpose by an Imagineer or Cast Member?
After BTMR, we located some cool, tried-and-true Hidden Characters in Frontierland. One is the Hidden Tinker Bell at the outside exit of BTMR.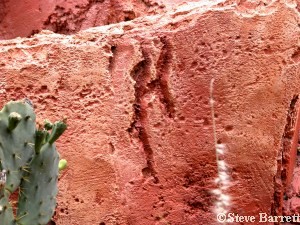 Another is the tiny, red classic Mickey on a hand (on the index finger) on the side of the Madame Leota's shopping stand in Liberty Square.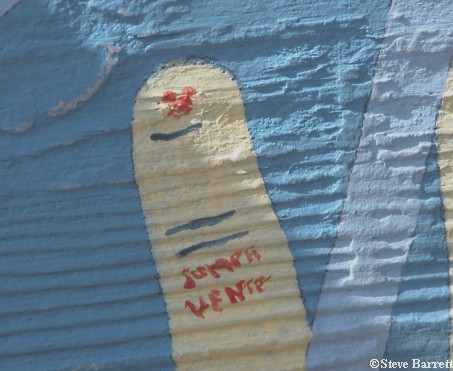 Donna enjoyed a Dole Whip from Adventureland. (Of course, at this point, we all paid homage to Mike Scopa and the Dole Whip!) We basked in the Florida sun while taking in the uncrowded sights of the Magic Kingdom. What a great way to spend the afternoon! It's difficult to go back to the real world, but we'll all return soon to WDW.

Read more about Steve's Hidden Mickey finds on AllEarsNet.com
Steve maintains a Catalog of Hidden Mickeys on the Hidden Mickeys Guide.