To all who come to this photo trivia game, Welcome! Along the way, the photos can make us relive memories and see details Walt's Imagineers put into everything we love in Walt Disney World!
It's Christmas for some of our Players who celebrate on the Epiphany or Three Kings Day! I wish I was with you, but instead I'm watching the Madrid web cam and cheer!


And more! Merry Christmas to you all!
Now for Challenge #517: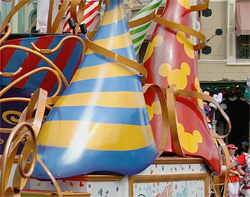 And here's the answer:


Copyright © Scott Thomas
It's the Move It! Shake It! Celebrate It! Street Party in the Magic Kingdom!
Deb Ragno were the first to send in the correct answer! Congratulations to Deb and to all our winners this week! Gloria Martin, The Kertes Family, Vera And Izzy Williams, Al & Kerry Ganter, Grumpy's Grou[ies, Robert Wescovich, Linda Hoffman, Adolph And Kimberly Timm, Emily Hudson, Kris Nixon, Maryann Romagnano, Tammy Warmouth, Michael O'brien, Karen O' Brien, Michaela O'brien, Tim Tjarks, Eric Berger, Russ Morgan, Mary Beth Tarbet, Joseph M. Zafia, Sandie Albrecht, Bonnie Jean, Josh Weiss, Tricia Petty, Margaret Convery, Phyllis, Mickey Eckert, Martha & Justin Collins, Michael & Jackie Mclucas, Vicki Britt, Team Hill, Ed Suscreba, Chris Kelly, Joann Albrecht, Leach Family, Jim Thompson, Anne Duque, Ken Savage, Lori Rienhardt, Diane Curfman, Steve Knapp, Stefan Owens, Susan Higginbotham, Janet T Thorn, Wendy T Faler, Bob & Kathy Mckim, Kyra, Andrew Carrieri, Jeremy Hardy, Ruben O'meara, The Parker Family, Jeff Blank, Chris, Gretchen, And Katie Barnes, Antoinette Leblanc, Carla C, Sue And Ed Adams, Cathy Connors, Dee Dee Kenney, Malampy(benco Families), Carolyn Como, Mis Jamie Marie, Tj, Andy Hickey, Michael Haeberle, Arlene Vicek, Claire, Matthew Frey, George Mundy Jr, Jeremy Reichelt, Mark Hardy, Terry Harris, Carri Marotto, Jamie Steiner, Theresa Maradei, Linda Ranatza, Donald Purney, Jackie Graebel, Jo Ann Bailey, Shelby Watson, Barclay Bakkum, Sherri Pell, Sandy Ceplecha, Shirley Garcowski, Scott Sangston, Jamie Poynton, Jodie S., Belicia, Scott C., Jane Johnson, and The Tisdale Family!
It's time for the monthly drawing and the final winner of 2017 is: Matthew Frey! I will be contacting you soon about claiming your prize from Deb Wills!
_______________________________________________________
Challenge #518 Where in the world is this?
Switching parks! Who's this cute little guy or girl?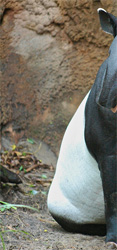 Do you know? Do you have a guess? Please send in your answer, before the end of the day on Thursday, January 11th, by clicking on the blue box below.
Please do not post answers using the Feedback Form link at the bottom of this post.
See you soon, Players!


_______________________________________________________________________
Everyone who sends in a correct answer to a Where in the World Challenge this month will be entered in a drawing at the end of the month for some special AllEars® goodies!
–