by Guest Blogger Kay Belin
My husband and I had a short Walt Disney World vacation planned when I noticed that Disney was offering something new called Early Morning Magic. I am always one to want to experience what is new in the World so I jumped on this opportunity and made reservations for the first date it was being offered, April 26.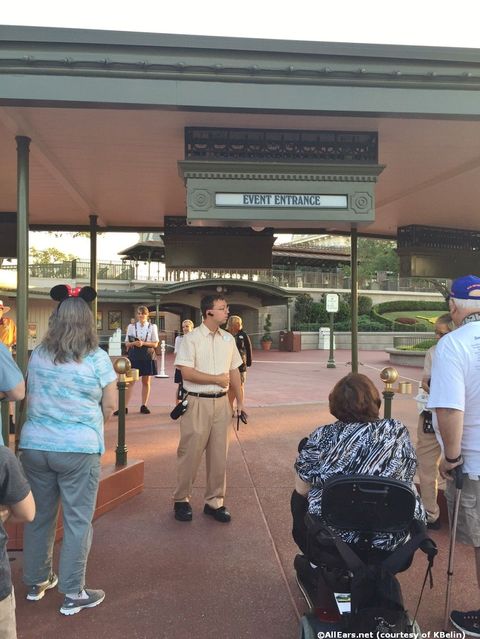 We were told to be at the Magic Kingdom queues around 7:30am to check-in and we would then enter the park to be escorted to Fantasyland at 7:45. Not knowing if early morning buses would be running we hopped in a taxi and arrived in plenty of time. We checked in and received a yellow paper band for our wrists and stood in line for the queues.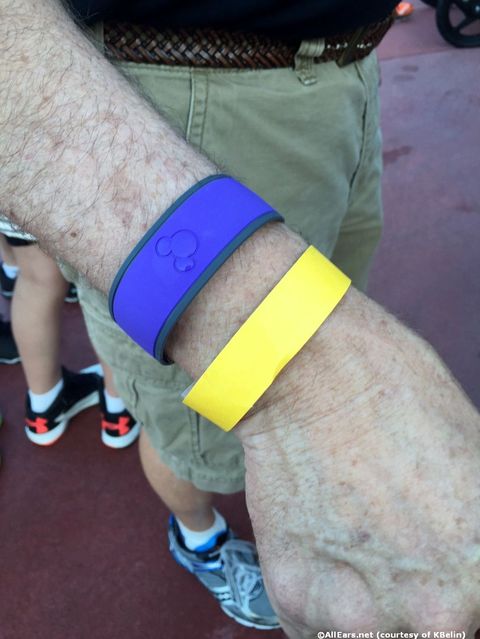 It was soon apparent that everyone who had bought this experience was grouped with all those guests who had early morning dining reservations. It was a bit of a crowded experience and a lot of waiting. We waited to go through the queue and then waited again as a mass group right before the entrance tunnel. Then one more time we waited inside the tunnel as a group. I was never quite sure why we had to wait in all of these locations and why the Early Morning Magic guests were not separated from the others. It was confusing for everyone.
When they let us loose it was around 7:45am and it was a calm walk down Main Street to Fantasyland. We did not stop for the castle photo but also did not rush. We were not escorted as the information had mentioned but it was nice to just enjoy an empty park and stroll at our own pace.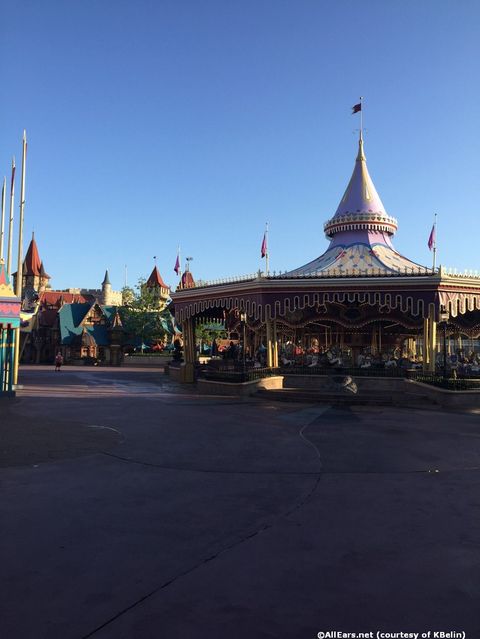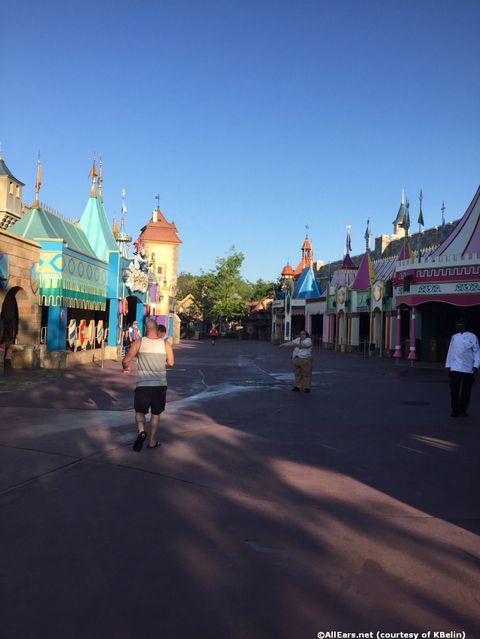 The Early Morning Magic event offered three Fantasyland attractions for us to enjoy: Seven Dwarfs Mine Train, The Many Adventures of Winnie the Pooh, and Peter Pan's Flight. We headed to what we knew would be the most popular choice, the Seven Dwarfs Mine Train. We were met with no lines and no wait and hopped right on and enjoyed our first attraction of the day. When we exited you could go right back to the loading area without leaving the building which was nice.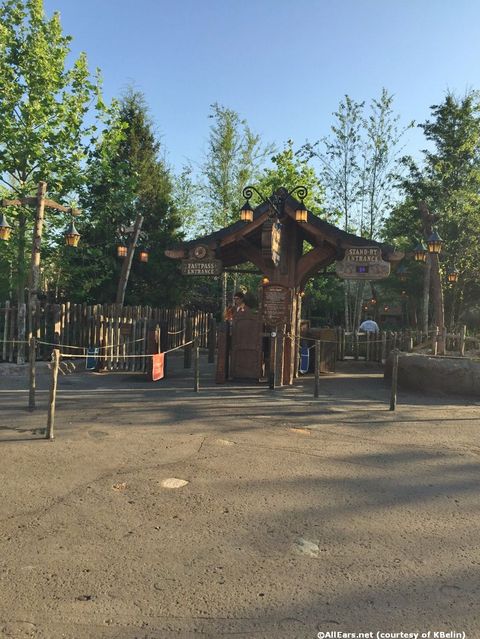 We opted to head to Peter Pan's Flight and do our next attraction. Again there was no line and no wait and we were on immediately to enjoy my husband's favorite ride. Next stop was the last attraction offered, The Many Adventures of Winnie the Pooh and again walked right on. I checked my watch and saw that we had done all three attractions and it was only 8:03am. My question to myself was now what were we going to do for another hour.
My husband isn't a lover of roller coasters of any kind so I decided to head back to the Mine Train and do it again solo. I actually could have done it another ten times if I had wished to ride that many times. They were asking guests to get out of the cars after each trip but you literally could just walk back on.
One of the perks to getting this extra park event was that it included a full breakfast. So that is exactly where we headed next. Breakfast is served in Pinocchio Village Haus located right in the center of Fantasyland.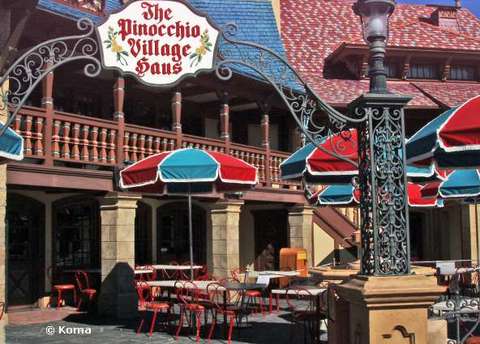 Two identical buffet sides were set up and the offerings included scrambled eggs, vegetable frittata, two kinds of sausages, bacon, potatoes, fruits, assorted pastries, assorted cheeses and cold meats, and waffles. Two juice flavors were options as well as milk and water. They also had a coffee station offering regular coffee, decaf coffee, and assorted teas. We thought the food selections adequate and everything tasted great. We were not disappointed in the all you can eat buffet that was included in this special ticket. Breakfast was offered until 10am so if you wanted to ride the attractions for the full hour you could still come and enjoy this private dining event once the park opened.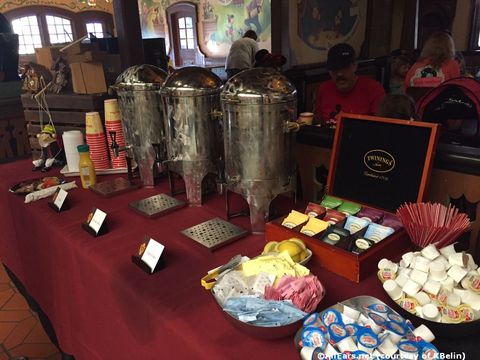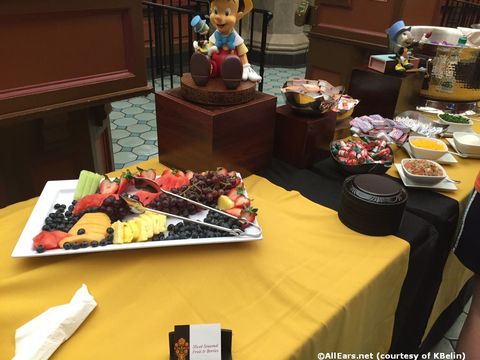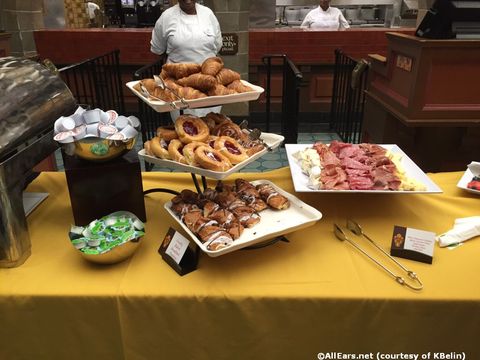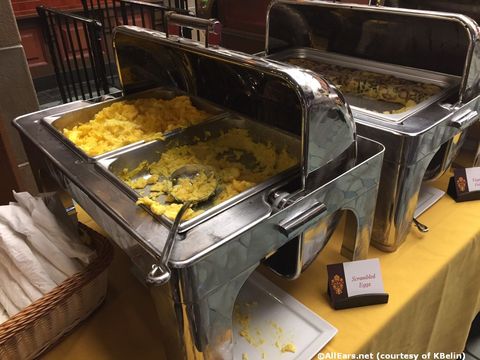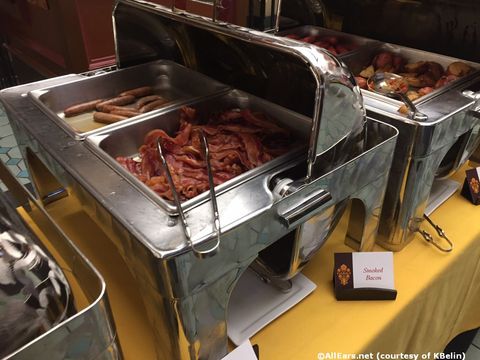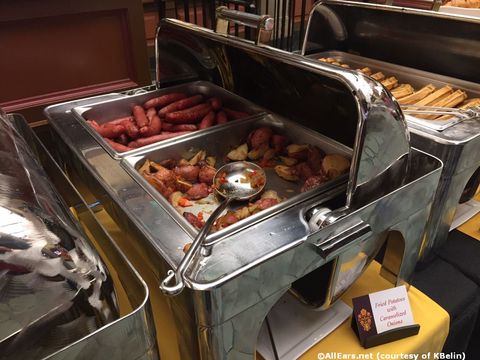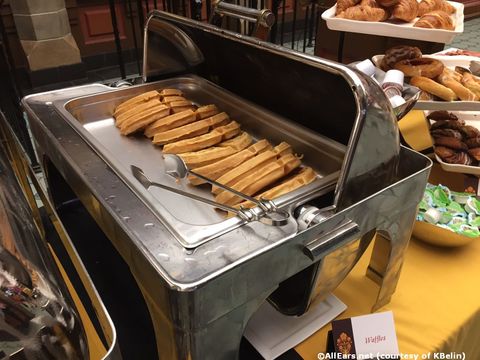 After breakfast I decided to do the Seven Dwarfs Mine Train one last time. It was now about 8:45 and with the park opening at 9am that morning it was good to get the most popular attraction under my belt once again before the crowds descended. What surprised me and disappointed me was the fact when we walked over we saw that the stand-by line was filling up. Why? Because th queue included some of the early dining guests. We had heard the announcement of the park opening show as we left breakfast so didn't think guests could all be there yet but wondered about the crowds building.
I walked through the FastPass line and was immediately stopped by a cast member who asked if I had a FastPass. I was stunned and said no but that I had bought the Early Morning Magic ticket and showed her my yellow wristband. She was hesitant but allowed me to join the line. Yes, I am saying the line now. They were allowing all the standby line guests to enjoy the attraction and I had to join into that line. Of course the wait was not long but I was just surprised that it was inferred that only those guests who paid for this special ticket would enjoy the three attractions until park opened at 9am.
My opinion of this event is mixed. Unless you have family members who are avid Seven Dwarfs Mine Train fans this will not appeal to older children who would rather be on Space Mountain. You will also have to be careful that your group can all enjoy the three attractions that are offered as I saw a few times that young children did not meet the height requirement for the Mine Train and they were very disappointed.
I personally felt that they certainly could have at least two more attractions open such as Under the Sea-Journey of the Little Mermaid and Its a Small World as they both are in the same area if they wanted to keep it compact. If not then Dumbo and Barnstormer would be great additions. But three attractions just didn't offer enough to do for the hour in the park. I appreciated not waiting in the long lines those attractions draw during the day but I found we had so much extra time on our hands and didn't know what to do.
The cost for the Early Morning Magic ticket is $69 for adults and $59 for children 3-9. This is on top of the admission ticket you must have for the park that day. It does include a full breakfast and the opportunity to experience three attractions but I felt that was a bit steep. Characters were not out and if they wanted to make it a better value for their guests it would be nice to have one character meet and greet and at least two more attractions open to enjoy. It was difficult for me to find out how many Early Morning Magic tickets are sold for each date but I finally was told that it was around 200 so if this is something you wish to experience you will need to grab a reservation quickly.
Because of the cost of the ticket I hope they will encourage the three attractions that are included to stay open only for the ticketed guests until the published time of the park opening which is 9am. I understand that the Magic Kingdom will often open early if crowds become heavy at the entrance but it was disappointing that with my ticket I lost 15 minutes of private enjoyment of the attractions.
All in all we enjoyed our quiet time in the park but I doubt we will encourage our family to purchase this special event ticket if it is continued past June unless more is added to enjoy.