There's a fun interactive show that may not appear on the entertainment schedule you pick at the Magic Kingdom, Captain Jack Sparrow's Pirate Tutorial. Performed every day to the left of Pirates of the Caribbean you'll learn from Captain Jack Sparrow just what it takes to be a pirate, and you'll discover what it's like to be a firstmate like Mack. The show is a lot of fun to watch and kids may be chosen to battle Mack and become pirates themselves.
Now that you know, you'll want to get some photos. This is a fairly easy show to capture and if you plan ahead, you'll be in the "front row" before anyone else even knows what's going on.
My new camera (for me anyway) is a Canon PowerShot SX100 IS. My settings were ISO 200, f4, 1/200.
Now, let's concentrate on lighting. This particular day was partially sunny. With clouds diffusing sunlight, there's a softer tone to everything. Shadows are minimal and highlights can make make flat lighting pop. This type of lighting is great for days in theme parks when most of your photos are of people, there are no raccoon eyes to worry about.

If you look under the wheelbarrow, you'll see weak shadows underneath as well as short shadows under the wheels.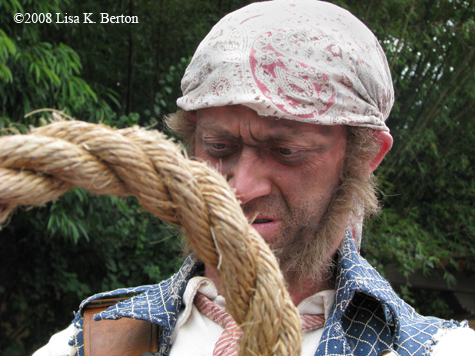 Another nice thing about overcast days is you can see more detail in your subject. Take a good look at Mack's face. Now take a gander at the rope and his ear. See those highlights? There's some sun poking through the clouds.

Jack Sparrow is resting amongt his treasures, which places him in the lighting seen in the first photo. I'd prefer if some sunlight was coming in from the right, it would have opened up his eyes a bit and created more separation between Jack and the backgroud.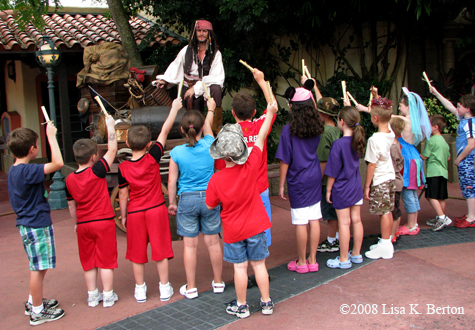 Now you can really see the difference between where the sun is poking through (where the kids are) even though it's not intense sunlight and where Jack Sparrow is once again, taking it easy.
Want to check out Captain Jack Sparrow's schedule before you sail off to WDW? Visit Steve Soares' website and you'll uncover even more hidden treasures.