Monday! Monday!
You would have thought that I would have slept in on Monday but no. I was up early, as in 7:30 A.M., which is pretty early if you fell asleep around 2:30 A.M.
I attended to quite a few emails from friends and relatives who had sent emails about the race. It took time to answer most of them and before I knew it the time was 10 A.M.
I did a little packing, then hopped into the shower, got dressed and then stopped short of heading out the door. I really hadn't put together any plans for the day.
I called Mike Newell and told him that due to the night before I was getting a late start.
I had to laugh when Mike told me he was on the same schedule as me and he was just getting started as well.
I asked him if he was hungry"¦silly question"¦of course he was.
I suggested we meet at Boardwalk and head over to the Dolphin so I could introduce him to The Fresh Mediterranean Market for lunch.
I headed over to Boardwalk somewhat quickly and took a stroll over to where the Breathless II was docked. I was looking for a friend who does Illuminations Cruises but the CMs there told me his shift started at 6 P.M. that night.
I made a mental note to come back that night and see him.
I didn't as plans would eventually change"¦.so Mike Scibetta. if you're reading this we'll see you on the next trip.
Stormalong Bay is so peaceful in the morning.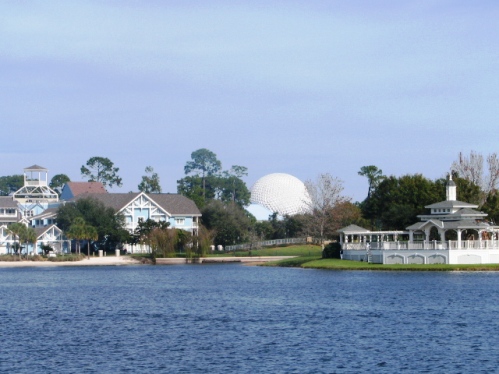 I met Mike Newell near Big River Grille & Brewing Works and we walked over to the Dolphin.
Mike enjoyed Fresh. I need to thank Deb for introducing me to this little restaurant. It's on my list as a must do from now on for either breakfast or lunch.
During lunch my cell phone told me that the battery was low. I had talked with some friends that morning and had used the speakerphone option and that had pretty much drained the battery. I knew that I would either have to go back to the room to charge it or find some portable charger in the Dolphin store"¦highly unlikely for the latter.
During lunch Mike and I decided it would be fun to send some photos of the chocolate desserts to our chocoholic friend Annette. I'm sure she appreciated the gesture.
While eating lunch I got a call from a friend who I had made arrangements to meet at Beaches and Cream that day. Yikes"¦I had completely forgotten.
It was now about 1 P.M. and we were supposed to meet around 2ish. I was stuffed but I knew it may be the last time I would see my buddy David from the UK until we were both in WDW so Mike and I walked to Beaches and Cream, met David, and had another dessert.
More pictures sent to Annette…the things I do for my friends (sigh).
While we were there we witnessed not one but two Kitchen Sinks being delivered to booths with eyes bigger than their stomachs.
After the dessert I decided I would shoot back to my room and give the phone a charge and also buy a sweatshirt as that night was supposed to be a bit chilly.
We said good-bye to David. I had tentative plans to meet David and family at the Biergarten that evening.
Mike had to do something too so we agreed to meet later in the day.
I went back to my room and charged the phone. I did more packing and then took a stroll to the resort store to shop for a fleece top for that evening.
Nothing there caught my eye; especially pricewise so I decided to wear one of my long-sleeved shirts I had packed just in case the weather would be chilly.
Before leaving the room I checked with Mike Newell again. We made plans with Beci Mahnken to meet at the Magic Kingdom to watch Wishes and we also agreed to have a late dinner at Kona's.
I began to realize that the trip was winding down.
It was the third leg of a whirlwind set of trips and everything that had happened kept flashing in my mind.
I drove to the TTC and managed to get a parking space so close that I was just a five minute walk to the TTC ticket booths.
I took the monorail over to the Magic Kingdom and sent a message to Mike and Beci that I was in the park. They were standing just outside the Crystal Palace.
I snuck up on them…shhhhhh.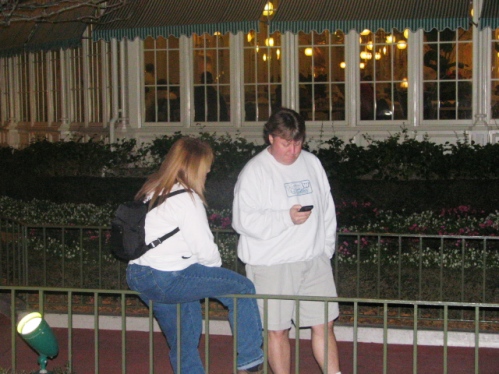 I was looking forward to Wishes"¦hadn't seen it in ages.
Mike and Beci were thinking about doing a few attractions so I sent them off to do so while I waited for fellow AEN staffer Michelle Scribner-MacLean. Michelle wanted to see Wishes that night too.
The Crystal Palace looks so majestic at night.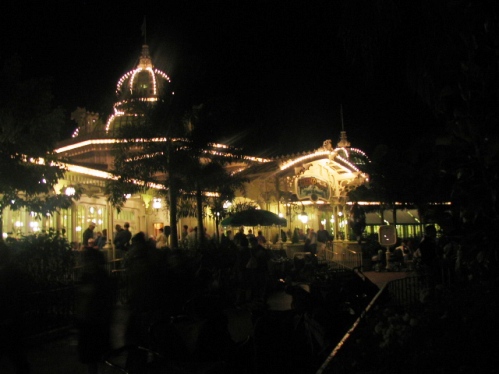 I sent a txt to Michelle, she was almost at the park. While waiting I watched the castle show from the Crystal Palace area.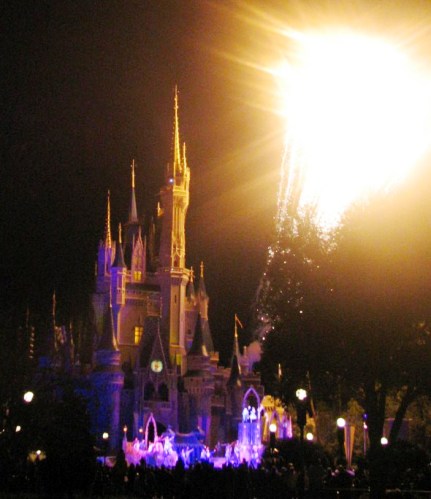 Michelle arrived just as the show was ending and we talked about our trip until Mike and Beci returned.
We watched Wishes from that spot which was an interesting experience. I would not recommend this unless of course you've seen Wishes many times and wanted to see it from a different point in the park.
We waited until most of the crowd left and we started out.
I then said, "Wait, I want to see the Kiss Goodnight!"
I got some looks.
"What's that???" they almost said in unison.
This wasn't the first time I had mentioned Kiss Goodnight to friends and had received stares as if I was sporting a third eye.
I began to explain that Kiss Goodnight is a traditional signoff for the Magic Kingdom and it involved a combination of music, light, singing and"¦
"¦as I was into my explanation lo and behold "KISS GOODNIGHT"" began and I got pretty excited.
I dragged Michelle, Beci, and Mike, up close to the Partners Statue and they all witnessed their first Kiss Goodnight.
If you're interested in what Kiss Goodnight is all about look for more information in my All Ears newsletter article later this month.
After Kiss Goodnight we headed out of the park.
The queue for the monorail was just too long so we took the ferry.
Good choice.
At the TTC we Mike, Beci , and I bid farewell to Michelle who was off to Downtown Disney to get her son who had enjoyed the evening at Disney Quest.
Mike, Beci, and I enjoyed a quiet meal at Kona's before the final goodbyes and we called it a night and a trip.
Now you may have noticed that this was yet another day in the life of yours truly in which I was not going from park to park and enjoying attraction after attraction.
It just didn't work out that way and what's amazing is that it didn't bother me. When I return to WDW in three, six, or nine months from now I'm pretty sure my favorite attractions will be
there"¦but there is never a guarantee as to when you'll catch up again with friends.
It was a good trip in many ways.
Looking Back and Looking Ahead
This trip represented so much to me. There were so many people who made the trip to experience their first Walt Disney World Half-Marathon and they brought with them so many dreams of doing something important for themselves and accomplishing a feat that perhaps they never thought was in their reach.
I wanted to be there to see these people bask in their happiness and see the glow and pride in their faces as they proudly wore their medals around their necks.
By the way, I sent this photo of my medal to Steve Barrett and mentioned the Hidden Mickey"¦do you see it?
I was also amazed and warmed from the fact that so many people came down to support their friends in this quest.
There is no question that nothing matches the feeling of running and finishing the WDW Half-Marathon for the first time.
No matter how many times you do this race crossing the finish line is never the same as the first time.
However, you can do this race many times over and every time you turn up Main Street USA you will get a chill and a thrill as the crowd cheers you on"¦as you run towards the castle and through Tomorrowland and Fantasyland.
As you come through the castle you find yourself saying everytime , "This is what it's all about."
So looking back on the several times I have done this race I can undoubtedly say that the Walt Disney World Half-Marathon holds for everyone a little bit of Disney magic.
Be it your first one or you twenty-first one, there will always be something waiting for you and that something more often than not is the opportunity to say to yourself, "I did it."
For me this time around I got to see so many friends participate in this race and so was given the opportunity to say to myself, "They did it!"
As I look forward I am hoping more of you get to experience what many experienced this year.
Congrats to all.
Next Time: I'll discuss the Walt Disney World 2008 running events.