WDW Chronicles: When Hurricane Floyd Came to Town
by Jim Korkis
Disney Historian
Feature Article
This article appeared in the September 6, 2016 Issue #885 of ALL EARS® (ISSN: 1533-0753)
Editor's Note: This story/information was accurate when it was published. Please be sure to confirm all current rates, information and other details before planning your trip.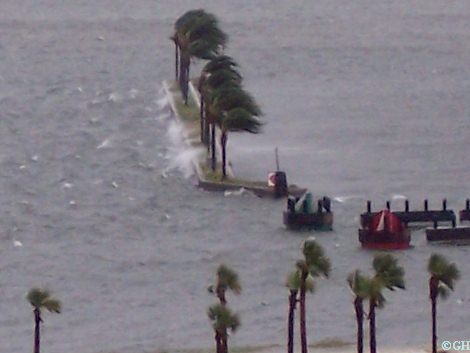 One of the reasons rarely discussed about why Walt Disney decided on selecting the Orlando area for Walt Disney World was that it was far enough up the coast and far enough inland that it would be reasonably safe from Florida's notorious hurricanes and their devastating effects.
For much of its 45-year history that has been true, with a few notable exceptions.
Officially, hurricane season runs from June 1 to the end of November, with most of the activity happening in August through October. One of the challenges is that hurricanes can change their paths or strengthen in intensity without warning, despite the best efforts of those who try to predict what they will do and where they will go. An incorrect forecast can kill thousands of people. An unnecessary evacuation might inadvertently put people in harm's way or convince them not to evacuate the next time. It is necessary to make the maximum preparations and hope that they won't be needed for these unpredictable forces of nature that plague Florida.
In the past, there were instances when harsh weather, including high winds and heavy rains because of hurricanes, forced Walt Disney World to modify its hours.
On August 31, 1985, the Walt Disney World resort closed as early as 5 p.m. because of Hurricane Elena. Roughly 10 years later, on August 2, 1995, Hurricane Erin resulted in a late opening at the theme parks. Everything opened at 11 a.m., although guests endured rain for the rest of the day.
Those two storms felled some trees on property and tossed some things around, but there was no major damage or injuries. Structures like Cinderella Castle were built specifically to withstand massively high winds up to more than 125 miles per hour.
It is an urban myth that the tall turrets can be removed before a storm. Since they were installed separately, the myth arose that they could be extracted, but once set in place, they were bolted into the existing structure. To be taken off would require huge towering cranes, something extremely dangerous in high winds.
The very first time a hurricane was so severe that there were massive closures at Walt Disney World was the arrival of Hurricane Floyd, a Category 4 storm, in September 1999. For the first time in its then-28-year history, the theme parks and other attraction areas closed to the general public for more than a full day. It was predicted the hurricane would directly strike the area.
This action to close everything was taken by Walt Disney World's Executive Emergency Operations Team (EEOT) under the supervision of then-executive vice president of Walt Disney World Operations Lee Cockerell. Members of the team included representatives from Guest Operations Services, Security and Distribution Services, Public Affairs, Walt Disney World Communications Group, Emergency Preparedness, Legal, Global Engineering Services, and Facilities and Operations Services.
As Hurricane Floyd approached on Tuesday, September 14, EEOT closed the Magic Kingdom and Epcot at 2 p.m. and Disney-MGM Studios, Disney's Animal Kingdom and Downtown Disney area and water parks at 3 p.m.
Other nearby entertainment venues like Universal Studios and the then-new Islands of Adventure park closed completely for Tuesday and Wednesday as well, as did SeaWorld Orlando. Just like WDW, they were all expected to be operating normally on Thursday.
Guests who were staying in low-lying areas like Disney's Fort Wilderness Resort and Campground, and some buildings at Disney's Caribbean Beach Resort and Disney's All-Star Resort were evacuated to Disney's Coronado Springs Resort and Disney's Yacht and Beach Club Resorts because of the possibility of flooding. These resorts offered accommodations in the convention centers, as well as some heavily discounted rooms. At the convention centers, movies were shown on big-screen televisions and cast members coordinated games and crafts.
Chefs from Epcot were reassigned to the resorts to help with the feeding of guests. At all WDW resorts, guests were given a 50 percent discount at all restaurants and the convention areas offered large buffets at low prices.
When Floyd curved away from its predicted path, on September 15, EEOT approved the reopening of DAK at noon for resort guests only and Downtown Disney at 4 p.m.
Vice president of DAK and Animal Programs Bob Lamb had phoned the EEOT early Wednesday morning saying that based on recommendations from DAK's Hurricane Core Team the park was capable of handling guests. Every attraction and show ran that day for guests with additional staffing by cross-utilization cast members.
There was a ride-out crew of 28 Transportation cast members, but with the unexpected opening of DAK, many more were needed to transport the thousands of guests wanting to escape their confinement in the resorts. Some drivers found up to 500 guests waiting at one resort bus stop. At Disney's All-Star Resort, 1,800 guests stood in queues waiting for buses.
Many Bus Operations cast members answered requests to come in to work even though they were dealing with damage at their own homes. Some showed up without being called, knowing that people would be needed to help. Those dedicated cast members had also driven equipment and hurricane supplies, such as sandbags, across the property before the storm struck.
During this time, the EEOT stayed in close communication with eight other command centers located in each of the theme parks and resorts, Sports & Recreation, Downtown Disney and the Disney Cruise Line.
The Disney Cruise Line modified its itineraries to maintain distance from the storm. On the September 12 sailing, the Disney Wonder visited Key West and guests on the Disney Magic on the September 13 sailing visited Cozumel, Mexico. Castaway Cay suffered some erosion damage, but for the most part survived.
Disney's Hilton Head Island Resort and Disney's Vero Beach Resort evacuated guests to inland areas. Cast members working those resorts cleared debris and cleaned rooms. Vero reopened on September 16 and Hilton Head on September 18.
A toy company was holding its convention at Disney's Grand Floridian Resort and Spa during Hurricane Floyd. According to the September 23 edition of cast publication Eyes and Ears, "Conventioneers were so impressed with the way the resort's cast members handled the emergency that they donated all the toys they had to the families of the cast members who were staying at the resort on ride-out crews."
Walt Disney World decided to pay cast members two days early that week, on Tuesday, so that they would have access to cash if they needed it during the potential emergency.
Floyd was the first time WDW had to directly deal with a hurricane and although everything survived quite well, WDW strengthened its cast policies and procedures as well as building codes to increase resistance to high intensity winds. Nearly a decade later, those changes paid off.
In 2004, WDW closed for hurricanes Charley, Frances and Jeanne. It opened immediately after each one passed and didn't file a single insurance claim. There were no injuries reported and only minor landscaping and light structural damage, like downed street lights, signs and other things.
Hurricane Charley forced the closure of all four Walt Disney World parks at 1 p.m. the day before the storm in August 2004. They reopened late the next afternoon. Because of the animals, DAK never opened at all on the day before the storm. Again damage, primarily from winds and rain, was minimal, including some uprooted trees.
On September 4, 2004, Hurricane Frances struck, closing the parks and water parks for one day. Hurricane Jeanne closed everything again on September 26, 2004. Fortunately Hurricane Ivan, which was whirling around at the same time, veered away.
On October 24, 2005, the parks, water parks, Downtown Disney and Disney's Wide World of Sports closed for a day because of Hurricane Wilma as a precaution even though the storm was expected to pass about 100 miles south of Walt Disney World property. Again, the fear was of high winds and heavy rain.
In general, WDW has a five-phase procedure for hurricanes:
In Phase Five, WDW monitors the possible storm, reviews the current plans, confirms personnel and resource availability and prepares the WDW Emergency Operations Center for activation.
In Phase Four with the storm less than two days away, final checklists are prepared, discussions of possible shut down of long lead operations and no starting of extended operations. Limited activation of WDW Emergency Operations Center is instituted.
In Phase Three with the storm arriving in the next 24 hours, concerted efforts are made to clean up things, tie them down or move them inside. Ride-out personnel are notified and confirmed. WDW Emergency Operations Center and command centers are fully activated.
In Phase Two with the storm arriving shortly, all parks, water parks and Disney Springs close. Resort guests are notified and when necessary relocated. Clean up and tie down is completed. Personnel not in ride-out crew are released as soon as possible.
In Phase One, the storm has arrived so everything is shut down and people take shelter.
After the storm, there is a review and situation reports to determine business resumption and recovery needs.
In fact, in 2009 the Walt Disney World Resort earned the Storm Ready designation from the National Oceanic and Atmospheric Administration (NOAA), meaning it is actually one of the safest places in the United States to be when a hurricane strikes.
September is the peak of hurricane activity in Florida. I personally survived all of the storms discussed in this article and I would prefer not to have to write another about a similar situation this year. However, if you are staying at a Walt Disney World resort hotel when a hurricane comes to visit, you will be very well taken care of during this time of turmoil.
= = = = = = = = = = = = =
RELATED LINKS
= = = = = = = = = = = = =
— What You Should Know If a Hurricane Threatens Your Vacation
— Don't Let The Rain Dampen Your Spirits
Other features from the Walt Disney World Chronicles series by Jim Korkis can be found in the AllEars® Archives.
Jim also writes occasionally for the AllEars® Guest Blog, contributing entries under the heading of "Jim's Attic."
ABOUT THE AUTHOR:
Disney Historian and regular AllEars® Columnist Jim Korkis has written hundreds of articles about all things Disney for more than three decades. As a former Walt Disney World cast member, Korkis has used his skills and historical knowledge with Disney Entertainment, Imagineering, Disney Design Group, Yellow Shoes Marketing, Disney Cruise Line, Disney Feature Animation Florida, Disney Institute, WDW Travel Company, Disney Vacation Club and many other departments.
He is the author of several books, available in both paperback and Kindle versions. You can purchase them via our AllEars.Net Amazon.com store HERE. His newest book is The Unofficial Disneyland 1955 Companion. It includes snippets of interviews with cast members who worked at Disneyland in 1955, along with additional explanatory material (including the first complete listing of every attraction, shop and restaurant that was there during the first six months) and much more.
-o-o-o-o-o-o-o-o-o-o-o-
Editor's Note: This story/information was accurate when it was published. Please be sure to confirm all current rates, information and other details before planning your trip.