WDW Chronicles: History of the Hoop-Dee-Doo Musical Revue
by Jim Korkis
Disney Historian
Feature Article
This article appeared in the May 3, 2016 Issue #867 of ALL EARS® (ISSN: 1533-0753)
Editor's Note: This story/information was accurate when it was published. Please be sure to confirm all current rates, information and other details before planning your trip.
"Whoop-de-doo", and its variant "hoop-de-doo", is a popular old-fashioned expression meaning frenzied activity or excitement. "What is all this whoop-de-doo going on in here?"
That expression became the cornerstone of one of Walt Disney World's most beloved nighttime entertainment experiences, the Hoop-Dee-Doo Musical Revue.
Described as "a hilarious, high-spirited hootenanny the whole family will enjoy, accompanied by a finger-lickin' countrified feast" on the official Disney site, the Hoop-Dee-Doo, opened June 14, 1974, and continues to be performed in Pioneer Hall at the Fort Wilderness Resort and Campground to this day.
When Disney's Polynesian Village Resort opened in October 1971, one of its distinctive differences was an audience favorite called the South Seas Luau (also sometimes called the Polynesian Luau, known since February 2003 as the Spirit of Aloha Dinner Show), with authentic entertainers from various Pacific islands presented on a small open air stage on the beach. By 1974, that show was so popular that it was selling out each night and turning guests away, despite adding capacity.
Fort Wilderness Resort and Campground also opened in 1971, on November 19, but the oil embargo of 1973-1974 caused attendance to drop drastically. There was, however, space to build a dinner theater.
The hall was originally planned as an extension of Crockett's Tavern, the lounge and restaurant next door that's filled with memorabilia related to the frontiersman Davy Crockett.
Built with 1,283 hand-fitted Western white pine logs from Montana and 70 tons of rare ebony stone for pillars from North Carolina, the two-story building now known as Pioneer Hall was modeled after a Northwest Territory Lodge from the late 1800s. When it officially opened April 1, 1974, it was called the Fort Wilderness Dining Hall. The area was intended to be used as a dining venue for breakfast and lunch. At night there would be animal lectures and demonstrations from animals brought over from nearby Discovery Island. Guests would also be able to play games and perhaps enjoy some musical talent like a washboard band. In addition, a huge screen would show some of the True-Life Adventures documentary films made by the Disney Studio in the 1950s and 1960s.
A new show concept for the location was developed by Robert Jani, Ron Miziker, Tom Adair, Paul Suter and Larry Billman. It was a highly collaborative effort, including contributions from the performers as well. The first draft of the show was entitled "We're With You, Mother McCree!" and a later version was called "The Whoop-Dee-Doo," which inspired the final title. Billman was the director and Forrest Bahruth was the choreographer.
The premise of the show is that a stagecoach of performers on their way to another engagement (and an actual stagecoach used to be positioned outside of Pioneer Hall to support that storyline) had broken down. They had just come from "a record-breaking two-day booking at the Scrubrush Opera House in Tombstone" and are still all fired up. They come inside the dining hall to entertain while their stagecoach is being repaired and the guests enjoy an all-you-can-eat meal of fried chicken, ribs, strawberry shortcake and more between the corn-pone vaudeville acts.
The show does not feature Disney characters like Cowboy Mickey Mouse, but does include a section referencing Disney's version of Davy Crockett. Instead, the show's eclectic group of performers are Claire de Lune, Johnny Ringo, Dolly Drew, Six Bits Slocum, Flora Long and Jim Handy.
As director Alan Bruun told Disney musicologist Greg Ehrbar several years ago, "You've got those three love relationships, all of which play out at different speeds in different ways. Maybe tonight's the night that Jim Handy is going to finally commit and pop the question to Flora. Maybe Six Bits and Dolly will stop cracking jokes long enough to realize how they feel about each other, and so on.
"Jim and Flora are soulmates. Claire and Johnny are heart-mates. Dolly and Six Bits are primates. We've got this sort of worldly microcosm, which all good theater is."
At the time the hall opened at the campground, Disney had a work program for college entertainment majors. Talented young performers could attend a summer internship in which they would get units of college credit, instruction from professionals and often some on-stage experience in one of the many shows on property, like Kids of the Kingdom. Known as the Walt Disney World Fine Arts College Workshop and primarily filled by students from the California Institute of the Arts, this program supplied an inexpensive and eager cast for the new Hoop-Dee-Doo show when it opened in June 1974.
Being college students, the show was originally a little more rowdy, with actress Marilyn Magness (the original Dolly) swinging onto the stage from the overhanging balcony. After the first two months, this was eliminated for safety reasons.
Walt Disney World had no expectations for the show other than trying to temporarily fill an operational need. In fact, many people involved in the show felt it would be cancelled in the first few weeks or simply cancelled after its initial 11 weeks. But, like the shows Festival of the Lion King and Pocahontas and Her Forest Friends at Disney's Animal Kingdom, which were both meant as temporary fillers when work on the park's Beastly Kingdom was put on hiatus, the production was so well-loved by guests that it surprisingly survived.
By the end of summer, the Hoop-Dee-Doo was an unqualified success. When the college students had to return to school, Disney held auditions. The roles were staffed with professional performers beginning September 5, 1974.
The show was so popular that at one point the Imagineers proposed building an expanded stage outdoors with a backdrop of Western store facades. The performers would arrive in an actual horse-drawn stagecoach and the new outdoor seating area would be able to handle roughly 1,500 guests. Then-CEO Card Walker liked the idea, but The Walt Disney Company's financial and creative resources were all directed to the Epcot Center project at the time, so this and many other ideas, like a Discovery Land at Disneyland, were put on hold.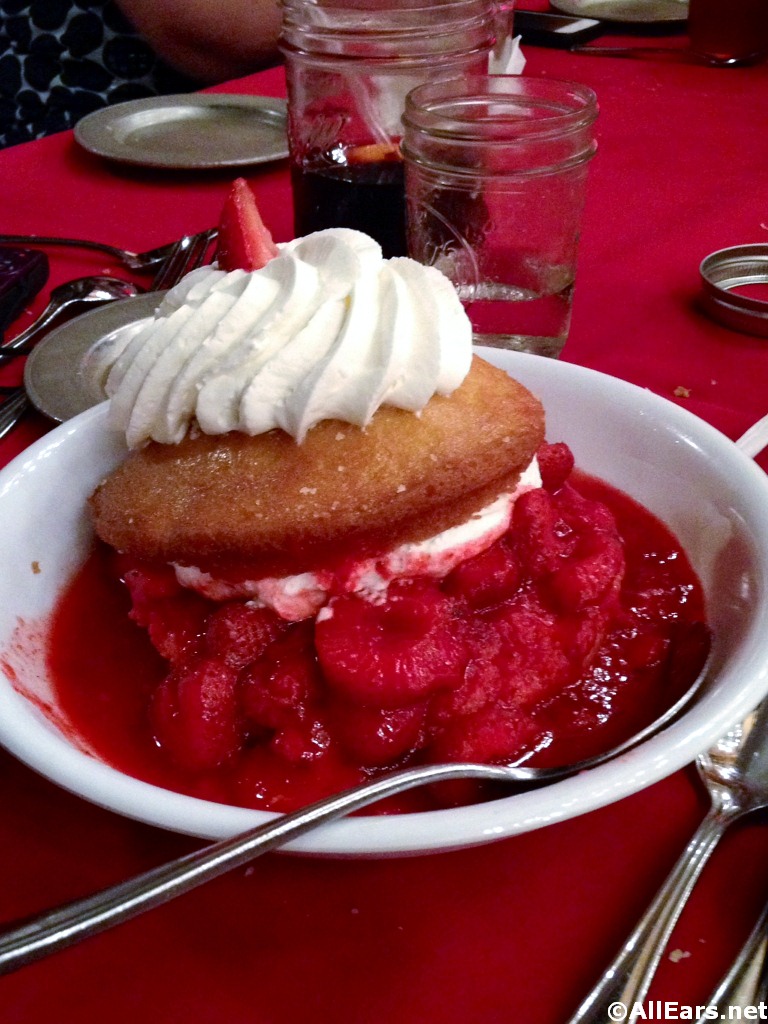 Over the years, a few changes have been made in the original show. For instance, in the beginning and until 1979, it was apple pie and not strawberry shortcake that was served as dessert. As a result the song "Apple Pie Hoedown" was replaced with "Strawberry Short Cake Walk."
However, the most significant change happened in 2011. The song Hoop-Dee-Doo (sometimes called the Hoop-Dee-Doo Polka) used in the show was composed by Milton DeLugg with lyrics by Frank Loesser, and was first published in 1950. It was originally performed by crooner Perry Como, who hated the song, as a change of pace from his usual ballads. The lively song became a huge hit and was recorded by multiple artists and was sometimes used as background music on game shows. When the song was used in the Hoop-Dee-Doo, the lyrics were rewritten to reflect the show, but the upbeat tune remained intact.
Loesser, who died in 1969, had written such Broadway hits as Guys and Dolls and won an Oscar for the song " Baby, It's Cold Outside," which has become a holiday favorite. DeLugg also had a rich musical career going back as early as the 1940s. When he was taken to see the show by a cast member who was a fan of both the show and DeLugg, he loved it.
The only problem was that in the rush to put together a temporary patchwork show, it had not occurred to anyone at Disney to get clearance for the use of the song. It was just assumed that it had always been around and was in the public domain or that someone had already cleared the rights.
When the situation came to light, DeLugg was not angry and had no intention of suing. However, when DeLugg shared the information with the family of lyricist Loesser, they were incensed at this intellectual property theft. They threatened legal action to recoup decades of unpaid royalties and to establish payments for future use of the song. Disney acknowledged the error and quietly settled with the family. During the late summer of 2011, however, the popular theme song was replaced with one written specifically for Disney that still included the phrase Hoop-De-Doo.
The Hoop-Dee-Doo, which began with just two shows nightly, is now performed three times a night. It is the longest continuously running musical stage show in history after more than 40 years and more than 38,000 performances — with no signs of stopping.
The success of the show inspired many imitators, including King Henry's Feast (1986), Fort Liberty (1987) and Capone's, which sprung up in the surrounding area, but none have matched the longevity and popularity of the Hoop-Dee-Doo, which continues to delight Walt Disney World guests, both those who are long-time fans and those who are first-timers.
= = = = = = = = = = = = =
RELATED LINKS
= = = = = = = = = = = = =
Pioneer Hall and the Hoop-Dee-Doo Menu
VIDEO: Excerpts from the Hoop-Dee-Doo Musical Revue
VIDEO: AllEarsNet TV Celebrates the Hoop-Dee-Doo Musical Revue's 40th Anniversary
Other features from the Walt Disney World Chronicles series by Jim Korkis can be found in the AllEars® Archives.
Jim also writes occasionally for the AllEars® Guest Blog, contributing entries under the heading of "Jim's Attic."
-=-=-=-=-=-=-=-=-=-=-
Disney Historian and regular AllEars® Columnist Jim Korkis has written hundreds of articles about all things Disney for more than three decades. As a former Walt Disney World cast member, Korkis has used his skills and historical knowledge with Disney Entertainment, Imagineering, Disney Design Group, Yellow Shoes Marketing, Disney Cruise Line, Disney Feature Animation Florida, Disney Institute, WDW Travel Company, Disney Vacation Club and many other departments.
He is the author of several books, available in both paperback and Kindle versions. You can purchase them via our AllEars.Net Amazon.com store HERE.
-o-o-o-o-o-o-o-o-o-o-o-
Editor's Note: This story/information was accurate when it was published. Please be sure to confirm all current rates, information and other details before planning your trip.