TOWER OF TERROR RADP MEET – JUNE 8, 1998

TOWER OF TERROR RADP MEET
JUNE 8, 1998
Click on the photos for a larger image
---
Danielle, the 13 year old organizer of this meet, files the following report!

Well, this was my first time planning a RADP meet, so I really didn't know what to expect. At about a quarter till 7:00pm, I made my way down Sunset Boulevard, craning my neck to get a glimpse of the Rock n' Roller Coaster's construction. (Deb's note: thank you Gene for the great photo!)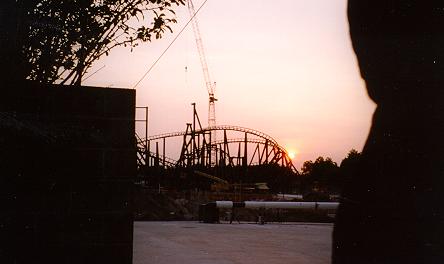 Without much luck, I headed on toward the Tower. This is where my only planning mistake happened. Where exactly would we all meet? I just decided to park myself in the area across from the bathrooms and telephones.
When I arrived, there were a couple of folks standing there (I'm sorry… I'm terrible with names!), so we all chatted and waited until 7:00. By the time 7:00 came, not one other person joined us, so I knew something had to be wrong.

Just when I started to get worried, Deb came walking up and told us that a lot of people were waiting across from the entrance walkway to the Tower! Oops! She ran back and got everyone else, and we were off! Or at least we thought. Everyone knew that it was a necessity to get a group picture, so we rounded up a bellhop to take a few. By this time, a few members of the group accidentally went ahead, and we never got reunited! 🙁

After the pictures, we were finally on our way! Everyone chatted their way through the line, when Scrappy and Kidlet had to make an exit for a potty-break. Kenny came to the rescue with expert directions to the nearest potty, and we continued. Here's a picture of Joe and Chris as we wait in line.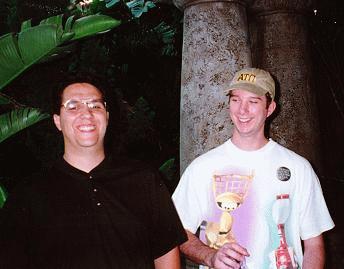 When we reached the elevators, I told the CM how many would be traveling to the Twilight Zone, and he was a bit surprised. We waited for the next elevator, and of course, I had to claim the seatbelt seat! 😉

After a great ride, it was time to say good-bye to my RADP friends! 🙁 Till next year…That's all! [email protected]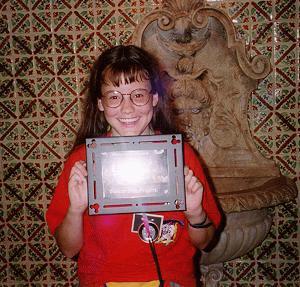 Deb Adds:
This was a great meet organized by a very enthusiastic RADP member! Those in attendance included: Webmaster Pete Warner and Family, The Kratz Family from St. Louis, Sarah Hubbard from San Diego, Aven and Gene Baral, Kenny Cottrell, Chris Caines — all from Florida, Joe Riccatelli from CT, Fred Lauer and son, and Deb Wills. Did I miss anyone???