MouseFest 2008 – an International Gathering of Disney Fans

MouseFest 2008
An International Gathering of Disney Fans

December
7 – December 15, 2008

Join
AllEars.net Founder Deb Wills, members
of the All Ears® Team
and many other fellow Disney fans
for 9 days of Disney fun on Land and Sea!

Join
the AllEarsNet.com Team at MouseFest!

For
a complete schedule listing and to register visit:
http://www.mousefest.org
The Official MouseFest website

Walt
Disney once said, "All our dreams can come true, if we have
the courage to pursue them."
MouseFest,
a gathering of hundreds of Internet community members at Walt Disney
World, is a real-life example of Walt's quote.
For
a number of years, there has been ever-growing annual holiday gatherings
in Orlando of Disney Internet fans connected through Disney-related
websites and message boards in Walt Disney World to share their
love of the Most Magical Place on Earth.
So,
imagine if you can a gathering that encompasses ALL these groups…
a gathering that unites the enormous family of Disney enthusiasts
from all walks of life, from all backgrounds, from all over the
country, from all over the globe! Imagine all of these people convening
at Walt Disney World for a 4 Night Disney cruise, followed by several
days of fun and merriment, special meals, events, and an all-round
spirit of Mickey Mania!
Since
2003, hundreds of Disney fans from all over the world have participated
in the annual MouseFest events. Nearly 200 sailors begin
MouseFest on the Disney Wonder 4 Night Cruise! The MouseFest
Cruise is co-hosted by Deb Wills (AllEars.net) and Jennifer and
Dave Marx (Passporter).
Once
back on land more than
20 unofficial Disney website representatives, Disney book authors,
and podcasters attended a variety of get-togethers throughout
the week, most notably the huge MegaMouse Meet held Saturday,
December 13.
More
than 500 Disney-lovers stopped in at the MegaMouse Meet,
visiting with the webmasters, podcasters, and authors they have
read for years, as well as meeting up with others just like them
from other Internet communities, many meeting in person for the
first time friends they had made in cyberspace.
Now
you've seen a glimpse of MouseFest!
And
guess what?
YOU'RE
INVITED!!!
That's right — Everyone is invited! In general, there
are no limits on who can join the events, and no age requirements!
(Of course, certain events do require tickets or deposits, may have
capacity restrictions, or may not be of interest to young children.)


For
MouseFest 2008, AllEars.net is hosting/sponsoring
a number of meets on Land and Sea.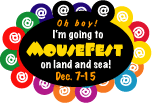 Come
join in the fun with Deb Wills and members of the AllEars.net team.

(These are only the events that Deb and the AllEars team are hosting/sponsoring.
Many other events are on the official schedule found at www.mousefest.org
)
Disney
Wonder MouseFest Cruise Events
*****
Disney
Wonder MouseFest Cruise
Sunday
December 7-11 , 2008

Specific
Events to be announced this summer!

All
Ears® Team Members scheduled to be on the MouseFest 2008
cruise are:
Deb Wills, LindaLou, and LindaMac!
Thursday,
December 11-15, 2008

Specific
Events to be announced this summer!

All
Ears® Team Members scheduled to participate at MouseFest
2008 land are:
Deb Wills, Debbie Koma, Mike Scopa, Andrea (Anita Answer)
McKenna, LindaLou, Glo from Miami, Jack Marshall, Lisa Berton,
Laura Gilbreath, Scott Thomas, Michelle Scribner-MacLean,
Barrie Brewer, LindaMac and Fred Block!