Walt Disney World Chronicles: Two Not-So-Average Joes
by
Jim Korkis
Disney Historian
Feature Article
This article appeared in the January 8, 2019 Issue #1007 of ALL EARS® (ISSN: 1533-0753)
Editor's Note: This story/information was accurate when it was published. Please be sure to confirm all current rates, information and other details before planning your trip.
When Walt Disney passed away in December 1966, his older brother Roy O. Disney — who had been planning to retire — stepped in to finish Walt's dream in Florida, starting with the entertainment venue and resort hotels.
As Roy stood on the marshy ground of Walt Disney World, all that could be seen were black water swamps often choked with decaying, tangled roots that would have to be removed, barren dunes of white sand, and an occasional grove of pine trees.
There were a handful of tethered gas balloons of different colors that also dotted the landscape to indicate the height and location of things to come like Cinderella Castle. Before he officially announced he was continuing with the building, though, Roy sought the counsel of two men. If either of them had said the project was impossible, Roy would have cancelled it without further question.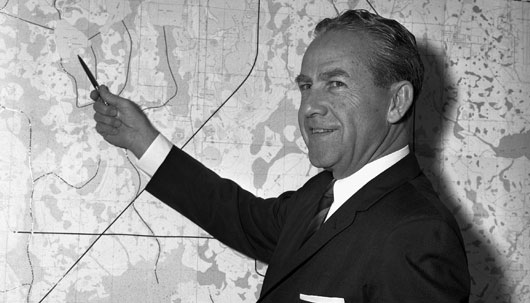 Those two men were Joe Potter, who was in charge of preparing the land for building and establishing the Reedy Creek Improvement District, and Joe Fowler, who was in charge of actual construction on the property as he had been for Disneyland. Fortunately, they both felt that it would be difficult and challenging, but it could be accomplished. Furthermore, they were eager to do so.
During World War II, U.S. Army Major General William Everett Potter (who picked up the nickname Joe during his West Point days), directed logistical planning for the invasion of northern France, a transportation operation nicknamed "Red Ball Express." In 1956, President Dwight D. Eisenhower appointed Potter to serve as governor of the Panama Canal Zone. At the end of his tenure as governor, and after 38 years with the United States Army, Potter retired as an Army Major General in 1960. Soon after his retirement, he became executive vice president of the 1964-65 New York World's Fair and was responsible for handling construction of the federal and state attractions. These included 26 state pavilions and the $17 million United States pavilion.
At this time, he met Walt Disney (who had supplied attractions for four pavilions at the fair) who was impressed. Walt immediately realized that Potter was the man to be the vice president of his mysterious project in Florida and to prepare the land so it was suitable for construction.
"It didn't take you long to realize that Walt was a beginner of things, not a finisher," Potter said, meaning that Walt would spark the initial idea but depend on others to fill in the necessary details to make it a reality.
Potter oversaw the construction of the Walt Disney World Resort's entire infrastructure. He supervised the building and operation of the underground utilities and sewer, power, and water treatment plants that were considered revolutionary at the time. Among his achievements, Potter was well-known for the development of drainage canals for the entire property, which were known affectionately as "Joe's ditches" and kept the water table constant.
Potter stated, "The major problem on the property that we had to do first was to construct and install a system of water control. Our system was based primarily on being able to let floods, when they happened or immediately, through a system of automatic gates, which would shut as soon as the flood had passed. Through the use of these gates, we were able to keep the ground water at a level that it had before so that the root systems of trees would think that things were just as normal as they always had been."
Joe Fowler recalled, "The first canal Joe Potter laid out ran straight as an arrow from Bay Lake to the south part of the property. I was with Walt when he first saw it. Walt didn't raise his voice. The only way you could tell he was angry was when he raised his right eyebrow. He raised it and said, 'Look, Joe. I don't want any more of those Corps of Engineers canals.' From then on, at much greater expense, the canals were dug in a meandering pattern to resemble natural rivers."
Potter explained, "I went out and got three crackerjack college professors to show me how to do it. And then I got me another professor to help put the utilities underground."
Potter also served as president of the Board of Supervisors of the Reedy Creek Improvement District. William "Billy" Dial, former chairman of what became Suntrust Bank said, "I guess he single-handedly handled the relationship between the community and Disney. He heard complaints and he handled them. He always was conducting tours. He kept the community fully informed when the place was being built."
In October 1976, to commemorate the fifth anniversary of Walt Disney World, Potter spoke with Orlando-Land magazine: "I had various functions. One was to establish the Reedy Creek Improvement District. A law was passed by the Florida Legislature that set up the government as practically self-sufficient on the Disney property. In that way, we were able to establish our own building department, develop our own building code, establish our own zoning, and do all of those things that are normally done by a county.
"You must realize that at the time Orange County did not have the facilities to examine plans for, let's say, a castle. No complicated buildings had been built in Orange County so the county, of course, was not staffed to examine plans and conduct the inspections requiring all buildings meet the safety and welfare specifications of those buildings."
Potter retired from Disney in 1974 as a senior vice president of Walt Disney World. He was so highly thought of by The Walt Disney Company for his many accomplishments that one of the ferries that transport Walt Disney World guests across the Seven Seas Lagoon to the Magic Kingdom was christened the General Joe Potter in his honor.
As former president of Walt Disney Attractions Dick Nunis recalled in 1988 to the Orlando Sentinel newspaper, "Joe was a man Walt Disney was very fond of. Without Joe Potter there would be no Walt Disney World today."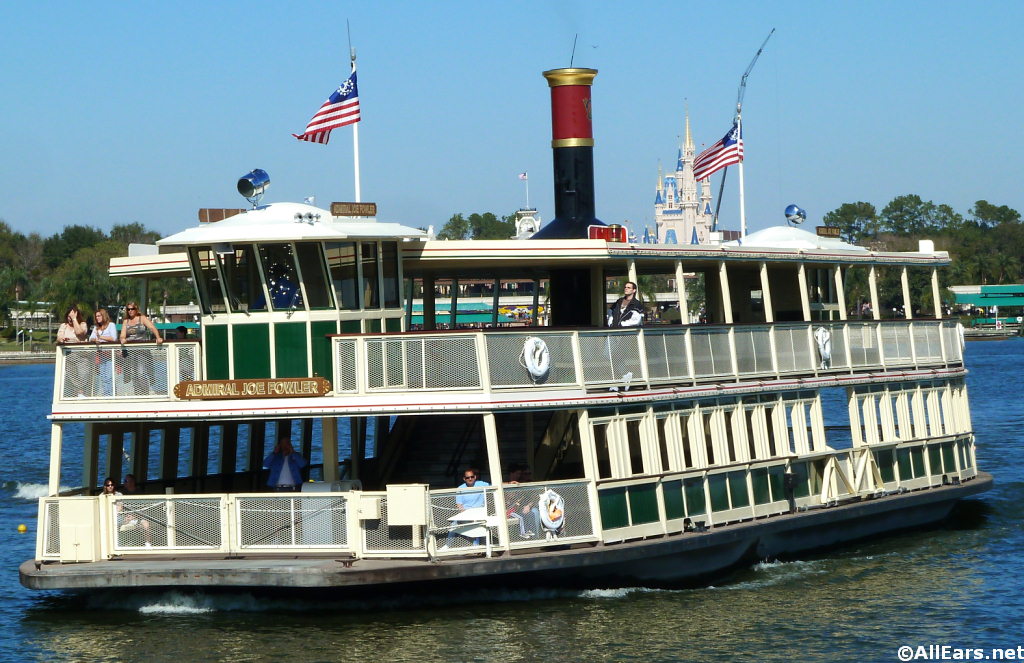 Admiral Joe Fowler was a veteran of both World Wars. He designed and built small gunboats during the 1920s and naval ships of all sizes during the 1930s and 1940s, including the two biggest aircraft carriers of World War II, the Lexington and the Saratoga. Fowler retired from the Navy in 1948 with the rank of Rear Admiral. In 1952, he was brought back by President Harry Truman to direct the Federal Supply Management Agency, with orders to cut waste in military spending.
In 1954, Walt Disney was looking for a naval expert to help with building the Mark Twain paddle-wheeler for Disneyland. He was recommended to Fowler, who was working in San Francisco.
Walt was so pleased that he named the retired Fowler the construction boss for the entire Disneyland project. Fowler stayed on as General Manager of the park for its early years.
"I didn't feel overwhelmed when I first saw the property in Florida," stated Fowler. "After five years in China and two years in the Philippines, I was used to jungles."
"He had that great 'can-do' spirit, and he lived it," said Bob Matheison, former executive vice president of Disney parks. "He was truly, in every sense of the word, an officer and a gentleman.
"He got his nickname of 'Can Do' when one day he was standing with Disney in the early days of Disneyland. They were looking at a performing stage that featured a waterfall, with a dressing room off to the side. 'Walt turned to Joe and said, 'I'd like to part the water and let the entertainers come out, and then have the waterfall close behind them.'
"Joe never batted an eye. He just said, 'Can do, can do.' I know he had no idea how he was going to part the water, but he said it without hesitation. 'Can do.' And, by golly, he went ahead and did it. He parted the water and closed it back up again.
"Out here in Florida, Central Shops that built most of the things for WDW has painted on the side of the building the phrase 'The Can Do People'."
Walt put Fowler in charge of the construction and engineering of the Florida Project, and he was so instrumental in the park's construction, he had at one point held three positions: Director of construction for Disney's Buena Vista Construction Company, Senior Vice-President of engineering and construction for Walt Disney Productions and Chairman of the Board of WED Enterprises, the former name of Walt Disney Imagineering.
Fowler stated in 1976: "We built everything to withstand the force of a hurricane. That gave us a lot of problems with the design engineers. They were accustomed to designing for earthquakes at Disneyland. Now they had to design for hurricanes."
Buena Vista Construction Company, the Disney subsidiary that Fowler headed, took over as prime contractor in the last nine months from J.B. Allen Contracting who said they would be unable to complete the job in time for the October first deadline.
Fowler lived in one of the five cottages at Bay Hill that Disney built, right next to Roy Disney.
"Everyone realized what was at stake," Fowler said. "I had one powerful asset. Roy Disney. He lived beside me. Between the two of us, we made a lot of decisions that nobody knew about."
Fowler died at the age of 99 in his home in Bay Hill on December 4, 1993. He too has been memorialized at Walt Disney World with a ferryboat named in his honor.
While we often laud the Imagineers who created the attractions and the attention to detail that make WDW such a unique entertainment experience, it was the hard "nuts and bolts" work of two regular Joes that made Walt's dream a reality.
============
RELATED LINKS
============
Other features from the Walt Disney World Chronicles series by Jim Korkis can be found in the AllEars® Archives.
= = = = = = = = = = = = =
ABOUT THE AUTHOR
= = = = = = = = = = = = =
Disney Historian and regular AllEars® Columnist Jim Korkis has written hundreds of articles about all things Disney for more than three decades. As a former Walt Disney World cast member, Korkis has used his skills and historical knowledge with Disney Entertainment, Imagineering, Disney Design Group, Yellow Shoes Marketing, Disney Cruise Line, Disney Feature Animation Florida, Disney Institute, WDW Travel Company, Disney Vacation Club and many other departments.
He is the author of several books, including his latest, Vault of Walt Volume 7: Christmas Edition. This book is filled with nothing but holiday stories of Walt, the parks, animation, comic books and more and is available in both paperback and Kindle versions. Coming this spring Korkis will release The Unofficial Walt Disney World 1971 Companion, covering the development of Walt Disney World from 1958 when Walt commissioned the first studies through the opening fiscal year 1971-72. Filled with lots of anecdotes from the folks who worked on the project, the book includes a foreword by Tom Nabbe and an afterword by Sully Sullivan.