Walt Disney World Chronicles: 50 Things You May Not Know About Walt Disney World (Part 1)
by
Jim Korkis
Feature Article
This article appeared in the August 3, 2021 (#1148) edition of ALL EARS®
Editor's Note: This story/information was accurate when it was published. Please be sure to confirm all current rates, information and other details before planning your trip.
---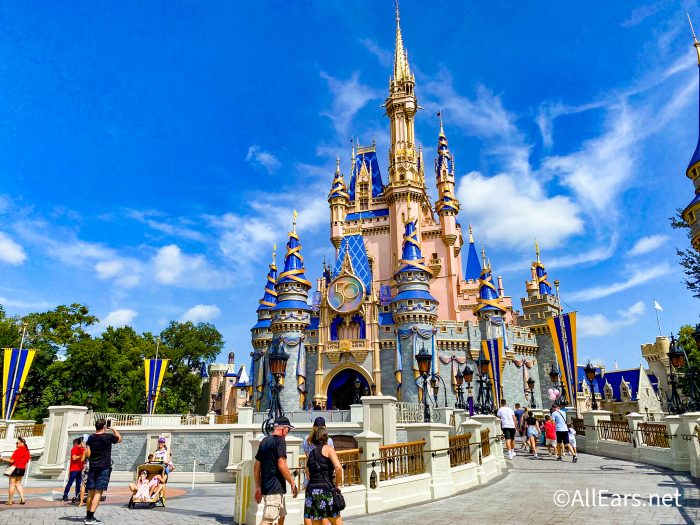 With this year celebrating the 50th anniversary of the opening of Walt Disney World, I thought I would share in two parts, 50 things you might not know about the famous vacation destination.
I certainly discover new things all the time. Here are 25 fun facts and next month, 25 five more. As an AllEars subscriber, you are considered the Disney expert for all your friends and family so here are some things to help you show off.
1. Every day an average of over 200 pairs of sunglasses are turned in to Lost and Found. Glasses in general are the most commonly lost item since 1971 totaling over 1.65 million pair lost over the first four decades.
2. The first time Walt Disney World ever closed its theme parks was when Hurricane Floyd, a Category 4 storm, was predicted to hit the parks. WDW closed early on September 14, 1999, and all day September 15, 1999. The storm turned more out to sea, but gusty winds (not hurricane force) did hit the parks. Walt Disney World also closed Sept. 4-5, 2004, for Hurricane Frances and Sept. 26 of that same year for Hurricane Jeanne.
3. The original voice on the Walt Disney Monorails was provided by legendary Jack Wagner ("The Voice of Disney") who did the same for Disneyland. He also provided the same function for the monorail trams at Orlando International Airport. The recordings for the original side of the airport (gates 1-59) were done prior to opening the new terminal in 1981. The expansion greetings (gates 60-99) were recorded in 1988. Wagner passed away in 1994.
4. Approximately 10,000 people were in attendance on the opening day of the Magic Kingdom on October 1, 1971, while today the Magic Kingdom averages closer to 50,000 visitors or more a day.
5. It took less than thirty minutes to evacuate thousands of guests from the theme parks on September 11, 2001. After the September 11th attacks, the Federal Aviation Administration put a flight restriction over the Walt Disney World resort. It extends out in a 3-mile radius from Cinderella's Castle and up to 3,000 feet high.
6. In Liberty Square is a replica of the Liberty Bell, but there is an exact replica in Melbourne, Florida as well. The Liberty Bell Memorial Museum in Melbourne has an exact replica purchased by the schoolchildren of South Brevard County in 1976. Visitors are encouraged to ring the bell with a rubber mallet. The one ton bell itself is about 70% copper, 25% zinc, and has some silver, gold, and arsenic thrown in for good measure. It is an exact replica of the original but without the infamous crack.
7. Why did Walt Disney World fly all its flags at half-staff in October 2011?
Steve Jobs passed away October 5, 2011. Disney CEO Bob Iger directed that both the US and Disney flags be at half-staff October 6 – 12 in observance of the passing of Jobs. Jobs was Disney's largest single shareholder (7 percent), and he was on the board of directors.
8. Some 1,500 two-to-three foot long fanciful hand-painted wooden folk art animal carvings — a fusion of pre-Columbian, Peruvian, African and Polynesian forms — were crafted on the island of Bali by native craftsmen and can be seen adorning the architecture of Safari Village at Disney Animal Kingdom. Artists in Bali also carved the tikis in Bou Tiki Tiki at the Polynesian Village.
9. The HBO series From the Earth to the Moon, a 13-part drama, was in production in two soundstages at Disney Hollywood Studios throughout 1997. Other films shot at Disney Hollywood Studios include Marvin's Room, Passenger 57, Oscar, Quick Change, Ernest Saves Christmas, Splash Too, Separate But Equal (Emmy-winning TV mini-series, starring Burt Lancaster), and Instinct.
10. The locations featured in Soarin' are San Francisco, Monterey Coast, Yosemite National Park, Napa Valley, Lake Tahoe, Palm Springs, San Diego, Anza-Borrego Desert State Park, Los Angeles, Malibu, and Disneyland in Anaheim.
11. In The Little Mermaid ~ Ariel's Undersea Adventure, a special skin technology had to be incorporated into the Audio-Animatronics figures for Ariel, King Triton and Ursula since they have so much skin exposed. Ursula is the largest Audio-Animatronics figure in the show at 7½-feet tall and 12-feet wide. She also has a squash-and-stretch function in her torso and flexible materials so she can bounce along with the music.
12. The basic structure of Space Mountain is composed of great ribbed slopes — 72 massive pre-stressed concrete beams forming a gigantic, sealed cone. Each of the 74-ton concrete beams was cast near the Space Mountain site and then hoisted into place by mammoth cranes to complete the cone. Each beam is 117 feet long, 13 feet wide at the bottom and 4 feet wide at the top.
13. If you stacked the number of standard autograph books sold annually, it would match the height of 200 Cinderella Castles. Add the Princess-style autograph books and, end to end, the books would reach 88 miles into space.
14. What item from the famous final ascent of Sir Edmund Hillary in 1953 is on Disney's version of Everest? The most famous physical feature on Everest, the Hillary Step, at 28,750 feet, is a 40-foot spur of snow and ice. The Hillary Step is the last obstacle barring access to the gently angled summit slopes. Modern-day climbers use a fixed rope up here to ascend the Hillary Step. The coloring of Mount Everest differs from the rest of the mountain range because at more than 29,000 feet elevation, hurricane-force winds often blow the snow off its peak, revealing a raw sheet of rock.
15. Two thousand gallons of stain and paint were used on the rockwork and throughout the village near Expedition Everest. The color scheme has ritual meaning to the Himalayan culture. Artists from Imagineering used hammers, chainsaws and blowtorches to "age" wood and buildings in the village, giving them the appearance of being longstanding parts of the landscape.
16. In IllumiNations Reflections of Earth at EPCOT, 1,105 fireworks shells were used for each show from 34 firing positions. Shells came from China, Italy, the United States, and Japan. Shell types included comets, candles, mines, shells, tailed shells, crossettes, scattering bees, whistles, reports/salutes, ground effects, floaters. Disney is one of the largest users of fireworks in the country.
17. In Stitch's Great Escape, the alien language seen throughout the Prisoner Teleport Center was inspired by designs created for the opening scenes of Lilo & Stitch. Graphic artists with Walt Disney Imagineering turned the designs into a practical alphabet that can be decoded into English. Stitch, who was 39 inches tall, was the first Audio-Animatronics figure to spit. No, the camels by The Magic Carpets of Aladdin are not audio-animatronics.
18. Two of the Haunted Mansion's more famous catchphrases — "foolish mortals" and "grim grinning ghosts" — are taken from Shakespeare: In A Midsummer Night's Dream, Puck exclaims, "Lord, what fools these mortals be!" In Venus and Adonis, Shakespeare refers to death as a "Grim-grinning ghost".
19. At All Star Movies Resort, when you count all of the Dalmatians, those on the walls as well, you should come up with 101 of them. Ninety eight cutouts are on the building sides, two big statues, Pongo and Perdita and little Lucky by the "television" decoration. The Pongo icon at the All Star Movies Resort stands 30 feet tall and weighs 17,000 pounds. It took two days to put it together.

20. Disney's Polynesian Village Resort has a unique "Kukui Nut" tree. The only one of its kind in the state of Florida, the tree was brought to Walt Disney World Resort from its native Hawaii. At Disney's Polynesian Resort, the kukui tree is located behind the Great Ceremonial House and in accordance with legend that states you cannot plant it yourself, was planted by a hotel guest on April 25, 1997. There is a time capsule buried at its base.
21. The gallery located near the entrance to Victoria & Albert's at Disney's Grand Floridian Resort & Spa features eleven original maps of Florida dated from 1775 up to the period of railroad tycoon Henry M. Flagler's railway lines.
22. If you emptied the water from The Seas with Nemo & Friends pavilion in Epcot into one-gallon milk jugs and laid them side by side, they would stretch from here to New Orleans, Knoxville, or Raleigh – 540 miles. And the recipe for the artificial seawater in the tank called for 27 truckloads of sodium chloride, or common table salt.
23. Popular voice artist Thurl Ravenscroft, the voice of Tony the Tiger and the man who sang You're A Mean One, Mr. Grinch, does several different voices at Walt Disney World including a singing bust at the Haunted Mansion, Fritz in the Enchanted Tiki Room, one of the singing pirates in Pirates of the Caribbean as well as the voice of a drunken pirate and the singing dog. He is also the voice of Buff the Buffalo in Country Bear Jamboree.
24. Nearly 12% of Walt Disney World property — an area equivalent to nearly 3,000 football fields — is devoted to gardens and maintained landscapes. (That's 4,000 acres worth of beauty.) Walt Disney World horticulturists use 8,500 interior plants each year and add 6,000 trees to the exterior landscapes throughout Walt Disney World Resort…and they maintain some four million shrubs in landscapes.
25. At Typhoon Lagoon, who is Singapore Sal? The souvenir store is owned by Singapore Sal. He is the fellow who is the first to get anything that washes up on the bench. That's why he has that telescope — so he can spot new treasures. Sal's girlfriend is Typhoon Tilly, and she has her own food and beverage location. The two of them have pretty much cornered the tourist market. Since this detailed story has been "lost" over the years, today many guests think that the name "Singapore Sal" refers not to a man, but a woman named Sally.